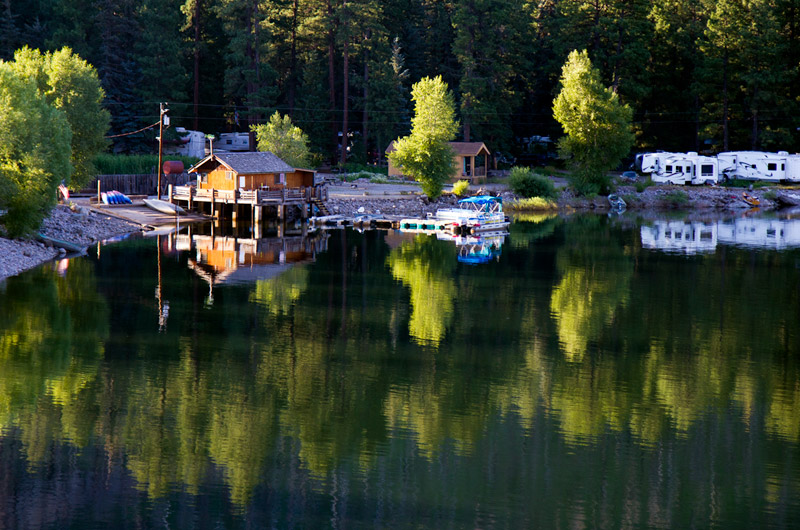 That sweet little cabin over on the dock was our home away from home for the past five days while we stayed at Five Branches Camper Park on Vallecito Reservoir. Our lakeside view, the beautiful forest, and the ride through the woods every day is hard to leave behind. Lucky for us, we leave with fond memories. The two bears that had been visiting the camp nearly every night, didn't have the chance to eat us or any of our neighbors. The sun rose, it set, and inbetween we saw the sun, unless the stars were out. This place could easily stay on our list of places to return to someday. Sadly, we never had the opportunity to go out kayaking or canoeing. The problem here is that no one can take a boat out before 8:00 a.m. by which time we were already gone, and boats had to be returned by 5:00, we never got back much before 6:00. No matter though, we enjoyed our stay.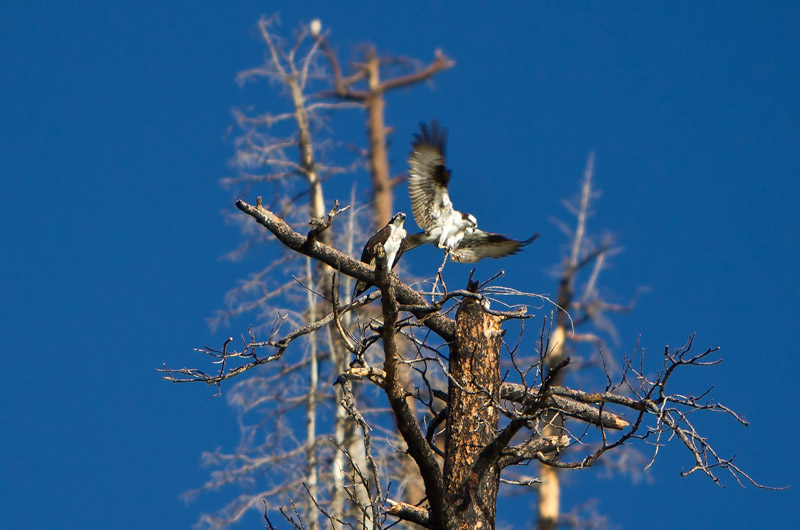 Today Caroline was sporting her eagle eye as while we were driving along the narrow lakeside road she spotted two large birds sitting atop a barren tree. I turned around so we could inspect (and verify her rare find – think myopic), sure enough, she had seen two osprey, also known as sea hawks. The bird coming in for a landing is carrying a branch that we watched it snatch off a nearby tree with a pronounced snap. It circled around and was about to deliver the beginnings of a new nest for momma and poppa bird.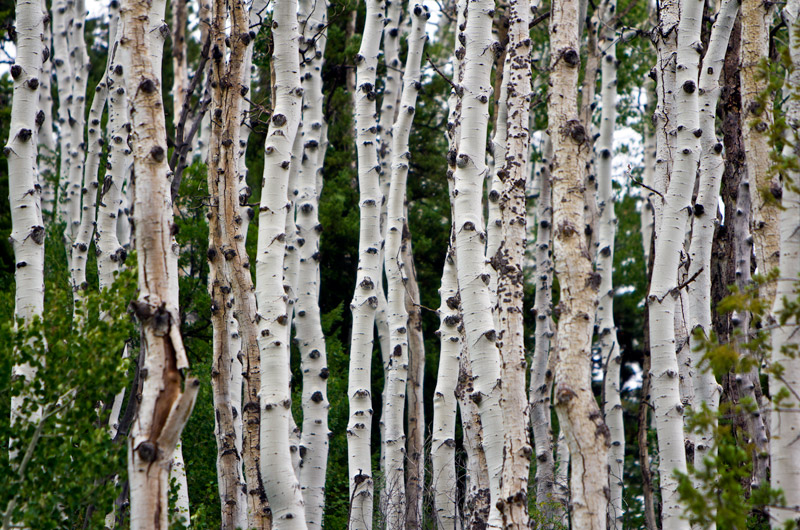 The next hours we drove through the Ute Reservation and their town of Ignacio. Next was Aztec, New Mexico and the first and one of the last Starbucks we would find before passing through Flagstaff, Arizona later in the day. So, I'm addicted. It is a long drive from Durango, Colorado to Phoenix, Arizona. After Aztec and nearly the same town, we drive through Farmington. It was in Farmington back on October 19, 2000 that we had the chance to spend a night at Kokopelli Cave while my mother in-law Jutta was visiting. The cave is one of the most unique places in all of America to stay at. But today, we are going home.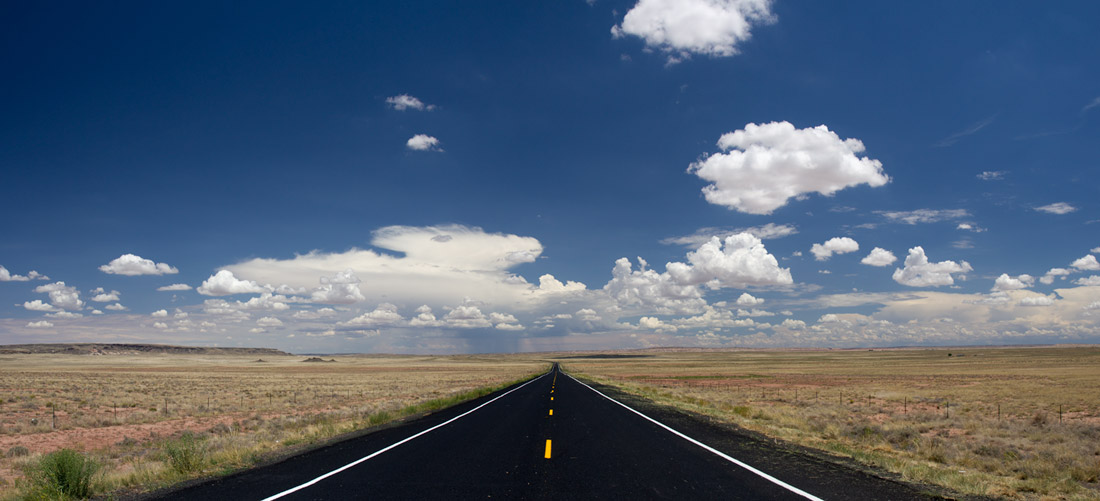 We have left the Redrock Highway with some great views and beautiful red sandstone bluffs but quality photos were not in the cards this trip. Back down on flat land we were afforded some tremendous vistas, even a little rain was spotted way off in the distance left of the centerline. No rivers, no trees, not much of anything out here, can you guess why this made perfect Indian Reservation land? The answer is easy, there was nothing our forefathers wanted from this land. Caroline and I find it infinitely gorgeous, sadly, most tourists do not. The casual observer gets distracted by the poverty, desolation, and inane stereotypes that have been propagated over the years regarding the indigenous people of North America.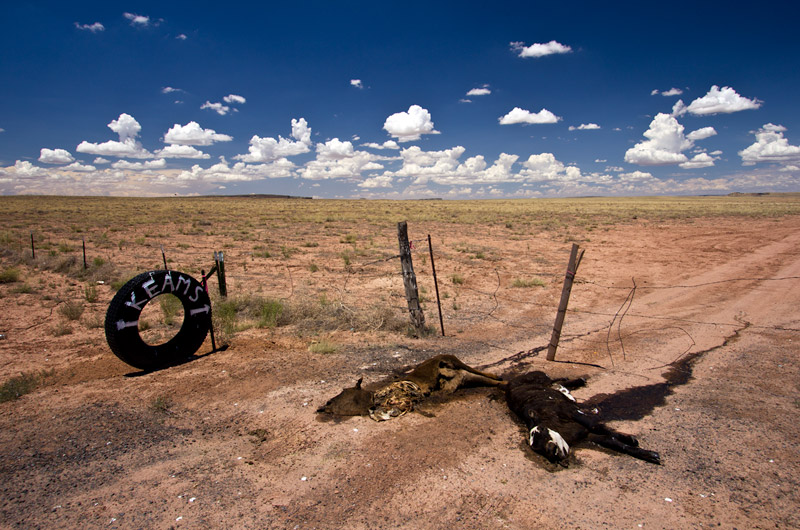 Two dead calves lie in front of the gate that leads to Keams, Arizona – they are a warning to white people to not trespass on Indian lands. Black magic as used by drunken Indians on welfare is a fashion on the Rez, it's like white trash girls wearing big framed sunglasses sporting slutty clothes or some dufus guy wearing his white baseball cap backwards with his pants hanging off his ass so we can read what size boxers he wears – it's just a fashion, nothing more – but it is effective in keeping others away. Or I'm full of cow-poop, yep, that's more like it, but these two cows wasting away, who could-have-been-steaks, are probably clean out of poop or any other fluid. Even if one were to want to open the gate to take a shortcut to Keams, how would you maneuver the carcasses?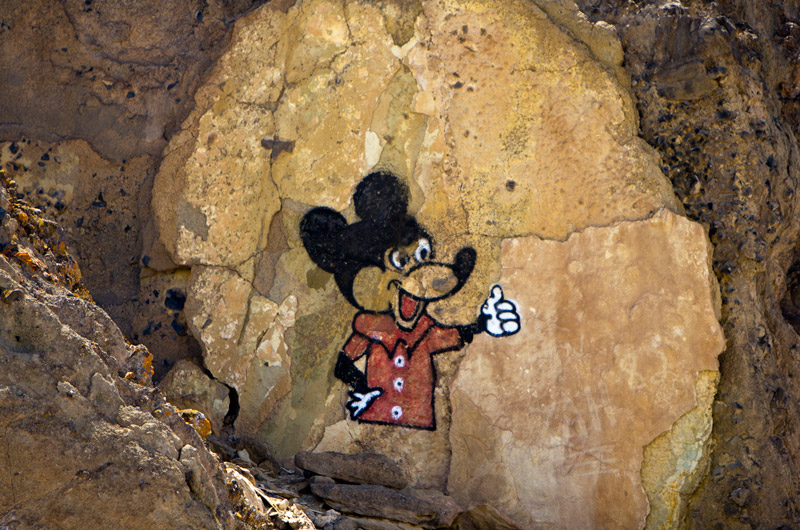 This is the new face of Native American rock-art, also known as pictographs. Out with Kokopelli, the sun, water, dear, or other tired old-fashioned symbols from the previous thousands of years. Modern Indians are putting down new icons, like Mickey Freakin Mouse. Strangely, Mickey is almost across the street from the two dead calves, could this be some mysterious signal to passing native motorists that running down animals to leave subversive and superstitious looking roadside messages is right on? Then they throw out Disney characters to disorient us tourists into fearing the red man. Maybe the tide is turning and the Indian is getting wise to our wacky rightwing belief systems and are starting to toy with our heads. Native America, rise up and takeover the media landscape, it's time for revenge against what was taken from you. First step, corrupt our icons.
With the aerosol bombardment of peyote starting to wear off, a curve in the road returns me to my senses and out of the hallucinations I was obviously having back there deep on the Rez. I'm sure that later when I look back at those photos, the dead calves and Mickey will have proven to be a figment of my imagination. You can bet I'm happy to be returning to normal.
In front of the camera is Rez land, behind me is America where I feel like a white guy. Soon, we will approach gas stations with hordes of hot tourists driving down Interstate 40 clogging some the grimiest bathrooms your nose wants to experience in the summer. Flushed of their overflowing bladders, they will flock to the freezer for ice-creams and coke – good old American food, no more of that sinewy old mutton and fry bread cooked in lard for me. Just me and my America, going home. Makes me well up and think about listening to this when I get home. Click here to listen and watch
.