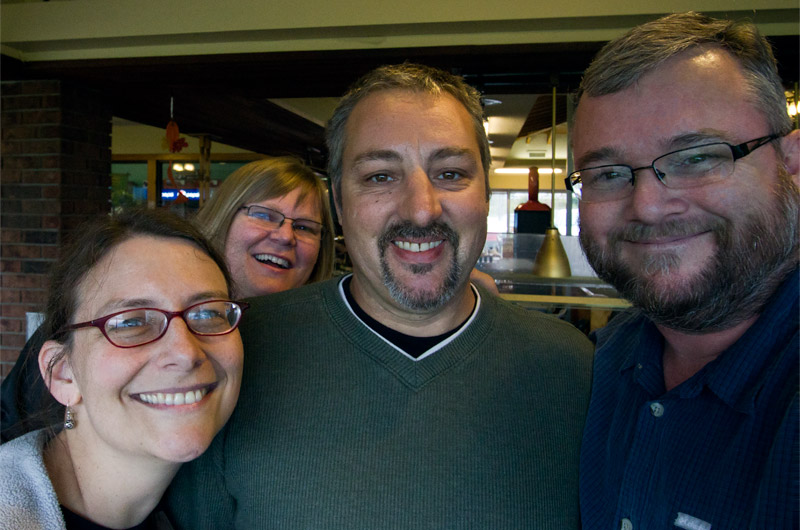 Others might not call this vacation. Four hours of sleep is hardly restful and relaxing, but we're committed and know that we'll have plenty of time to sleep in when we are home next week. Anyway, we made a date to meet Ian and Gayle Gordon this early a.m. Thankfully, Ian dragged his wife Gayle, who we've not met yet, out of bed hours before we woke, so they could make the long-haul from the London, Ontario area to the roadside truck stop restaurant where we're meeting. The Fifth Wheel is not much more than a couple of miles from our motel – lucky us. Across the dining room, I spot Ian. Fifteen years between seeing him and the only real difference I can easily find: he's got a lot of gray hair, don't most of us by this time. We are introduced to Gayle who is all smiles and seems as comfortable with us as if we had been life long friends. It's hard to compress what could be spoken of into 2 brief hours, but with a long drive ahead of us today that's all we'll get here at the Fifth Wheel.
We learned of how these two met, young girl digs hot bike messenger, but upon bike guy returning from Germany the long curly hair had been shorn slightly, diminishing his ravaging beauty. Gayle takes him anyway. Since his return to Canada, Ian has written a first draft of, "The Secrets of Being an International Bike Messenger God." He threatens to tap me for publishing help; I press him to drag the dusty manuscript out of storage and let me have it for a once over so he can start moving forward on becoming a published writer. I'm left with the impression the art of welding and an obsession with cars stand between him and his inner-nerd. Before we know it, the time has flown by, we couldn't really fall into just hanging out. Nothing like a couple thousand miles between people to stop old friends from dropping in and keeping the relationship alive. Our driving away was bittersweet. We followed them up the highway for some miles, truly sad that the morning sped by in a flash. I wondered if they too were wishing we could just turn west and follow them to London instead of the right turn we were about to take that would bring us to Montreal.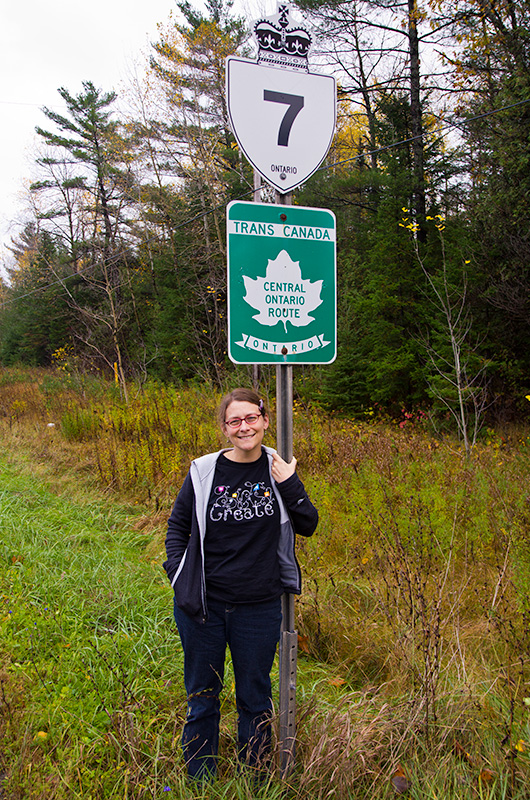 With Ian and Gayle out of site, we are now heading northeast of Toronto to connect with road number 7, the Trans Canada Highway. Fingers are crossed that the weather report was as wrong as it is in the desert. Back home, 40% chance of rain means no chance of rain. Like all big cities, the traffic is heading into the downtown area in the morning, not out of, we miss out on the parking lot on the other side of the road. It seems to have taken a long time to finally get fully around Toronto and finding our way to the 7, but we are now away from the congestion and in the countryside.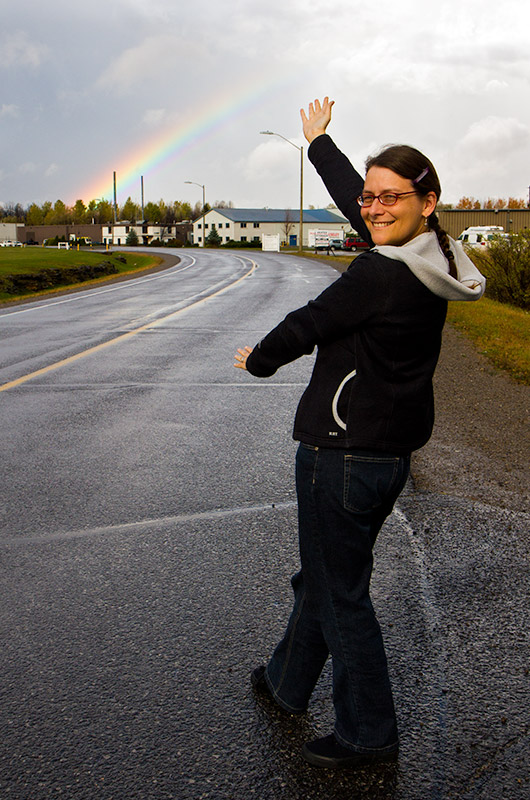 The colors of all are fading, we are late in the season. Patches of autumn pop up here and there, but large stands of trees have given up their leaves as branches ready themselves for the first snow. Much of the drive is under gray sky with the rain keeping to itself high overhead. Around mid-day, hunger pangs remind us that we have a bag full of delights from Cathy. Time to to christen the cutting board, break bread, carve the cheese, pour the mustard, and start to enjoy our in-car catered feast. Our gratitude produces this rainbow – we are happy.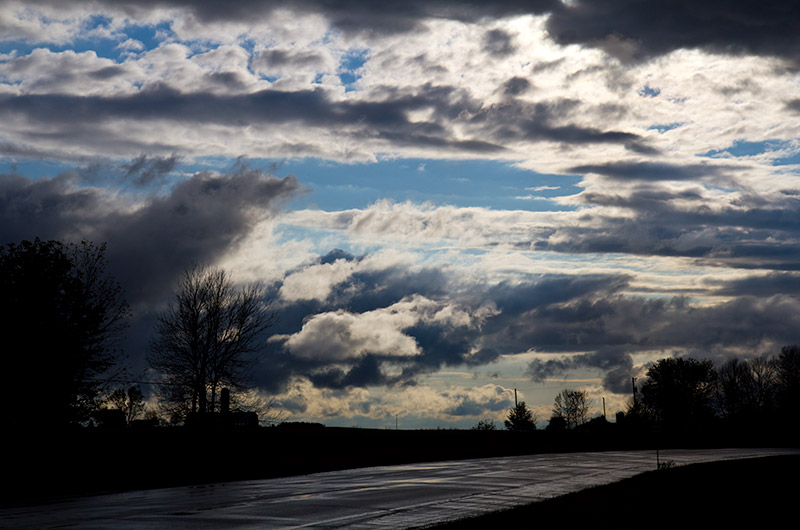 We continue our drive eastward. For moments here and there, the sky finds a way around the clouds to tease us with hints of its beauty. We don't much mind the overcast, it's a nice reminder that seasons change. Back home in the desert, we left temperatures that were still in the 90's – the transition from summer to not-summer was in full swing. Our drive is a long one and we've been up and traveling quite some time by now.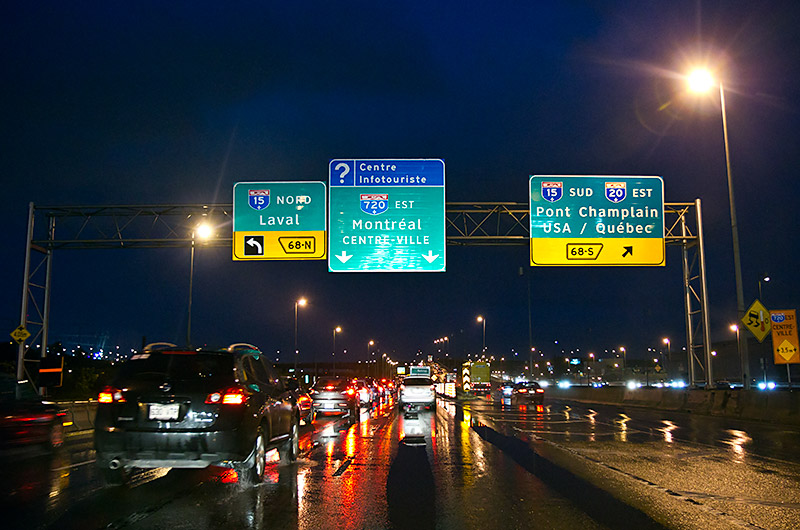 Finally, Montreal. This is the first of two of our major stops on this vacation. Traffic is heavier than I might have thought, after all, we are entering the city when everyone else should be getting off work and leaving town. The signs are now all in French, bilingual traffic info is well behind us. Sitting in a stop-and-go parking lot called a freeway, as opposed to a fluidly moving highway, something that should not be seen, can be seen far too clearly. Montreal's roads are falling apart. No little cracks or rust, we're seeing chunks of girders and support columns have fallen off. Rebar is exposed and one is left wondering, how often do slabs of highway overpasses fall off into traffic below? We escape the potential death trap of the road leading into Montreal and are soon trying to negotiate one-way streets to our hotel.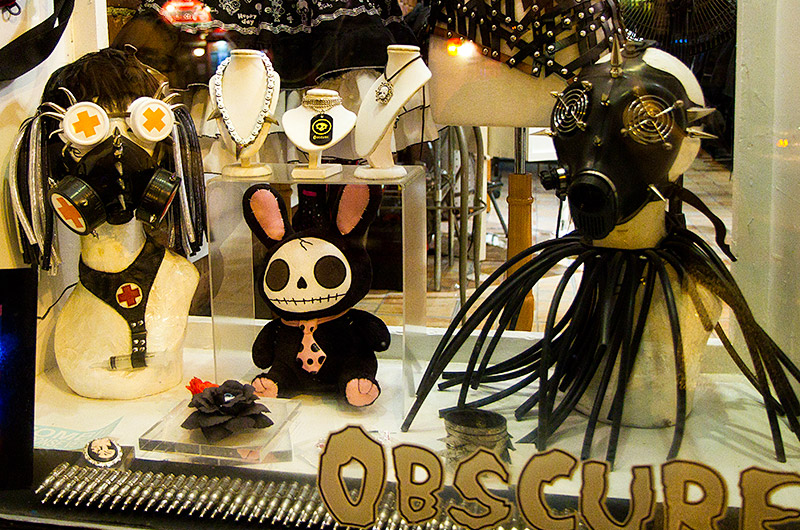 Tonight we'll sleep at Hotel Quartier Latin, you guessed it, in the Latin Quarter. It's the cheapest place in downtown Montreal, we only paid $67 for the night, and the room was great. Almost more important than the room was the question, where do we park in this congested area? The answer; at the public library underground garage – great. Back around some one-way streets and soon we are trying to read French to the best of our ability in order to be certain we are parking in the right area of the garage. The street we are staying on, Rue Saint Denis, pronounced Saun Dannee, is alive with throngs of people. Shops are open, the smell of inebriants waft through the air, it feels like we are in Amsterdam.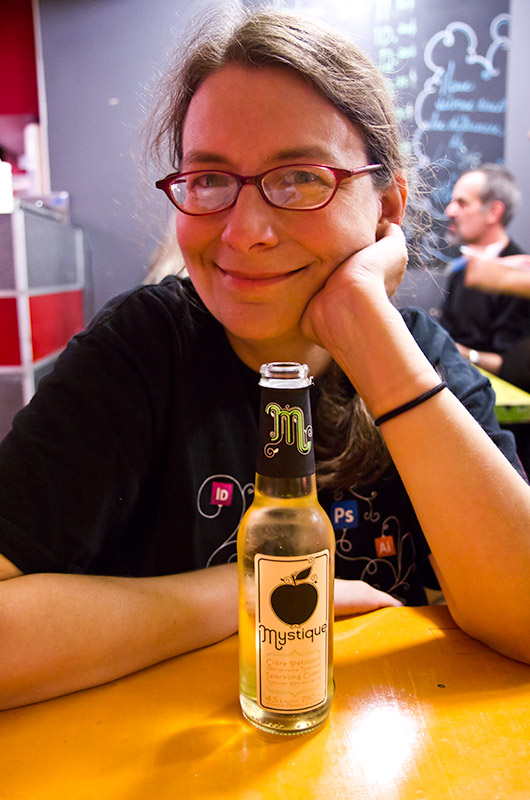 The trilingual Indian desk attendant at the hotel pointed out on the map where we would find Rue Rachel, about 2.5km from the hotel. I had it in mind prior to leaving for Canada, that we were going to try poutine, the fast food staple originating from Quebec, but now nearly a national dish. With our umbrella, we got underway for the 1.5 mile walk up St. Denis. Our destination is a small place called La Banquise. After arriving, Caroline orders a Mystique, a hard cider, and I opt for city water.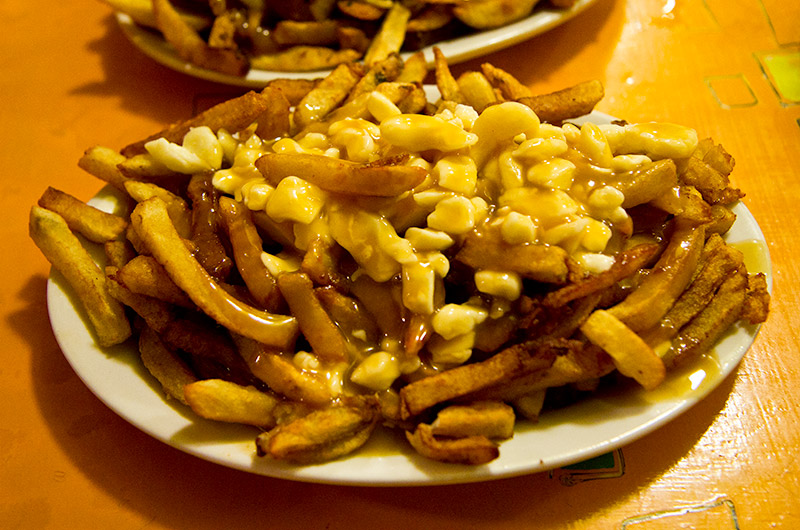 What is poutine? It is a dish that sounds extraordinarily simple, bland even. French fries, cheese curds, and gravy. But it is far from bland, it is the composite whole that works together to make a great dish. We will share two small orders, the first is regular poutine, we need to know the baseline. The second order has bacon, onions, and Merquez sausage – the grilled onions make a poutine perfect. La Banquise is full, every table is occupied, the place is open 24 hours a day and poutine is the main dish. Caroline and I are in agreement, this is one of the perfect comfort foods – of course this could never work back home, we would ruin it with nacho cheese sauce.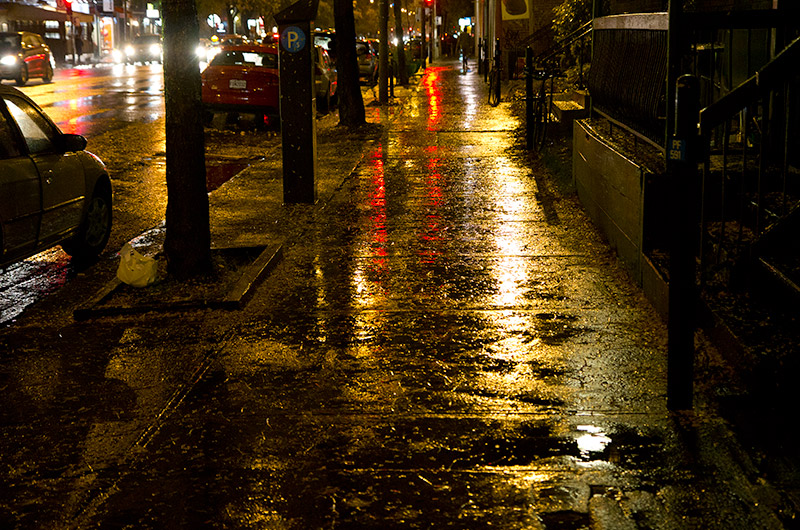 Walking to Rue Rachel was a race, we didn't know what time La Banquise closed. Walking back down the street, we took our time and investigated many a shop window, by now the shops were mostly closed. The streets were still wet from the occasional light rain that drifts over the city. Montreal is beautiful, or so it looks at night. The glistening streets reflecting neon, headlights, and the various signs with short 3 story apartment homes above shops, lend a cozy intimacy to the feeling of the neighborhood. Brisk walks to grab a coffee on a chilly evening or a jaunt to a small theater for a movie, create dreams of living here, Montreal is growing on us fast.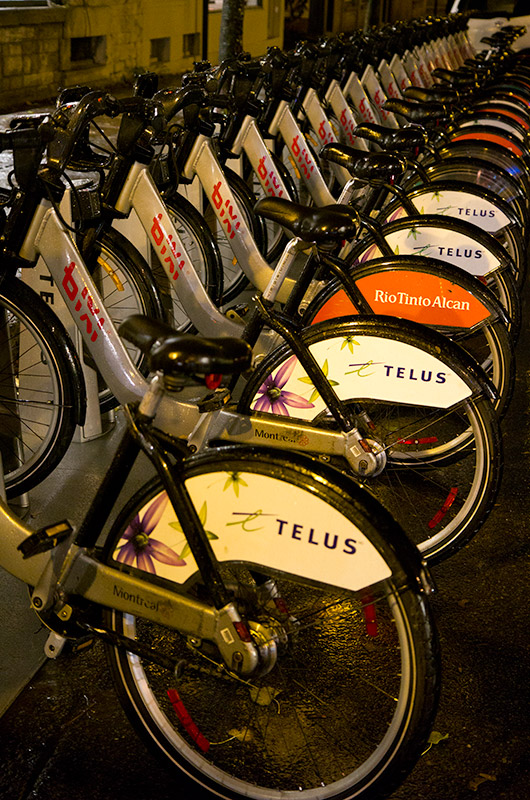 Bikes are everywhere. There are bike parking meters, yes, in some places one has to pay for locking up a bike. On some corners, bike lockup facilities take up a couple of car parking spots, giving preference to bikers. And then there is this: Bixi. The bikes above are available all over the city, they are for rent. With a credit card, anyone can take a Bixi out on the town for only $5 for 1 day of use. A 1 month subscription costs $28, while a 1 year contract is only $78. With more than 100 Bixi docks around the city, you can pick up a bike in one location, drop it at another, jump on the subway and nab another bike as you enter another corner of Montreal. I wonder how this could work in America where bikes are so frequently stolen, or vandalized?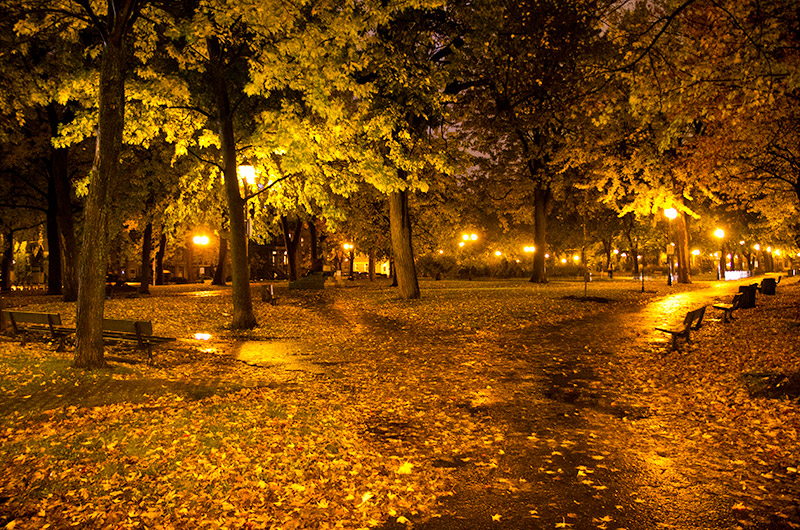 We are falling in love with Montreal. Parks and green spaces are everywhere. This quiet well-lit park is off Rue du Square Saint Louis and offers a perfect picture of fall. Along the main street, there are no boarded up spaces, what there is, are tons of small independent proprietors offering unique shops, not a dollar store to be found. We pass more than one Couche-Tard shop and for the remainder of the trip, we'll be wondering what a Couche-Tard is. At home we found out it is French for Night Owl. We could happily be night owls in this great city.