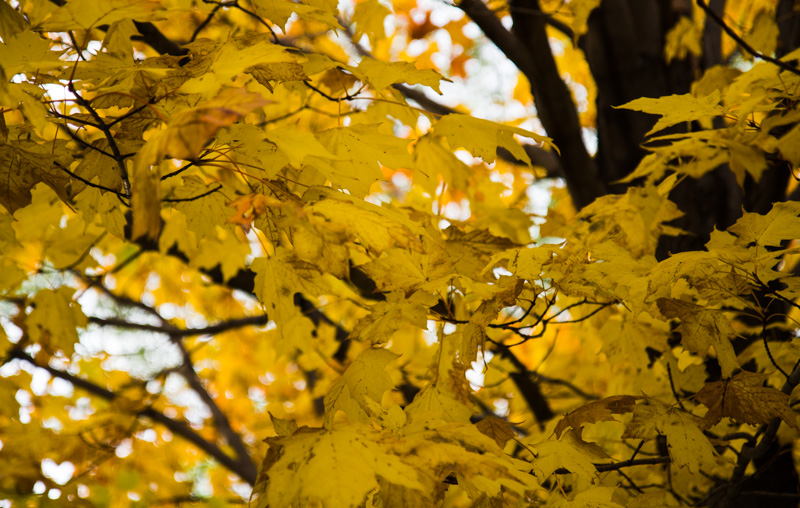 Our breakfast today was magnificent, likely made the better by the environment we are finding ourselves in, a sense of Europe. Outside the sky is once again overcast, but as we learned from previous fall trips, the colors of autumn truly show their warmth when not bombarded a trillion watts of direct sunlight. Across the street we admire the St. Lawrence flowing by and dream a moment of kayaking its length on late spring days.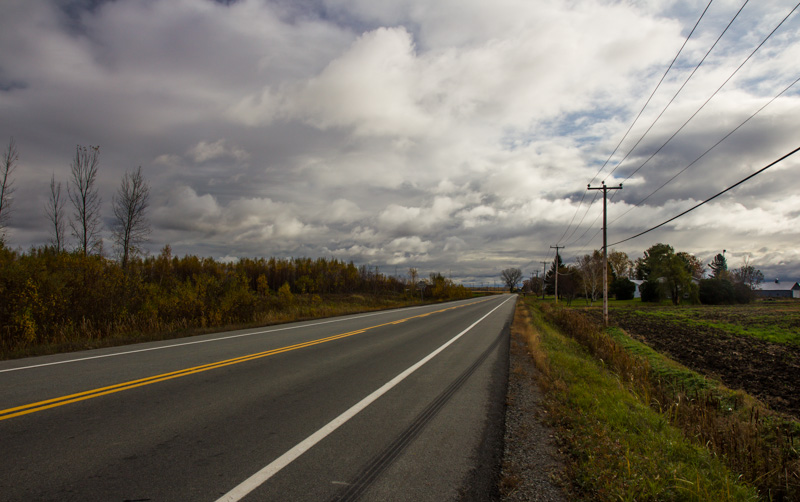 The road east is quiet, the tourist season is over.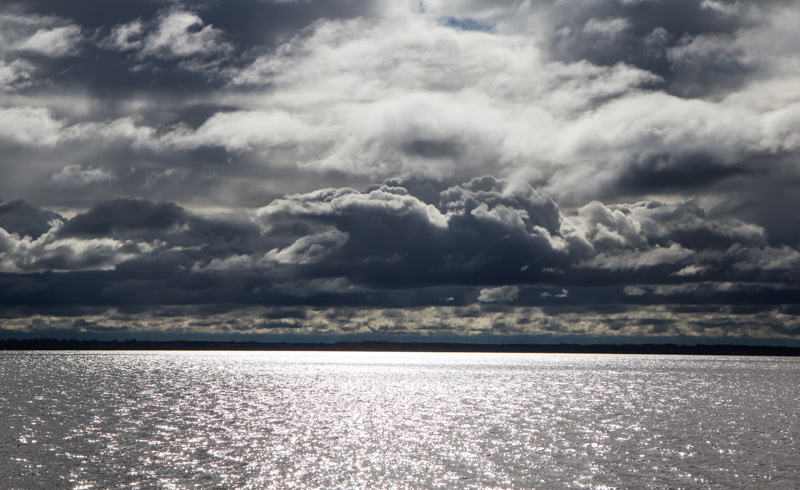 The countryside too takes a break from summer. To our left fields are clear, waiting for snow. On our right the St. Lawrence lumbers by, nary a ship to be seen. In a world so crowded, how is it we find ourselves the only travelers looking for these idyllic scenes on such beautiful days?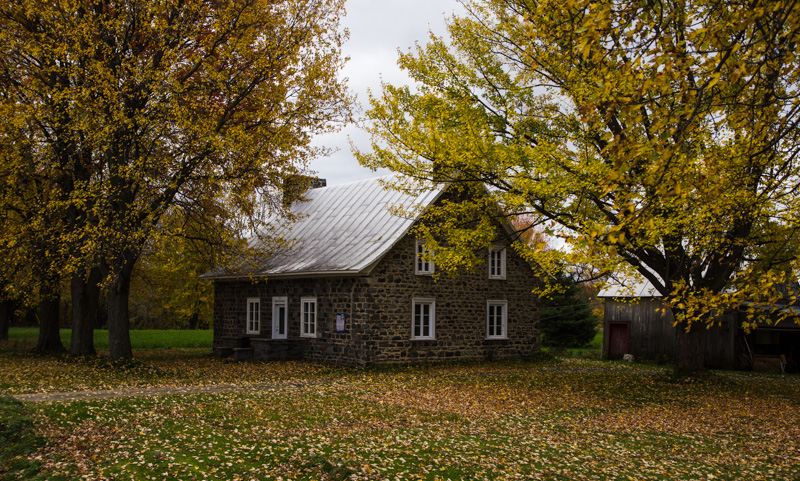 Entranced we drive on, admiring the foliage as we move along. I imagine that during the summer and national holidays these roads are teaming with busy tourists rushing here and there, stopping for an ice cream or maybe to pick up some fresh locally grown tomatoes. Right now though, it is time to enjoy the land preparing for hibernation. Where has everyone gone, is anyone home?

Still waters and heavy clouds are perfect companions to an Earth and heavens that might otherwise be alone in their vastness.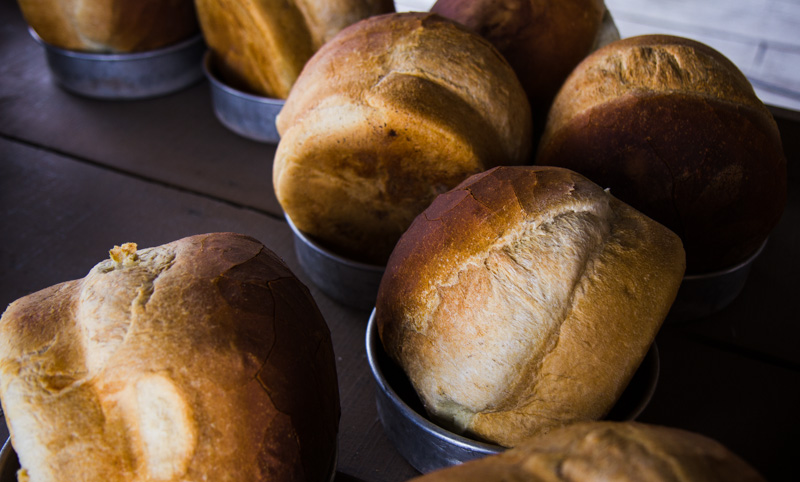 And then the signs of civilization once again start to rear their heads. First up was an roadside stand selling apples by the bushel, honey, and those icons of fall, the rotund squat pumpkin. Another short bit down the road and a placard draws our attention to come experience some honest-to-goodness pain. Oh, that's right we are in French speaking Canada, pain is in fact not all that bad, it's actually French for bread. Being the lovers of pain that we are, a loaf of their roadside brick oven baked bread was just the ticket. All we would need now was some new cheese to try it with.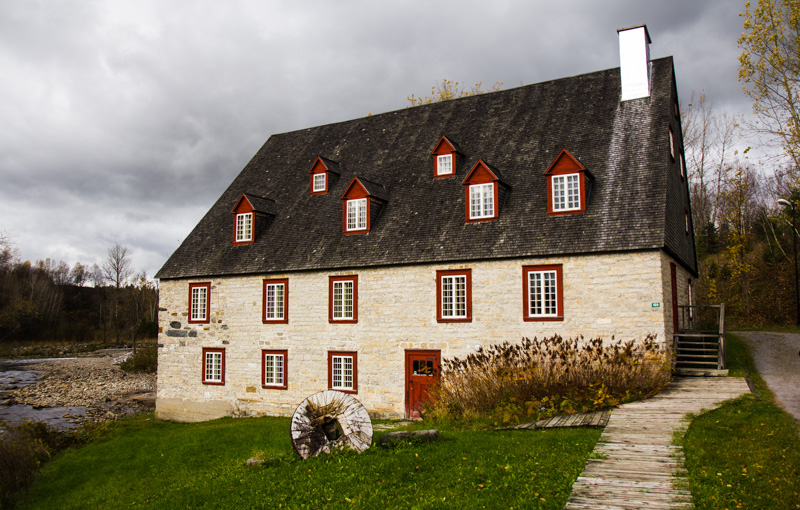 In one of the next villages, that was just what we would find – cheese. Our stop was the Metro Plus and once again, I am pleasantly thrilled that the idiotic stereotypes that I've heard far too often south of the Canadian border do not hold true. As we rummaged through the cheese bin a woman approaches and asks in French if we'd like some assistance. In our best imitation of being cultured people we ask in Frenchlish for a fromage with grand odeur. Luckily she saves us from further embarrassment and asks in English if we like to sample some of the cheeses. We leave with a package of Cendre De Lune "Moon Dust" from DuVillage – the 2011 winner of Le Festival des Fromages Fins. This soft ripened cheese dusted with gray ash will forever stand out as one of the best cheeses we have yet tasted.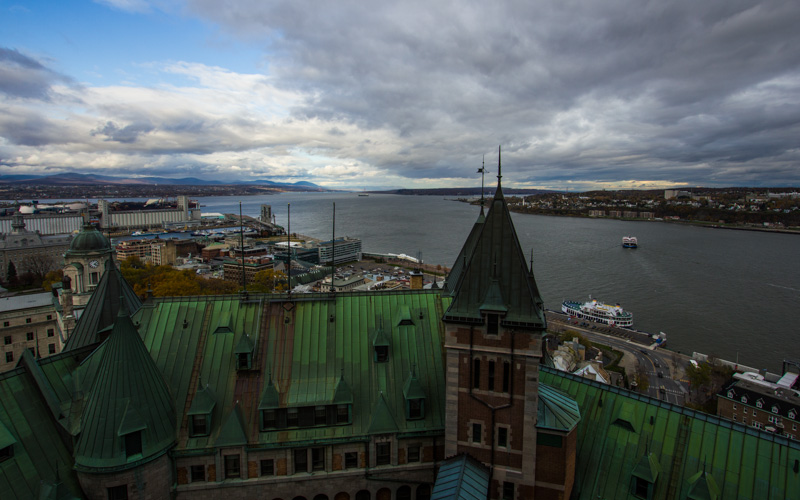 Not long after our pit stop we arrived in the maze of Quebec City. We are in love. Our hotel for the next two nights is at the famous Château Frontenac. This is our view.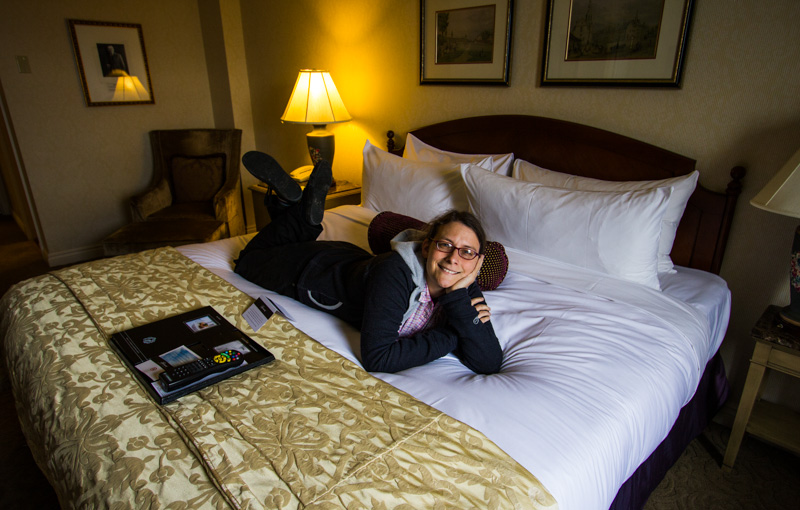 We have a two room suite, too bad as it will mostly be wasted on us. Our ambition is to see the city, not dwell in this sumptuous room. If only we were connoisseurs of pampering, we would probably enjoy, even demand, to be living in the resplendence of opulence due those who believe they have earned it. But alas we are simpler than that and take our luxuries from the skies, forests, waters, and their myriad sounds and colors that enchant our senses. That is where we thrive in the finery of life.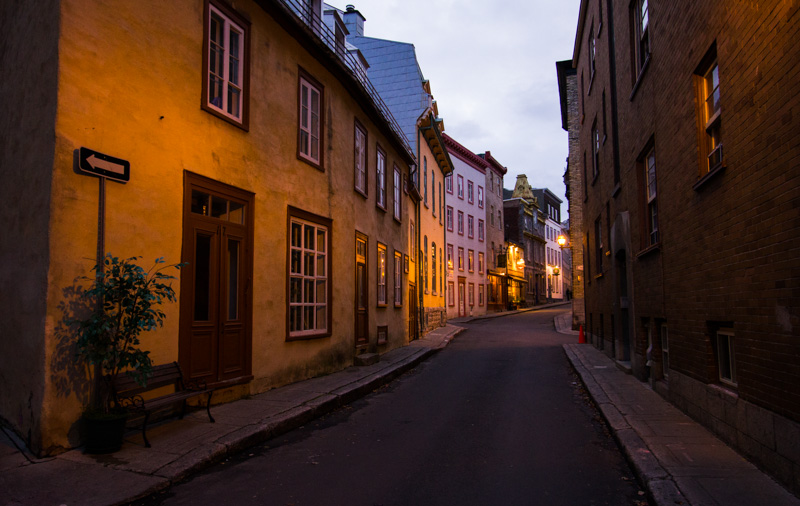 Room service? We wouldn't know how it was, we had a date with L'entrecote Saint-Jean for their supposedly amazing steak with mustard/pepper sauce. I would guess only locals order anything else off the menu, and by the looks of the plates we walk-by while being seated, I'd have to say that mostly travelers are eating here. Caroline and I went the tourist route, it was after all what pulled us in. It was good, not great, but worth the visit. What was really great were the profiterole's also known as cream puffs. Covered in chocolate and almond slivers, the French know very well how to make pastries. Time to walk around the city and enjoy our move into night.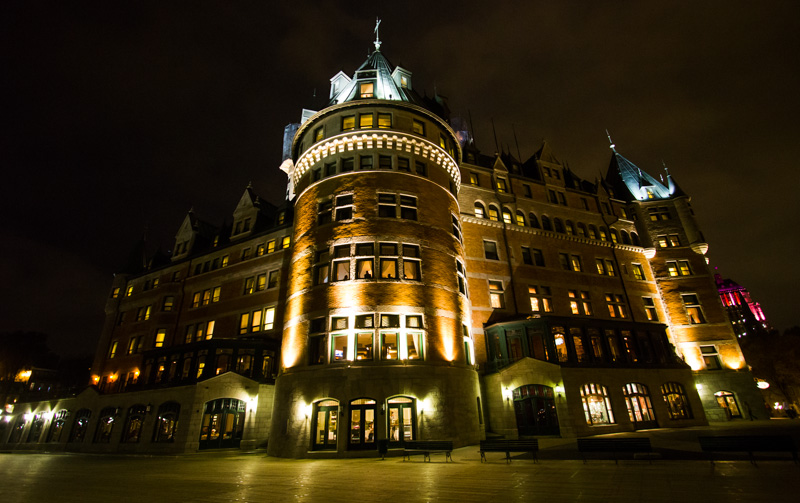 Back at the Château we lingered outside enjoying the city lights and the sense of the historic. With only one full day in Quebec City, we'll have to rise early and be prepared to wear out our feet, but for now we'll just continue to walk and be delighted by these memories of Europe.