Over the years Caroline and I have made dozens of journeys up and down the California coast. Along the way we have tried to stop everywhere we encounter a sight we'd like to remember forever. After so many spots it starts to feel like we've seen it all and then we pull over and wonder if we'd ever stopped here before. Ten percent of our 150,000 digital photos we've shot since late 1999 are tagged "California", though I don't know if I've been completely thorough with that process. Maybe in the near future I'll be able to run our entire catalog of images through an algorithm that will match my images with other peoples that did better tagging and we can find out where some of them were exactly taken. I cannot lament being in the moment and ignoring the mile marker or not having a camera with GPS as romance and happiness in these times takes precedence. I guess it's only when drifting through memories and finding nostalgia that we want more details in order to enliven our previous experiences, making them more vivid. As we stood on this overlook we were enchanted by the layers in the rock and the contrasting colors of brown, tan, white, green, and blue. We likely kissed as we are apt to do when recognizing the beauty of a place and as slow as we were traveling we still couldn't afford to just stay here all day watching the crashing surf, it was time to move further south.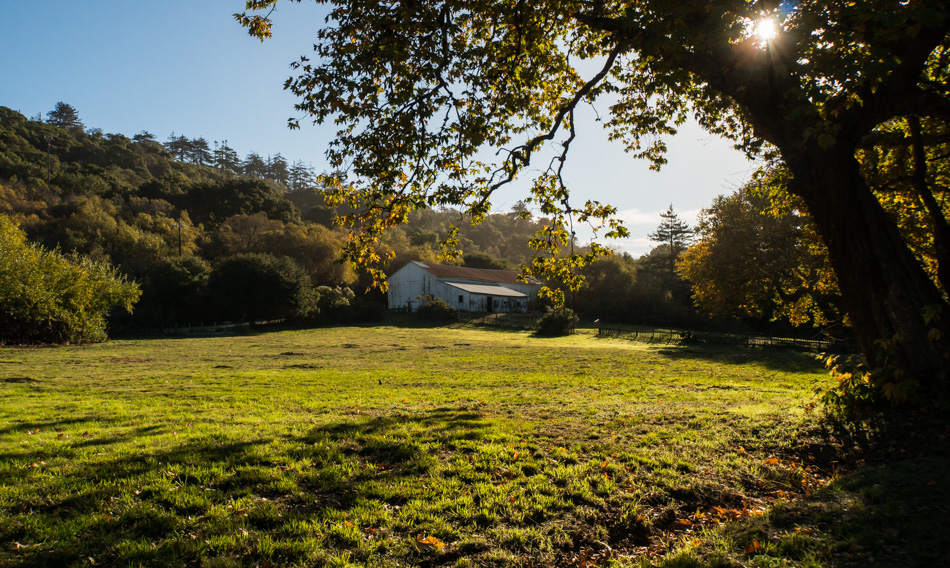 Today's destination is the Andrew Molera State Park. Over in the shadows are a couple of deer, while I got a couple of photos they were quite unspectacular compared to the fall colors hugging this barn. Just around the corner from the barn was a small creek that required we take our shoes off and roll up our pants to cross as in some sections it was almost knee high. The trick to crossing the creek is stay to the right if you are on your way to the beach trail or ride piggy back with a good friend. Caroline had to walk in the cold water because that's the way it is.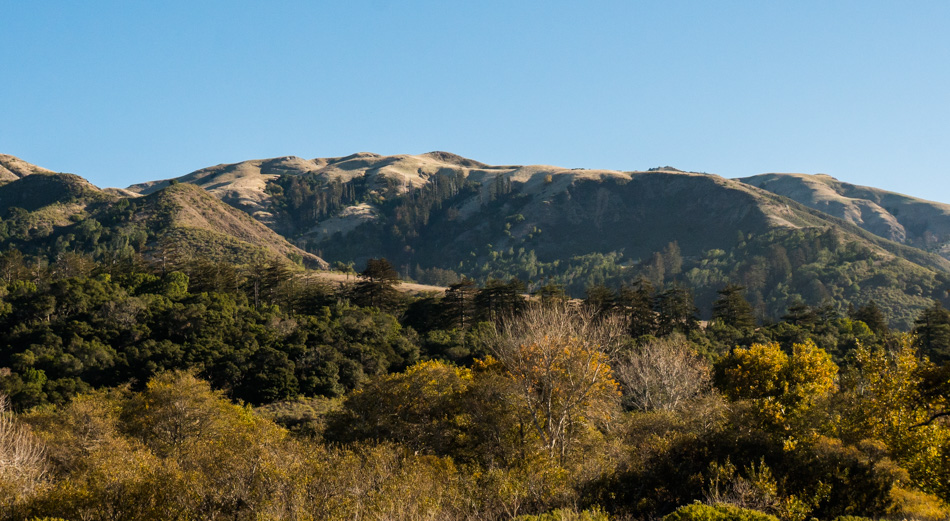 Walking to the beach trail we had about a mile walk that offered views that we never tire of.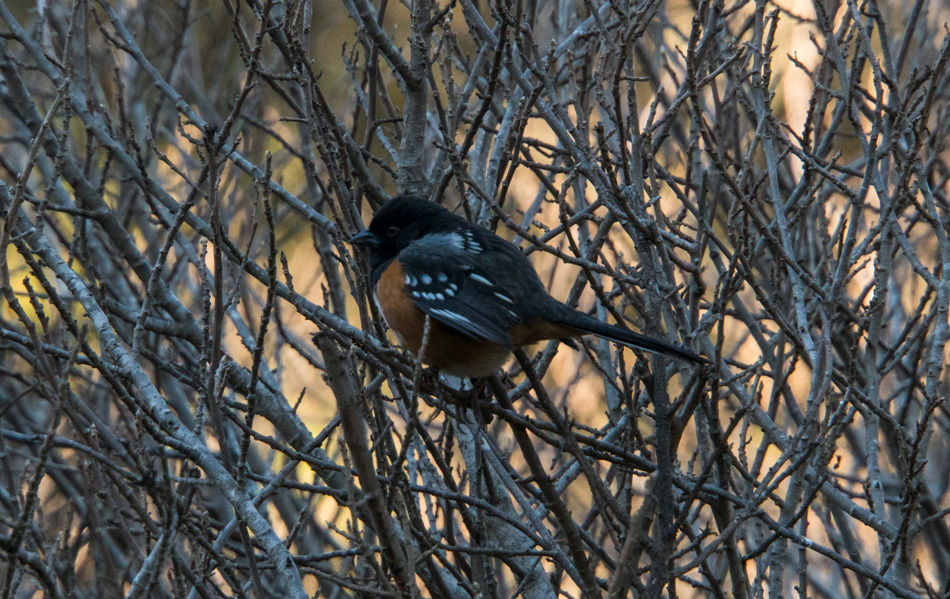 A huddling rather chunky male spotted towhee glanced at us as we walked by but couldn't be bothered with flying off, not even as I approached to get a closeup of this bird from the sparrow family.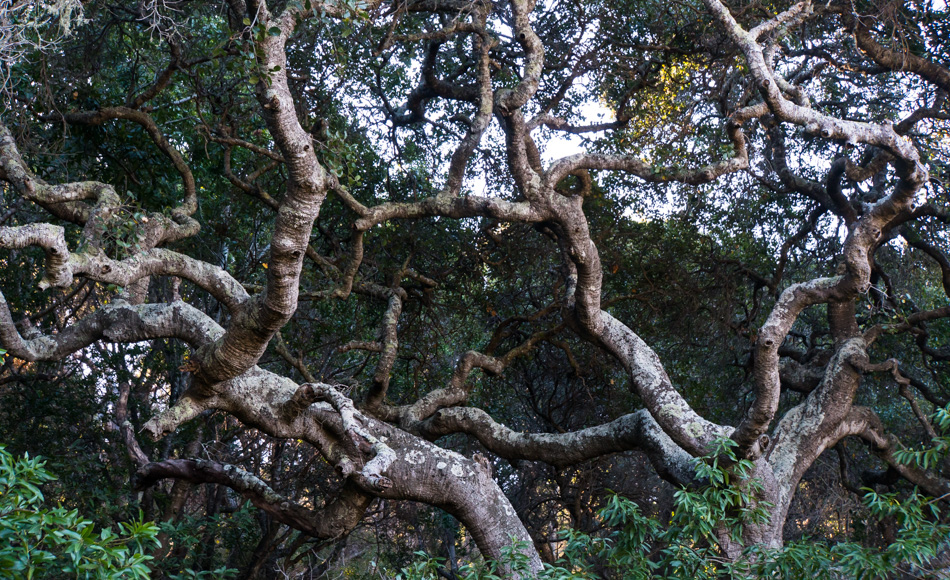 It's not just ocean vistas and wildlife that gains our attention but the plants, geology, and history too. The coast live oak is one of the trees found in California's rolling hills that help define the character of the state along with with the coastal cypress and redwoods. If we were wealthy we'd have a geologist, botanist, historian, biologist, chemist, physicist, and astrophysicist traveling with us.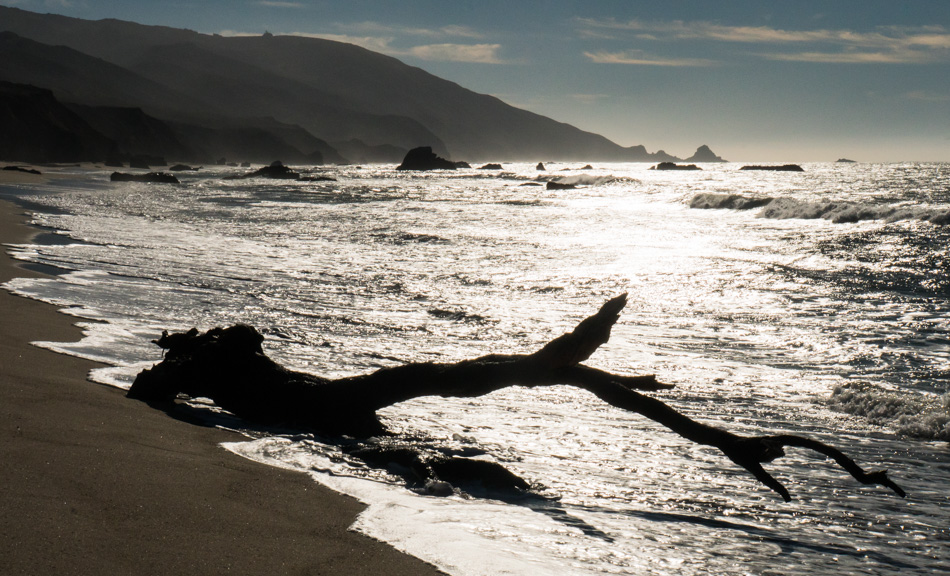 Out on the beach there are maybe 4 or 5 other people and three surfers out in the water; everyone is on the north end. We head south.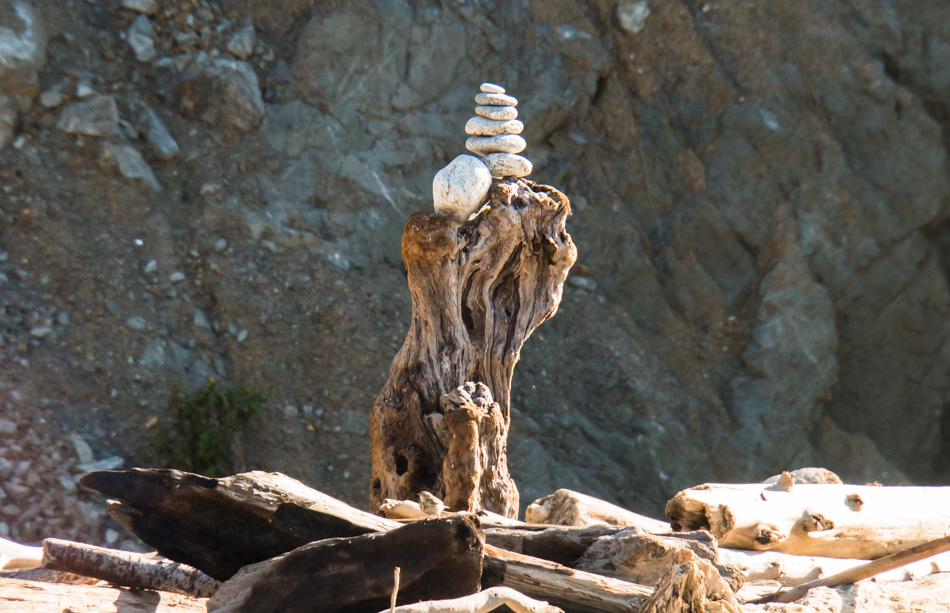 The wind is to our backs and the temperature is nice enough that we don't need sweaters here at the end of December. The cliff on our left would require some serious hard work to make our way up one of the drainages and effectively locks us in between it and the ocean. And yet there is a cairn here sitting atop a piece of driftwood. As it's hardly necessary here to show us the direction of the trail it must have been setup for its more aesthetic qualities. At about this point we run out of footprints in the sand and realize that we may be the first humans to ever walk this stretch of beach.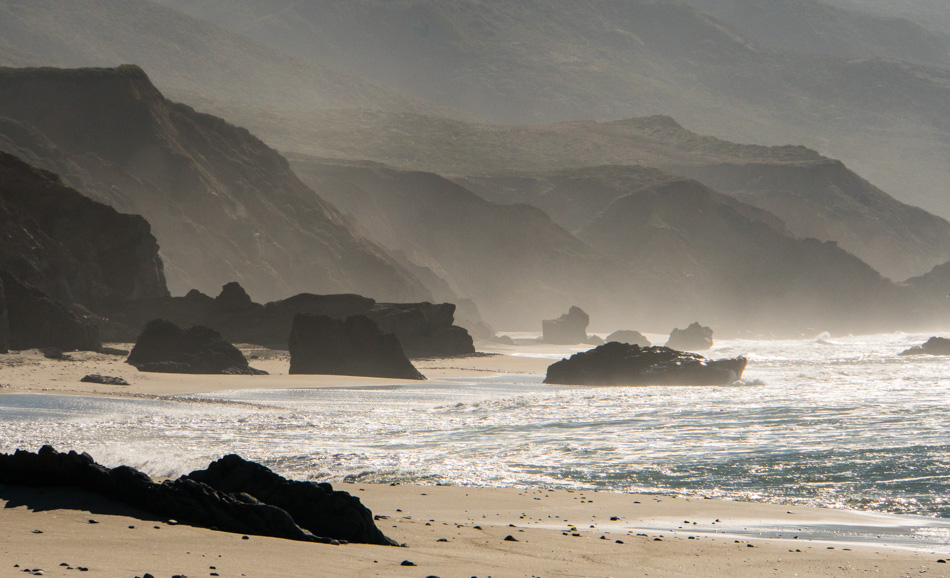 Into the unknown as we walk into an unexplored setting that could be right out of one of the Planet of the Apes sequels. Around anyone of these rocks at any moment I half expect Charlton Heston to come into view mounted on his horse sporting the beard he'd worn as Moses in the Ten Commandments. Then waving his NRA sanctioned rifle he has a million apes part the Pacific Ocean but the president learning of this treason threatens to build a wall so illegal immigrants don't just walk into the U.S. to steal more jobs. In a plot twist Dick Cheney comes out of retirement to take the helm of SG Enterprises, a division of Haliburton that is making a protein based food supplement that some say is people. Our bearded hero (updated with a man-bun to make him more appealing to the younger generation) is given super powers to conquer this evil with an A.I. called the Benevolent Heuristic Machine or Ben Hur for short that allows the same machine that fixes global warming to close the gap made in the ocean though this in turn pisses off god who was actually behind the parting of the sea, but that's another story to be continued in a sequel.
This is Caroline Wise about to explore a rebirthing experience.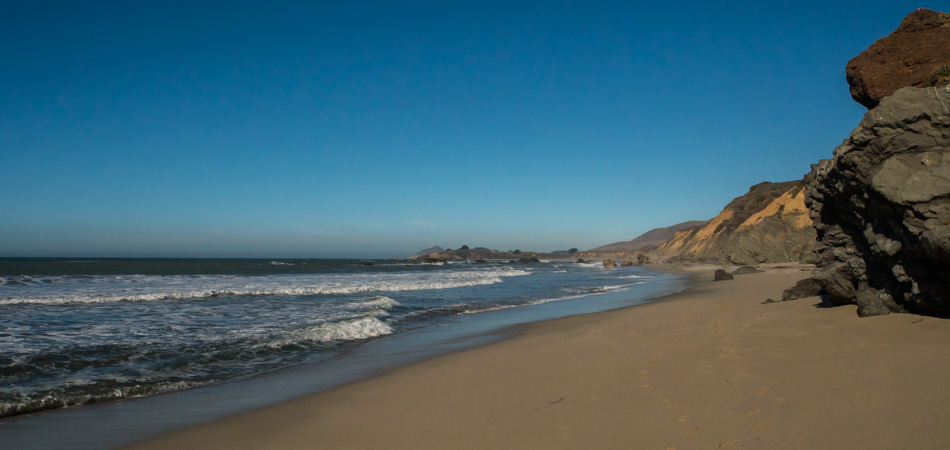 At the end of the trail near the mini-cave we look back to the north for our walk into the wind and the trail that will return us to our car. The sky should be the give away that this was a beautiful day.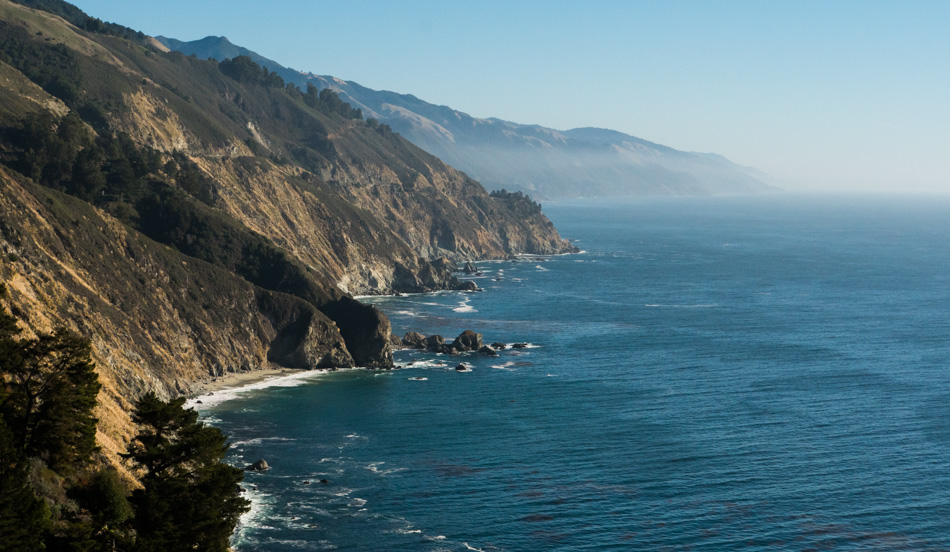 This looks familiar as though I've taken this photo before, but was it as sunny, was the ocean as blue, was it morning or late afternoon? Someday I might go through the nearly 20,000 photos I've taken of California and see which sights I've shot on more than one occasion, or maybe I'll just keep returning so I can take the same old photo all over again. Prior to snapping this pic we had made a pit-stop at another favorite haunt; the Big Sur Bakery & Restaurant. Somehow I missed the opportunity to grab a selfie of Caroline and I enjoying yet another coffee sitting outside and in front of the bakery. We shared an amazing ginger scone that was the best scone ever (at least as far as scones go during 2017). While at the bakery I took some time to do some writing so not everything would be lost to forgotten memories as our vacation comes to a finish in a few days.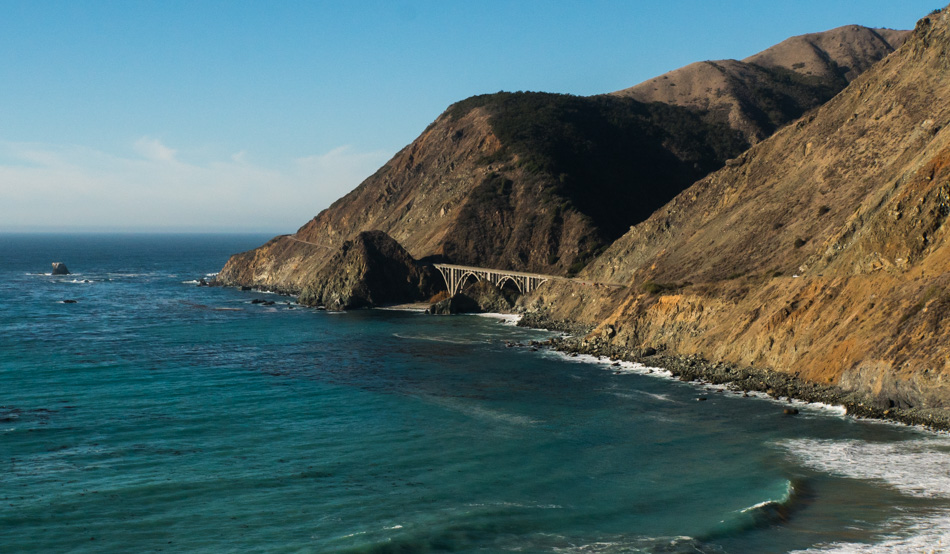 This image I'm certain I've shot before just as 29 million others have who stop to photograph the famous bridges found along Highway 1. I'm pretty sure that I've never taken the picture before with the ocean this exact hue of turquoise though so there's that.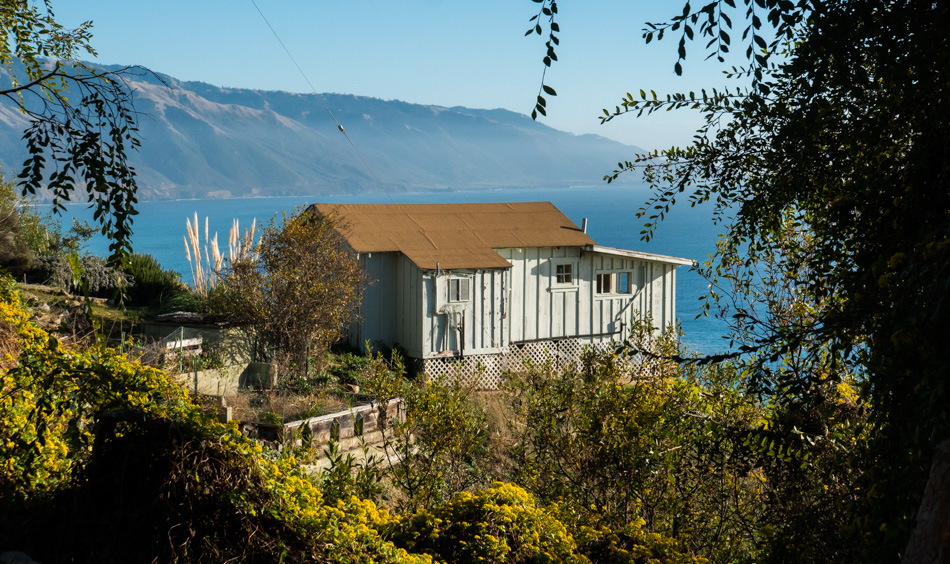 This cabin is on the grounds of Lucia Lodge and is our last stop on our southerly journey down Highway 1 today. The road continues for another 10 miles to Gorda but is closed after that while road repairs are completed on a severely damaged stretch of this iconic highway. We stopped at the Lucia gift shop as Caroline was hunting for some eucalyptus soap that she'd bought here on a previous trip, sadly they longer carried it. On the way back up north we stopped at the Nepenthe gift shop but they too were out of it though one of the sales people told us to try the Fernwood General Store and sure enough they had plenty of it. The soap brand is Big Sur Country Soap and scents we stocked up on are as follows; Eucalyptus (x3), Lavender, Eucalyptus Lime, Cedar Lemon, and Patchouli because we are hippies at heart.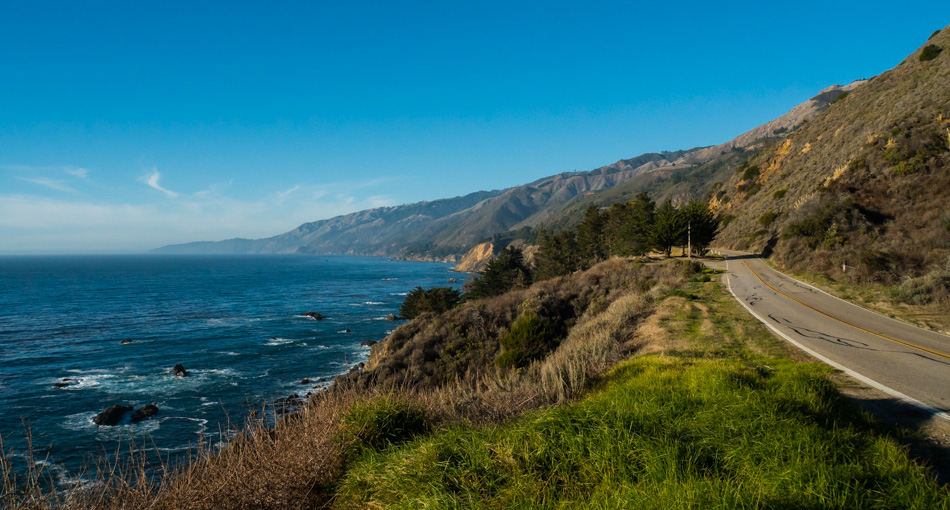 You don't need spectacular cliffs, iconic bridges, tremendous vistas, sunsets, or the parade of Teslas (wow, there were a lot of Teslas on this road today!) to find beauty around every corner. This is just one of many average bends in the road where gorgeousness leaps out of the landscape and clobbers your senses with awe.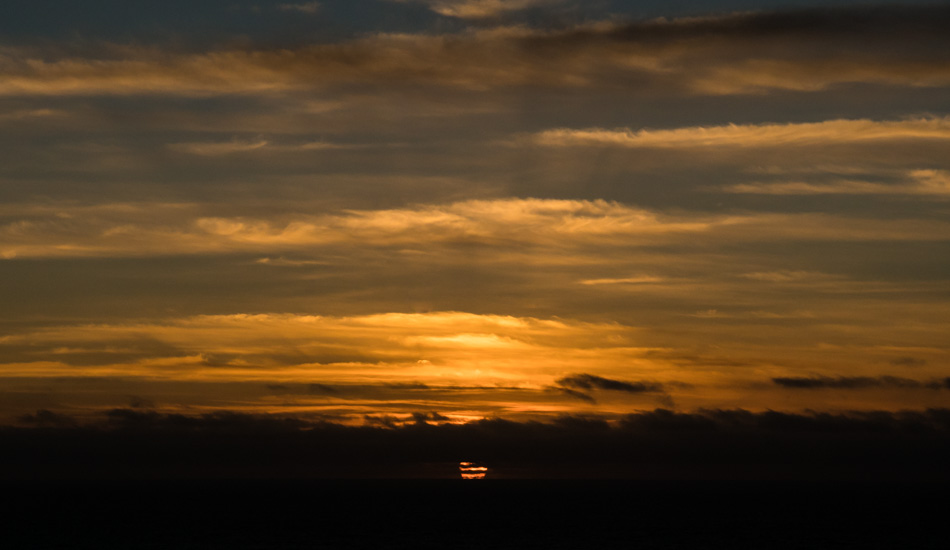 And then just like that the sun says adios way too early on a winter day and you are left to drive back to your ocean front motel in the dark. On a scale of 1 to 10 regarding perfection found on this particular day, you can guess this was probably an 11.