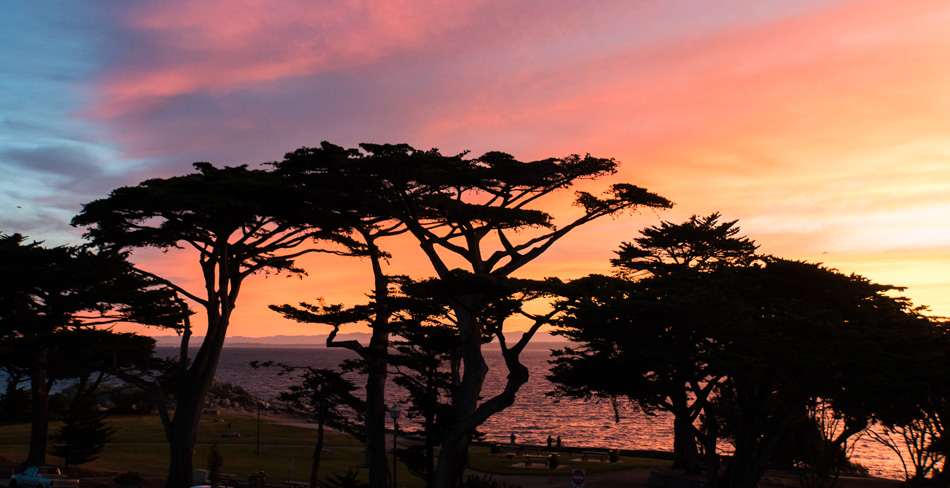 This is the first view in the morning that we are greeted with when leaving our motel at Lovers Point Inn. The colors may change but the ocean behind these coastal cypress is always glorious as is the rocky shore that is just out of sight. We'd dreamt of staying here for years but considering how close it is to the ocean we wrongly assumed it would be too expensive. Seeing that the price was in fact incredibly affordable we made this our base of operation for the six nights we'd planned to dwell on this part of the coast.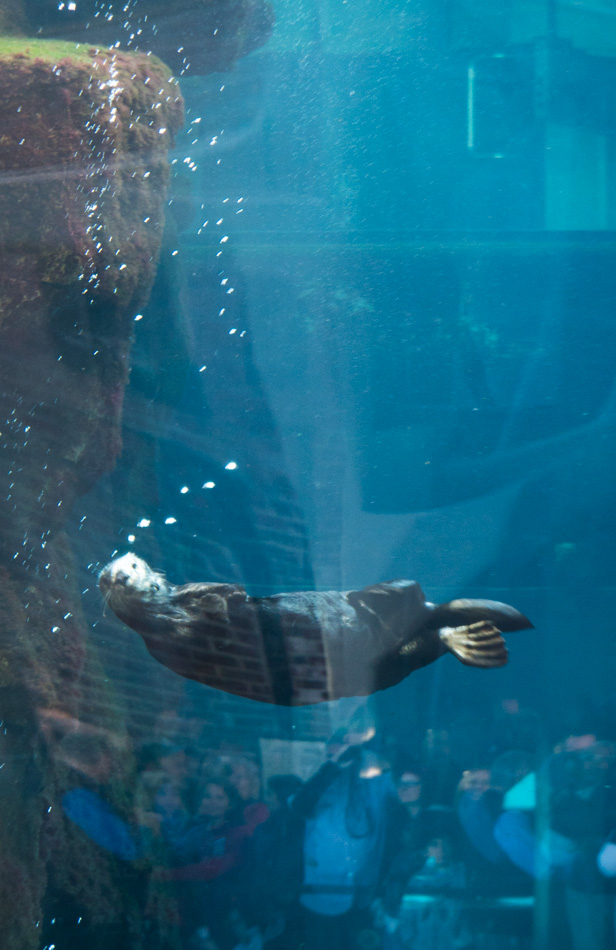 While hundreds of us wait to enter the Monterey Bay Aquarium there are two sea otters that seem just as curious to see us as we are to see them. This is our first visit to the aquarium in five years and the 25th anniversary of our first visit – we still have the matching keychain trinkets we bought back then that we carry to this day.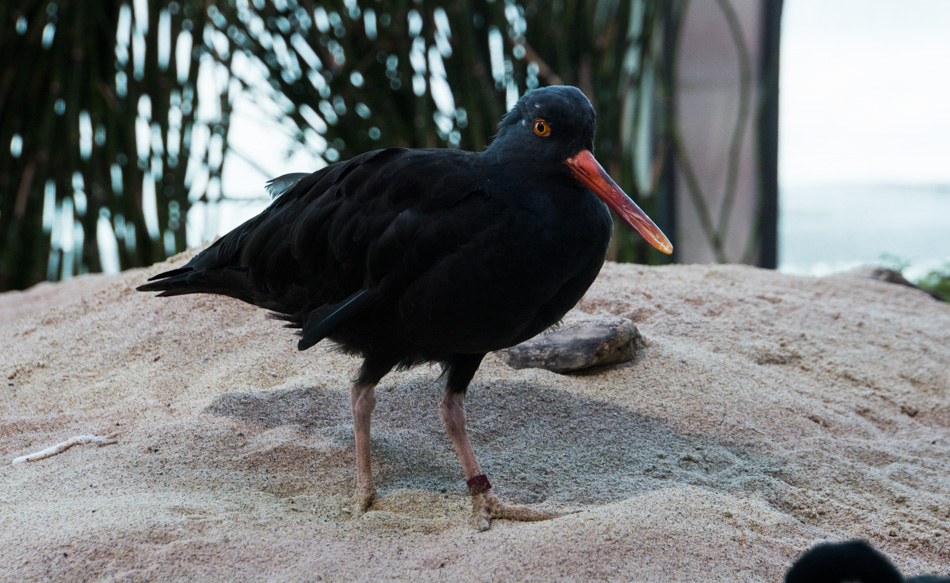 Our first stop took us through the Aviary on our way to the Sandy Shore exhibit. This is the variable oystercatcher that I can't say I remember seeing at the sea. Maybe the loud squawking of the gulls demand too much of attention though the snowy plovers never fail to garner my interest as the flirt with lightning speed running to and from the rushing water brought ashore by the crashing surf. Over at the Sandy Shore exhibit we spent a good amount of time petting bat rays, a sea cucumber, and a rock hard chiton.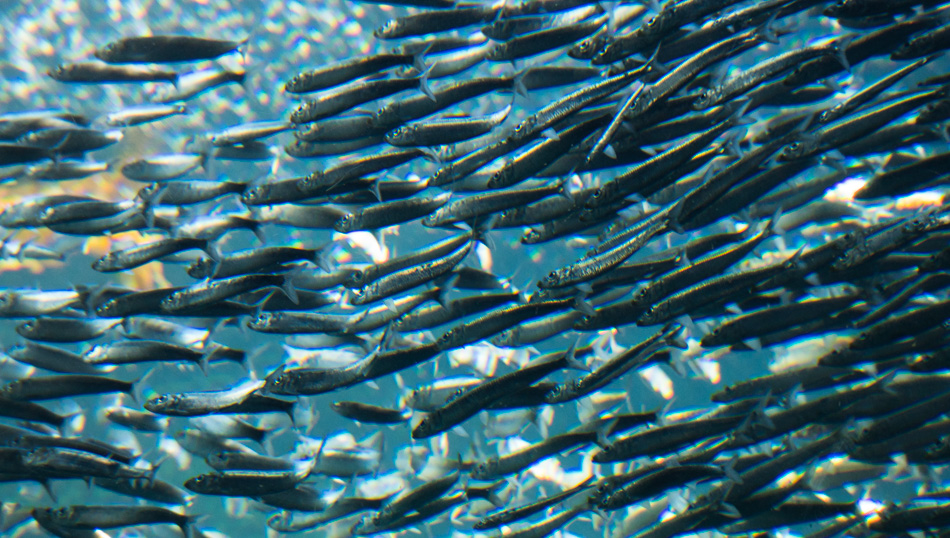 Anchovies by the thousand. The silver shimmer of these little fish are mesmerizing as they move as a school through one of our favorite exhibits. During the previous 25 years visiting the Monterey Bay Aquarium we at times been season pass members, did a behind the scenes tour, and went sailing on a research vessel sponsored by the aquarium. Caroline has often tuned into their live cams and goes to sleep frequently wearing her t-shirt "Whales are for lookin', not for cookin'." Monterey was Caroline's first encounter with the Pacific 25 years ago on her first visit to the United States after we landed in San Francisco. It was also here in Monterey that 12 years ago on another December visit that we sent off our request to Hawaii for tickets to watch the 43rd Annual Merrie Monarch Festival; our request was granted on Valentines Day the following year. Then 20 years ago in 1997 my mother in-law on her first visit to the United States also visited Monterey with us. Lots of great memories exist here for Caroline and me, just as many as there are anchovies in this tank.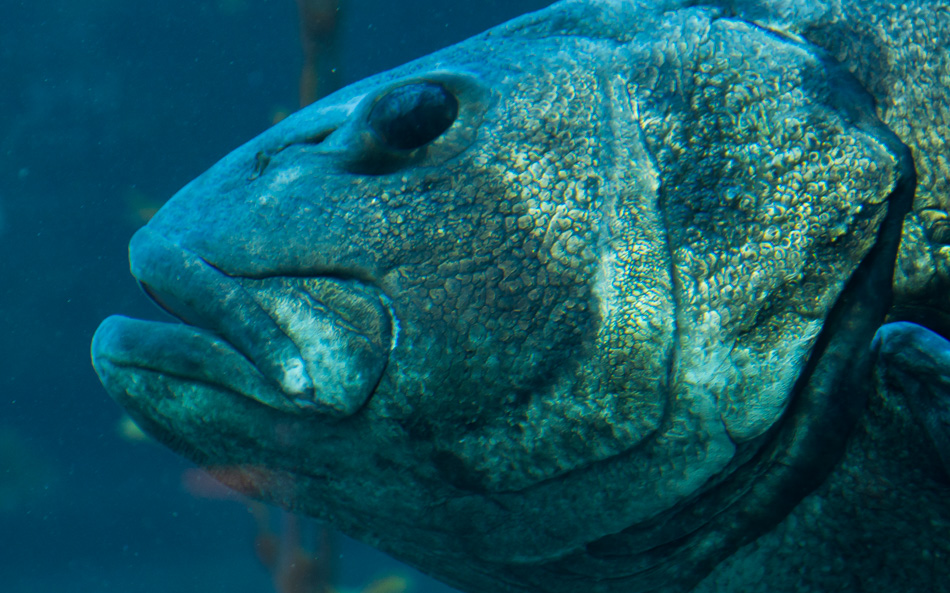 Speaking of my mother in-law this is a giant sea bass, just kidding. I truly do enjoy my mother-in-law's company as her enthusiasm and ability to find true enjoyment in the little things makes her "mostly" a joy to be around. Her being German and having grown up during World War II made her nearly as serious and unflinching as this sea bass, but that's where the similarities end. Jutta has visited us 10 times here in the states accumulating over 400 days seeing our country. There's a good likelihood that this old fish (the one in the photo) has been hanging out here in the aquarium since my mother in-law's first visit, but it appears that the first giant sea bass to join the program here was back in 1994 or two years after Caroline's first visit.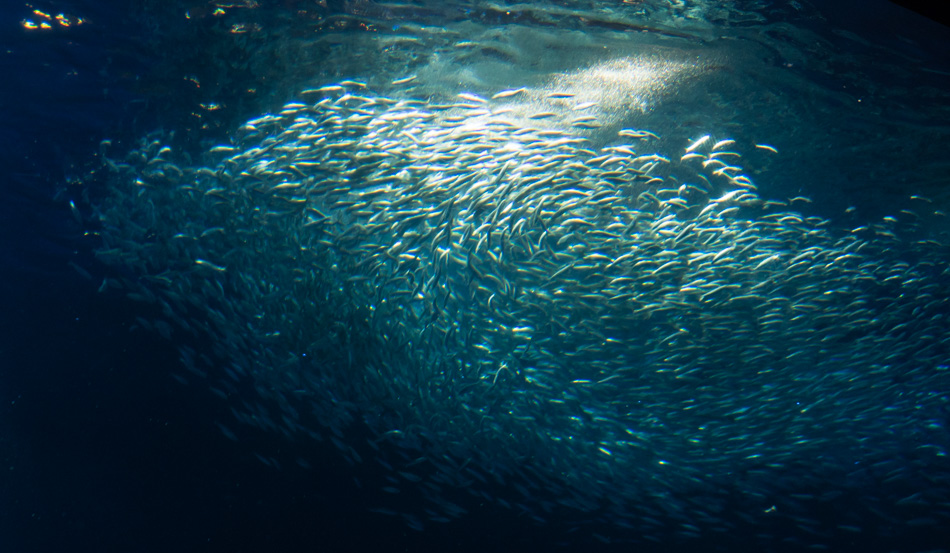 Sardines are found in a massive school at the Outer Bay exhibit where they share a tank with some blue fin tuna, dolphin fish, a couple of sea turtles, and a couple of sunfish. We had to be at this tank at 11:00 for the feeding as they tend to be thrilling examples of these fish doing things we don't typically get to witness. When you visit the aquarium you are offered a schedule of events, I'd highly recommend you take a copy.
This is Makana the Laysan Albatross. She's a permanently disabled bird from the Midway Atoll where she was rescued. At 1:30 she was on stage at the Kelp Forest exhibit (again there's that schedule of events you don't want to miss out on) with her handler and a docent who told us of Makana's story and that of the albatross in general. While her handler was feeding her we got to hear the call of the Albatross which is a beautiful sound, though maybe a bit ear piercing. At the end of the presentation we were able to approach the albatross while remaining about 5 feet away from her, this was the closest encounter Caroline or I have ever had with this majestic bird. It's difficult to not recognize that this bird has had an influence on airplane design, matter of fact I'll use this space here to remind myself to someday read Janine Benyus' book, "Biomimicry: Innovation Inspired by Nature."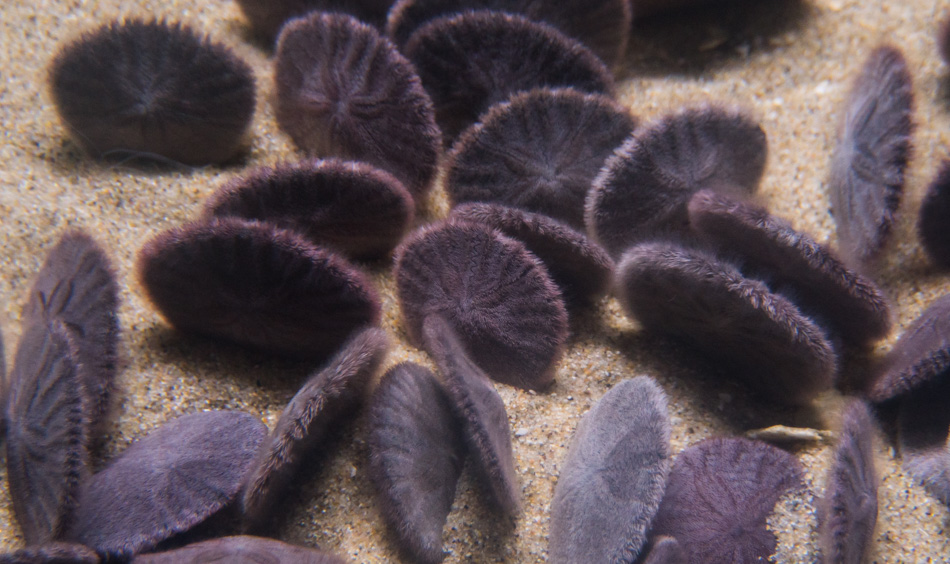 I just learned that the good old sand dollar is a type of sea urchin, who knew? While not my favorite display Caroline never fails to be enchanted by taking a long pause at this tank and watching these creatures as they move slower than sloths, but they do indeed move.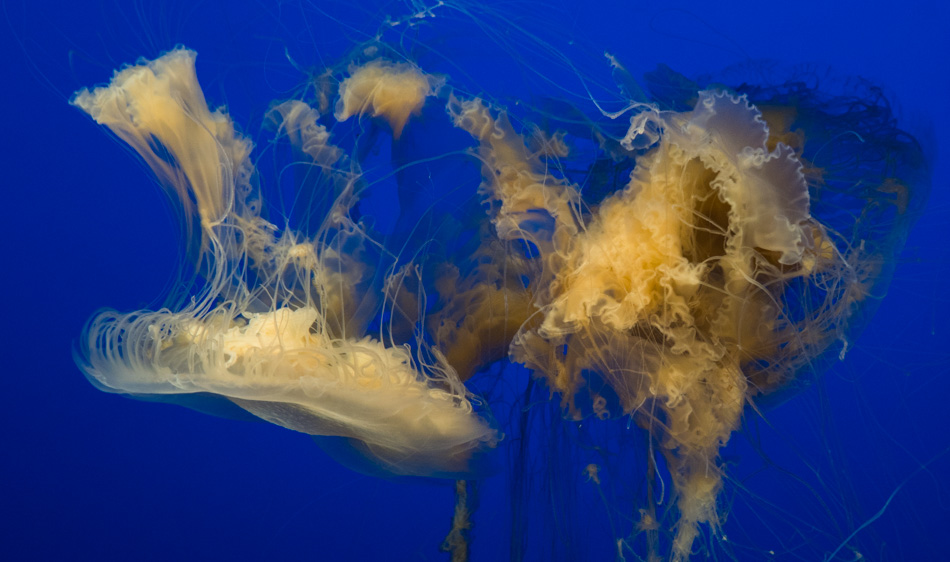 Jellyfish must have been the creation of a colorblind god on LSD, as their psychedelic characteristics likely plays a role in why the jellies' exhibit is always packed. What would make jellyfish even more amazing would be if they were multi-hued, though visitors would never leave while tripping out staring at the gelatinous blobs of floaty strings, transparent flesh, and the neon bright glowing ripple-stuff. With California about to legalize recreational marijuana in the next week I wonder if this kind of exhibit will only grow in popularity?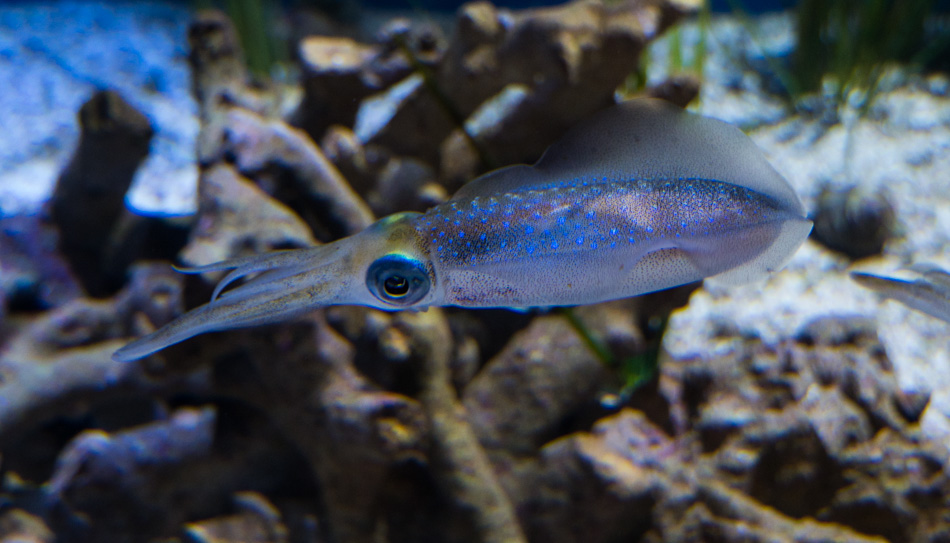 This is a cuttlefish – NOT a cuddle fish! If the aquarium were to collect a dollar each time a visitor jokes about the cuddle fish they could probably stop demanding a paid entry. These psychedelic aliens are lumped into the same area as their hallucinogenic brethren, the jellyfish. Hmmm, I wonder if anyone has ever tried making a jellyfish salad with grilled butterfish and peanut worm fish for a kind of peanut butter and jellyfish meal? Great now I'm thinking about grilled cuttlefish while simultaneously being repulsed by the thought due to how pretty and cuddly looking these cuttlefish are.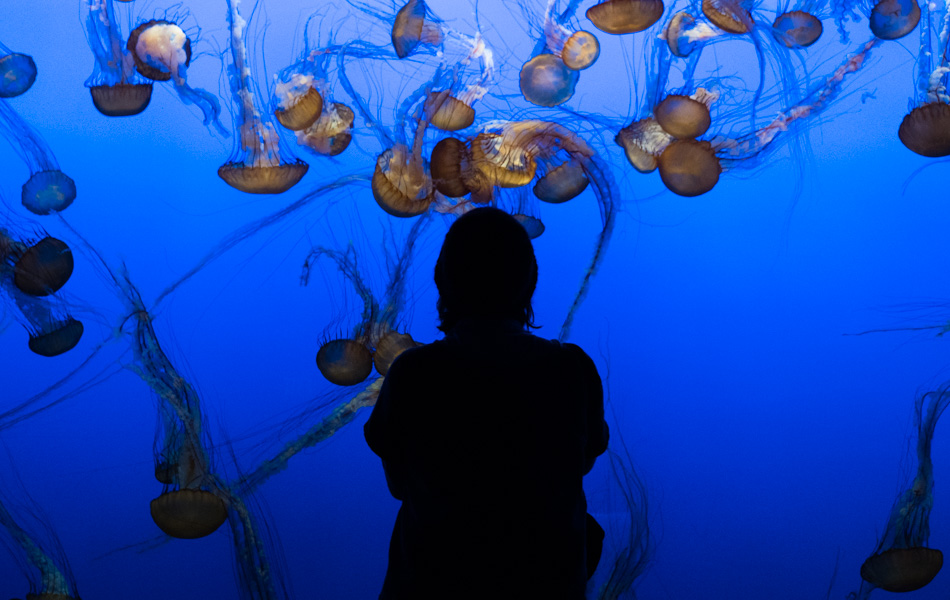 Caroline Wise standing in silhouette watching the jellyfish float through their liquidy space. I think she might be on drugs.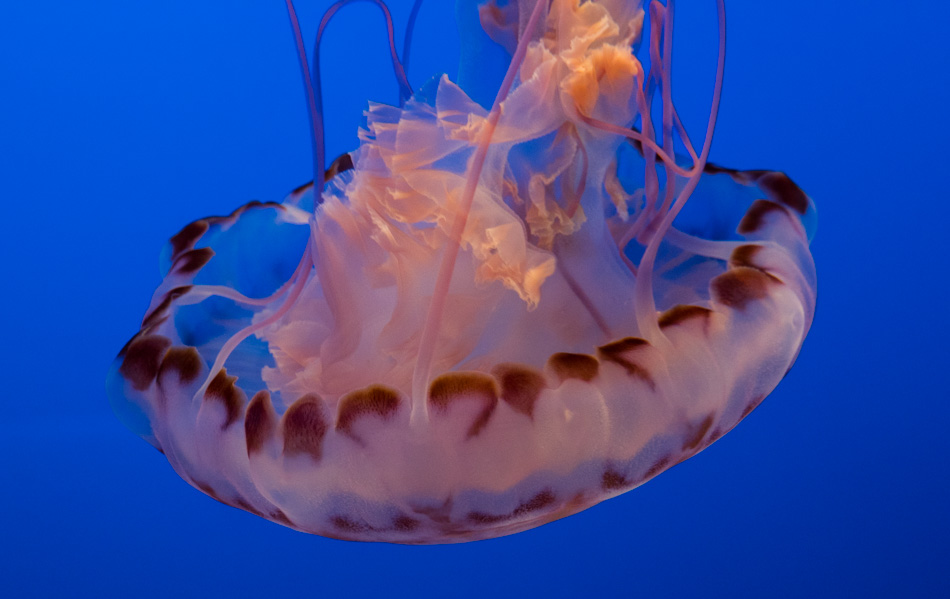 Caroline pointed out that this jellyfish in particular had made telepathic connection to her and commanded her to call me out for the bullshit that I write on my blog and stop the nonsense. So the god of LSD stuff above was probably fake news and also my Charlton Heston references from the other blog entry. I call it creative license or "running out of meaningful stuff to write."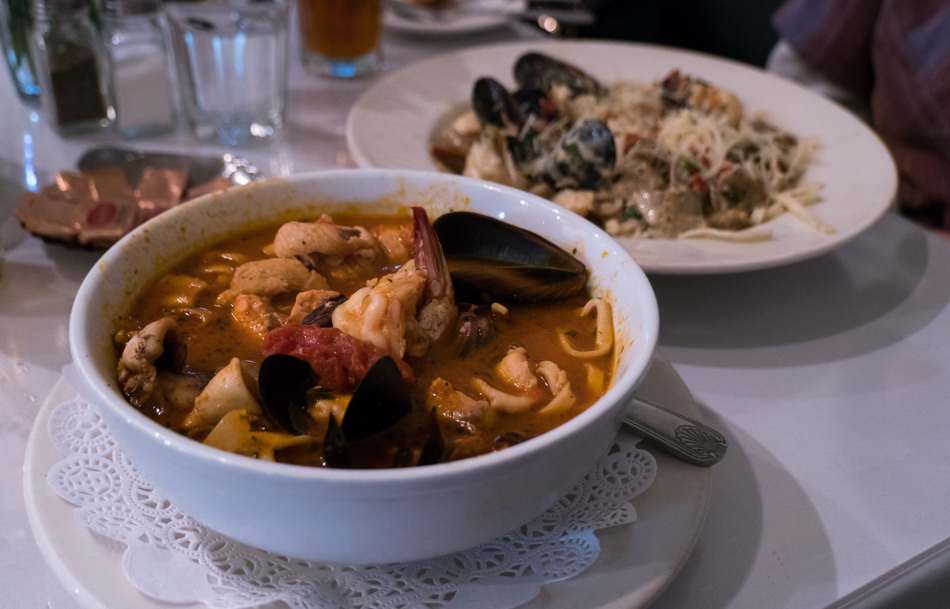 Seems almost ironic after all this fish appreciation that we'd go from ideas of conservation and protection to chowing down on their carcasses, huh? Well that's the way it is. We tried getting a reservation at the Monterey Fish House for one of the days prior to our visit to the aquarium, but this place is super popular and was booked solid. Rightfully so too as the food is impeccable. Guy Fieri got this one right on his visit and with that come long waits, even with a reservation. We waited for about 45 minutes past our reservation for a table, but after tasting our dinner we knew why. I opted for the Sicilian Holiday Pasta which is effectively cioppino served atop pasta while Caroline ordered one of the specials constructed of seafood, grilled artichoke hearts, and pasta served on homemade linguine. Next time we make our reservation early for a dinner around 5:00 so we can get a table right when they open, though they are open for lunch too! It's that good.