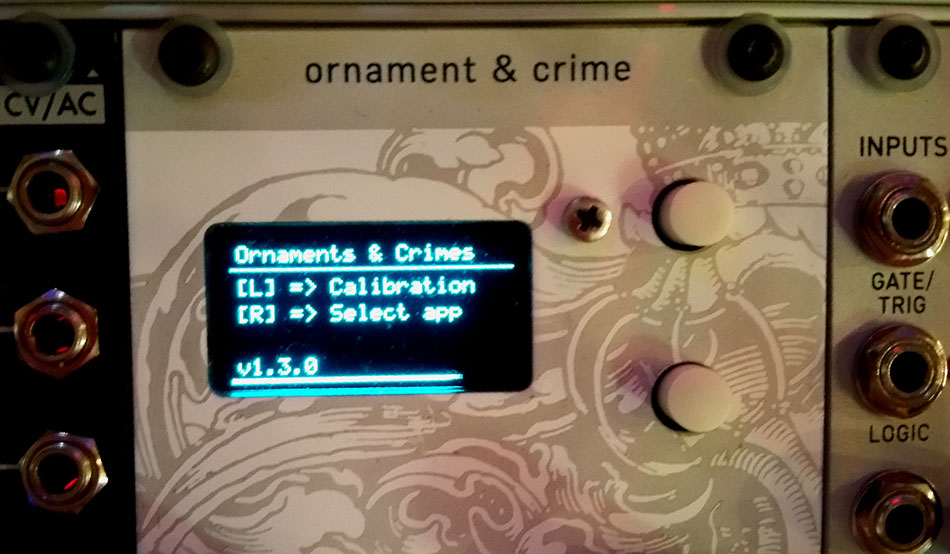 One of the pleasures of Eurorack synthesis for me are firmware updates. With them comes the opportunity not only for greater stability, but added functionality. Ornament & Crime is an open-source platform that has grown from a single function to 13 amazingly intricate and sublime routines. One of the developers who has contributed much to the Ornament & Crime module is Timmy Churches, apparently from Australia who on speaking about it had this to say, "O&C isn't a traditional product designed, manufactured and sold by a single entity — it's a post-capitalist artifact of the after-hours sharing economy, and thus mash-ups and overly complex pastiches are to be expected."
With this in mind it is obvious to me that we will be seeing ever more complex modules coming out of this sharing economy. This portends exciting times for our future in that those of us bitten by this Eurorack bug will forever be finding deeper modules made the more so by community involvement with extending functionality using open-source platforms.
I have a special affinity for my modules that do employ firmware updates as there is also the possibility of alternative firmware versions that can radically alter the functionality of the device. Case in point are many modules from Mutable Instruments that support "Parasites." These parasites often but not always leave the original firmware mostly intact and tack on some new functions that make the module far more valuable to their owners.
On the other hand there exists the opportunity to get a module to market sooner if the maker can start distribution of the hardware platform early and then involve the community to help shape the overall function. To that end we have modules such as the Orthogonal Devices ER-301 and the Winter Modular Eloquencer that were put into artists hands early allowing testers to feedback with the developers to fine tune things and respond to community requests for ease of use or added functionality.
Today was the day that the crew behind Ornament & Crime released version 1.3.0 of this modules firmware now it's time to open up the 47 pages of dense documentation to learn what's new and how to use it. Big thanks to Patrick Dowling (aka pld), Max Stadler (aka mxmxmx) and Tim Churches (aka bennelong.bicyclist) for their dedication to this project and making one of the great contributions to Eurorack synthesis.