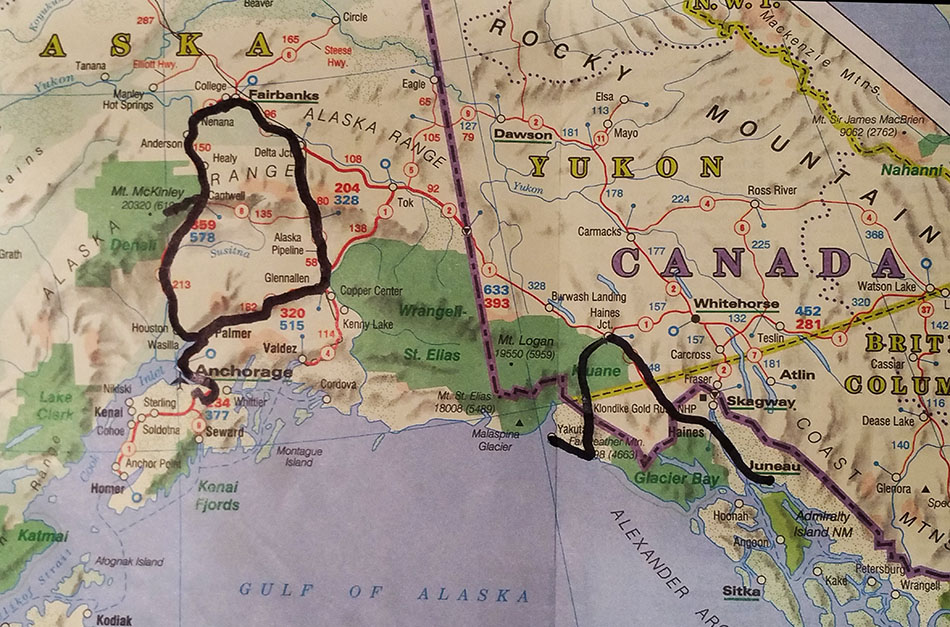 Anchorage leaves a lot to be desired and so does Fairbanks, but there's big nature between the two so those less-than-ideal realities will have to be endured. To be fair, their lackluster impression probably has more to do with our budget than with a totality of blanket statements that cast aspersions upon the aesthetics and services either of these cities have on offer. We did after all have an amazing dinner riverside in Fairbanks that will stand out as an enduring memory, but the lodgings one is offered for under $200 a night are deplorable. So let's move past these temporary stopovers and get on with why we came up here.
We came up this far north for a number of reasons: one was because Alaska, two, Denali, and three, to add to our map of America, more specifically the map where we track which roads we've traveled throughout the United States. While we'd had a brief stay in Anchorage on our previous trip into Alaska all we did was grab a rental car for a few hours to head in the general direction of Seward; we didn't have time to see anything else. That trip was at the tail end of a rafting adventure that saw us rafting the Alsek River between Haines Junction and Yakutat, Alaska. This time we are once again here to raft the Alsek, but we left Phoenix early to get a couple of days in some unexplored territory before we hit the river.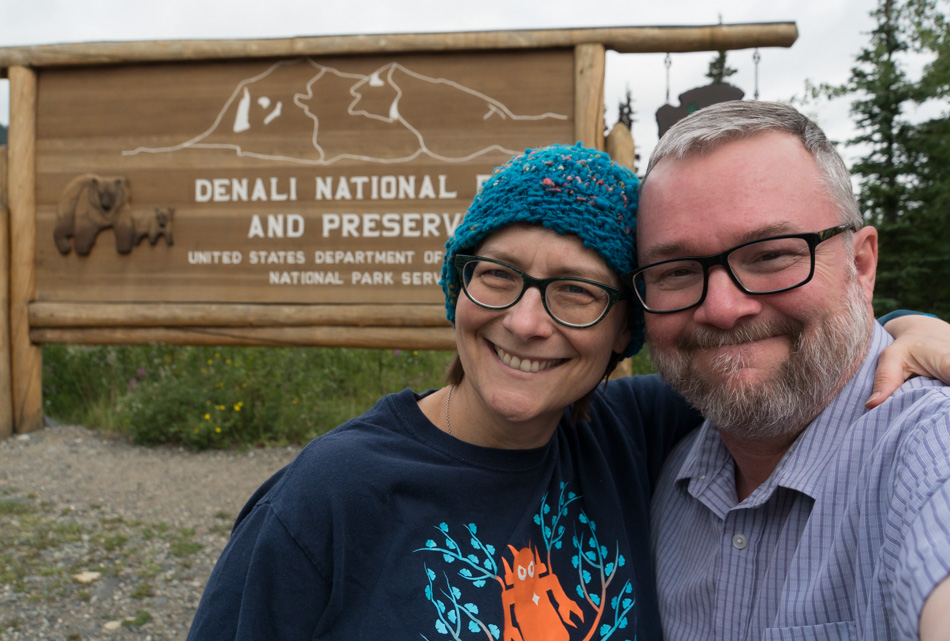 Because Anchorage is right on the coast it turns out they get their fair share of cloud coverage, as we came in under clouds so shall we go. Our drive out of town went north on Highway 1 towards Denali National Park and Preserve and with gray skies there wasn't much on the horizon for the first few hours of the drive.
Sometimes the legend and myths surrounding a thing can make that thing much larger than it truly is and with that magic of the unknown dreams cascade in ways that no reality will ever compare to. Then again reality sets into motion an entirely new sense of knowledge that replaces the fantasy with experience that often have the affect of drawing us back in for return visits and creating the fertile ground for new dreams.
Denali National Park is one of those places whose scale and reputation comes with some big expectations. First of all it's not as remote as our imaginations had already plotted on the map. From Anchorage where we landed the day before it's a mere 237 miles to the park. Next, based on other anecdotal stories we approached this place with the idea that the crowds would be on par with Disneyland on Thanksgiving, fortunately for us that is hardly the situation.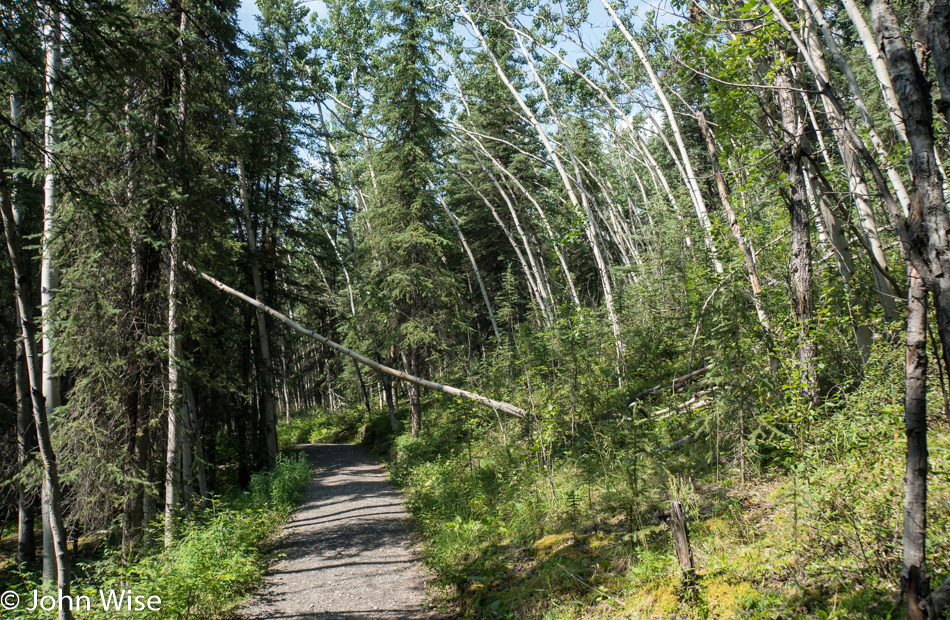 First stop had to be at the visitor center, as a trip to a National Park wouldn't be complete without Caroline working to get her Junior Ranger badge. While kids can get by doing an activity or two from the workbook, Caroline tries to answer every question and complete as much as possible from the tasks to at least show some serious effort. Seeing we didn't have all day to spend in the park, she'd have to limit herself and chose to do the Sled Dog Demo. I didn't come to Alaska to spend even one minute on a bus that could take us there, so we get on the Roadside Trail for the nearly two-mile hike to the kennels.
The forested trail is a nice introduction to the flora of the area though the fauna is either in hiding or has already suffered the sixth great extinction. We make it to the kennel minutes before the demo with enough time to get a quick pull of water from the hose nearest to the dogs. As I'm drinking from it I'm simultaneously wondering if any of the dogs lifted a leg on this thing?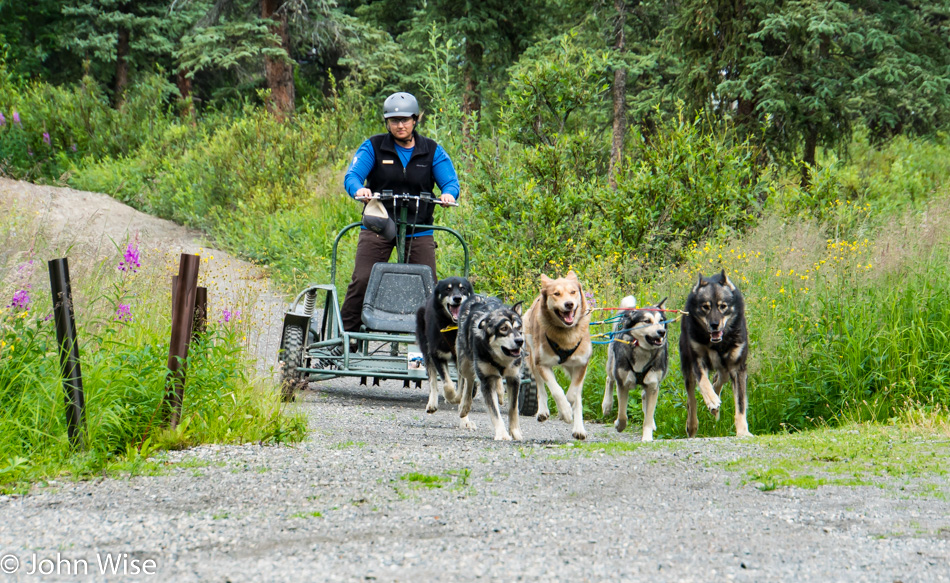 These Alaskan Huskies are a beautiful spirited breed of dogs with the pack instinct fully intact. They appear to love moving as a unit and dragging the wheeled training cart around the track that has been set up just for the purposes. The skilled handlers take pride in showing us visitors the working life of these dogs that we learn are most comfortable when chilling on a ten degree below zero winter day.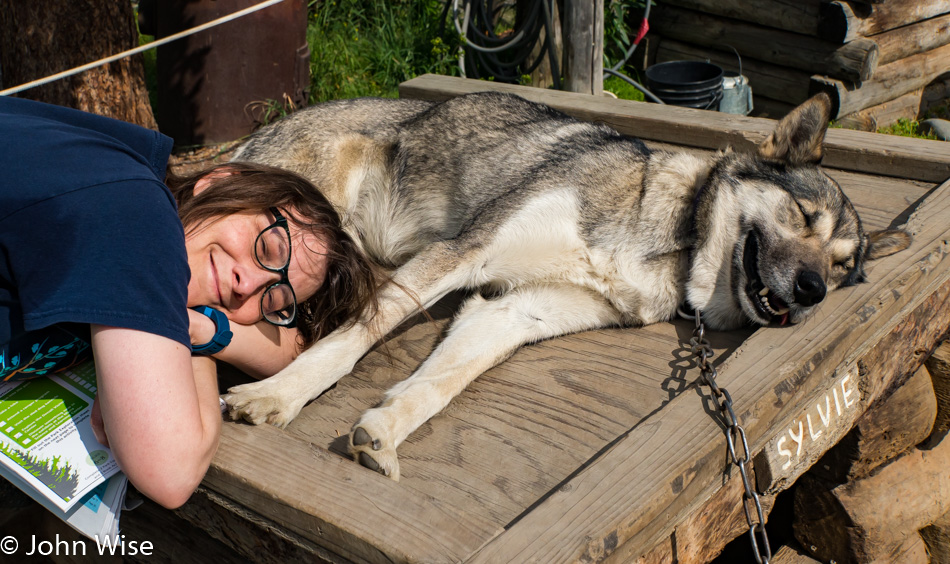 With ranger autograph in hand that proves Caroline attended a ranger-led program we take the Rock Creek trail back to the Visitor Center and at 2.9 miles long we relish the idea of our creek side return. So it turns out that the Rock Creek trail is not aptly named as there is no sight of the creek, though we do hear it twice on our hike back to the visitors center. Regarding that aforementioned extinction we do learn it's not complete yet as we pass a couple of squirrels and the shiny berry infused scat of a bear.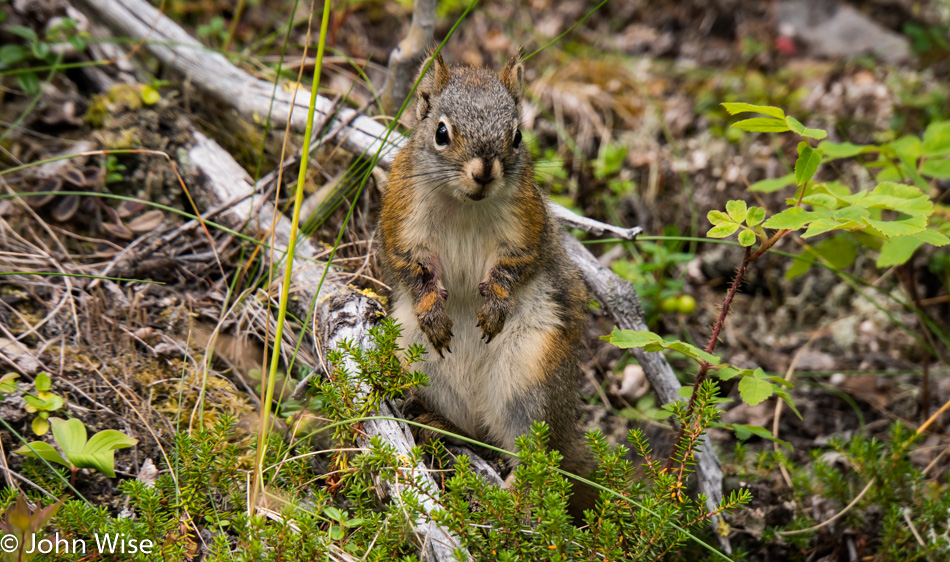 Back at the Visitor Center Caroline is ready for swearing in though we are reminded that it is actually a pledging to maintain a code of behavior and giving good example to helping be a steward while visiting our public lands. Win of wins for being here today as Caroline is leaving with a commemorative centennial wood badge that sadly would be lost by the time we got back to Arizona.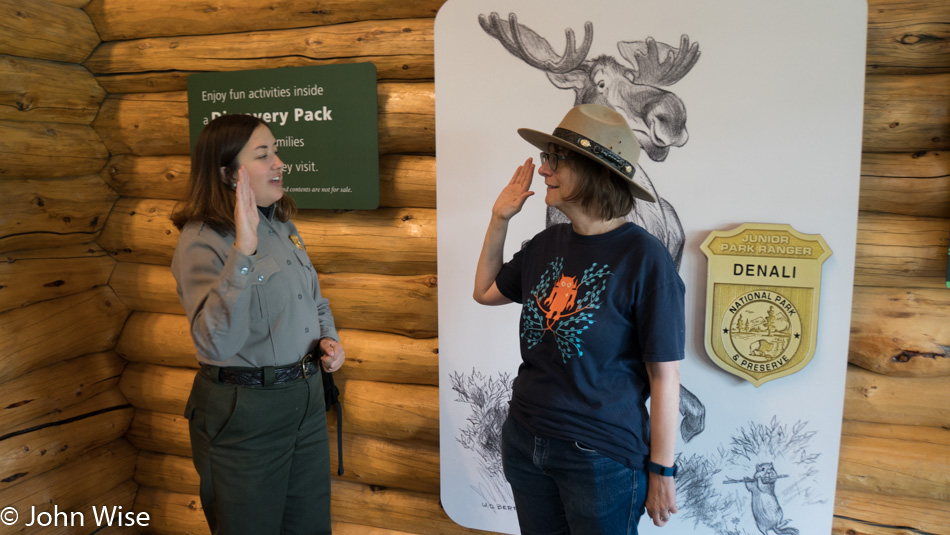 One more thing to do before leaving is head up the road to Savage River which for this trip to Denali will be the end of the road for us. Going beyond this point requires the visitor to sign up for a bus trip to one of several points along the 83 mile long gravel road. The longest journey into the park takes 13 hours or about 12 hours we don't have right now. Reaching the bridge over the not-so-Savage river we have not yet gleaned a view of the mountain formerly known as Mt. McKinley now known by its native name Denali and have every reason to come back at a future date to see more of this enormous park and preserve.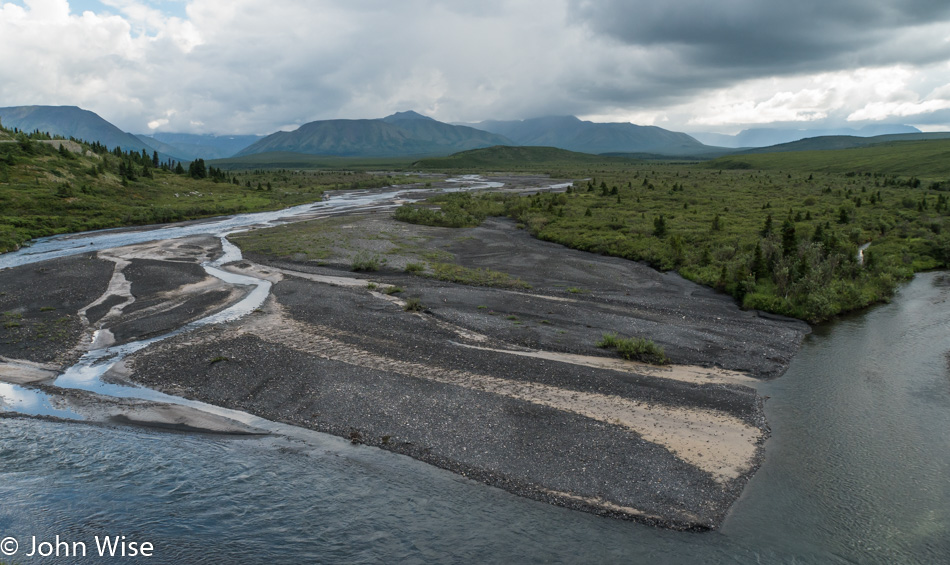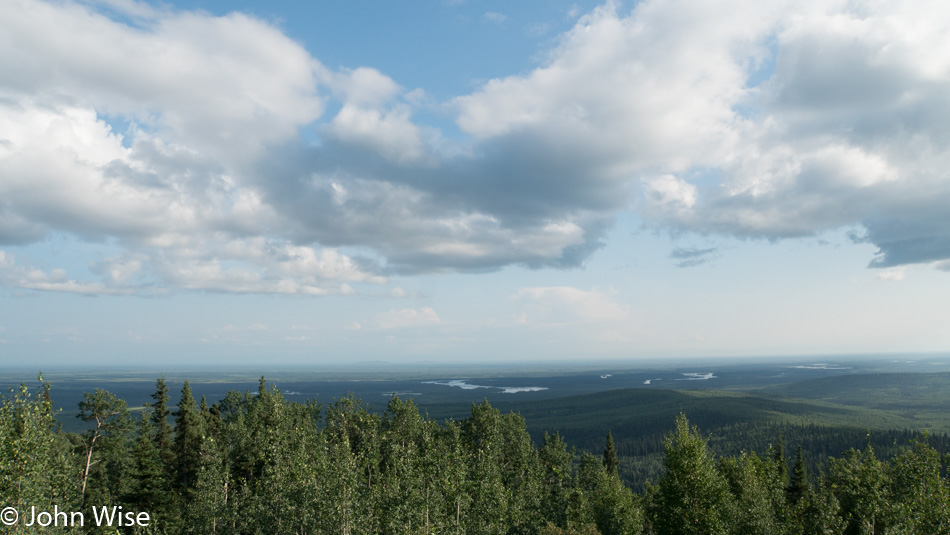 By the time we reach Fairbanks we are hungry and head directly to the Pump House which seems to be the most popular place in the area. Rightfully so as it's in a National Historically Registered building right on the Chena River and the food is perfect from the fresh seafood appetizer to the rhubarb cobbler. As a matter of fact it is so perfect we will talk of the meal from the Pump House months from our fantastic meal.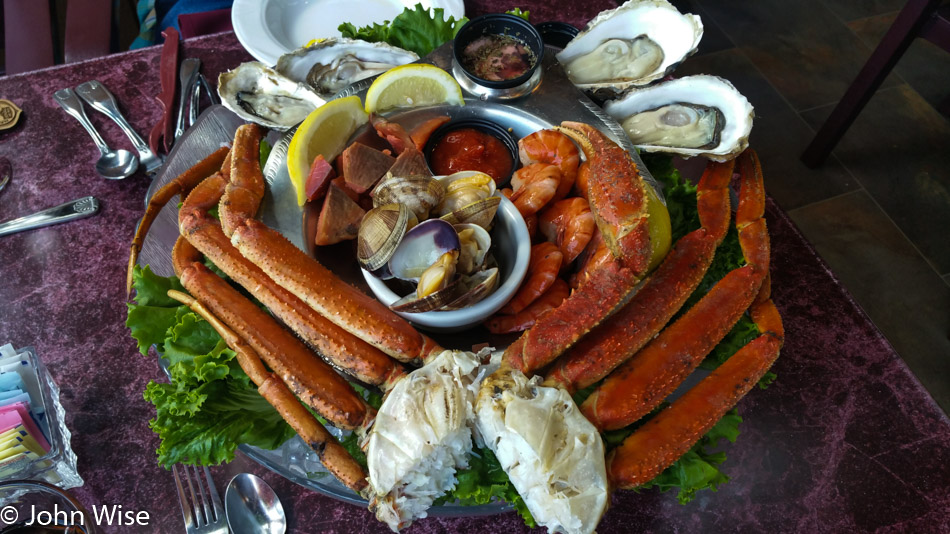 At 10:30 p.m. the sun is shining bright as though it were maybe 5:00 p.m. back home in Arizona, this is unsettling. It's not even sunset and everything is closed. Some people say it is the endless night of January that is disturbing but for me here right now this apparent still early part of the day demands that people should still be active doing normal day time stuff. I think I might have the opposite issue with this long day if I were living here, as the long night would be perfect for long runs at making music, crafting, reading, and doing all the other stuff that requires hours of mindful focus for extended periods of time.
Our hotel is an abomination and lends a pallor to the entire idea of what Fairbanks is. The state of Alaska would be well served to create a board of standards of how quality and service is managed when a typical visitor spending a couple hundred dollars for a room probably has an expectation that exceeds the type of room on offer that would cost $10 a night at a flop house on Skid Row anywhere else. I have to remind myself that we are not in Alaska for the accommodations but for the expansive nature and beauty that surrounds us outside of the city limits.