Grasping for details, wishing for another week, uncertainty if we used our time the most effectively, I'm not ready to leave Germany. Faced with tomorrow's reality of boarding a British Air flight to London before our non-stop to Phoenix, Arizona, I am looking for those things I somehow overlooked. I know this is an act of futility, but I cannot help but fall into nostalgia for the past month and so I wish to live it all over again. Instead of taking the train we would normally travel on our way to Jutta's apartment, we opt for a bus that will take us on different route, maybe I'll see something I missed. In fact it works, the bus we have boarded is a hybrid with a display showing us what is powering the bus and what is being charged or powered during braking. Damn, this now has me wanting more time to explore the roads yet untraveled.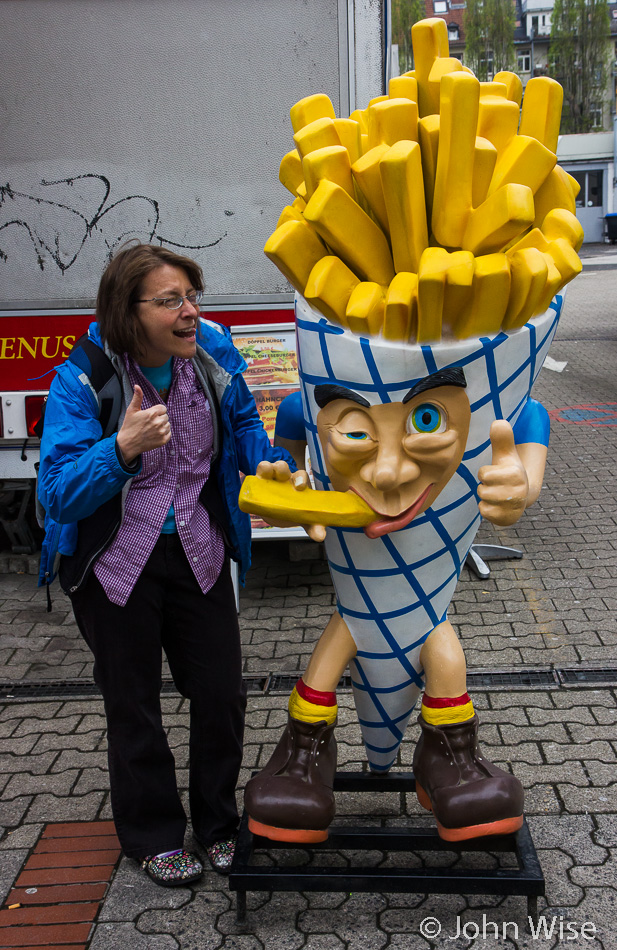 Would you like fries with your hotdog? Just after arriving in Germany and one of my first blog entries recounting those days, I shot a photo of two Frankfurters, I think the designer of that wiener had a hand in producing the French fry guy.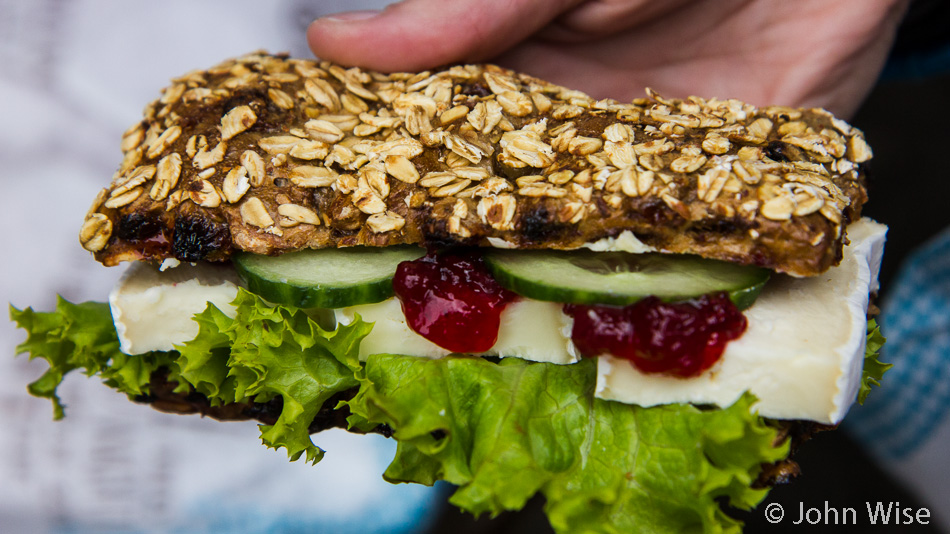 More than a few times Caroline and I have stopped at Kamp Bakery on Bergerstrasse for one of these brie, lingonberry, cucumber sandwiches on a full-grain, oat, and raisin roll that has us wanting to bring a couple dozen of back to America. This is the perfect breakfast sandwich, well a close second to pork belly sandwiches anyway.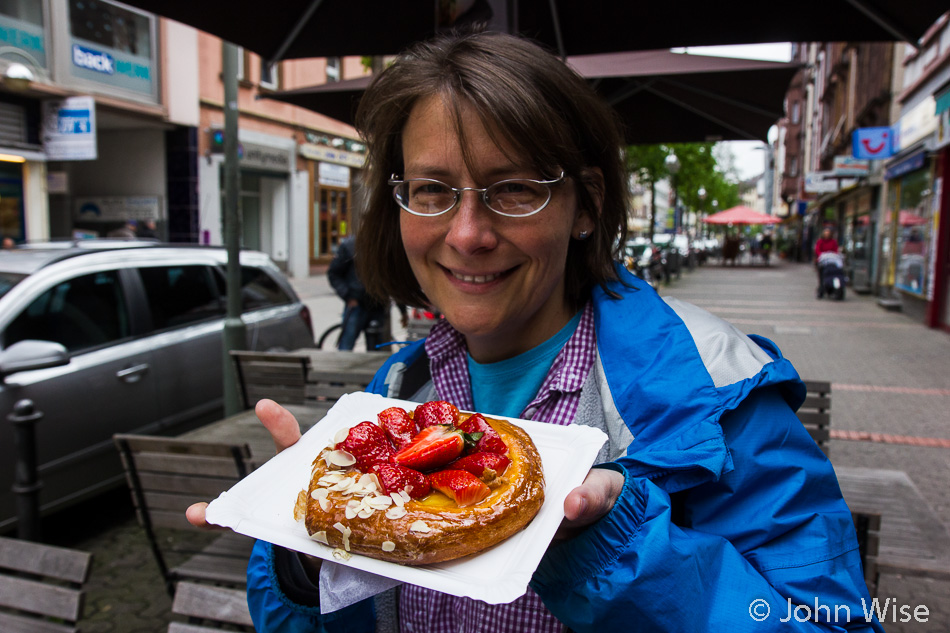 Here in 'our world' breakfast required dessert and Kamp delivers again. This seemingly average pastry is not as simple as it looks. This yummy treat is an erdbeer plunder (pronounced Airt-bear ploonder – strawberry danish for us English speakers) and is one of Caroline's favorites. Although the strawberry cream puff we shared in Fulda was in a league of its own.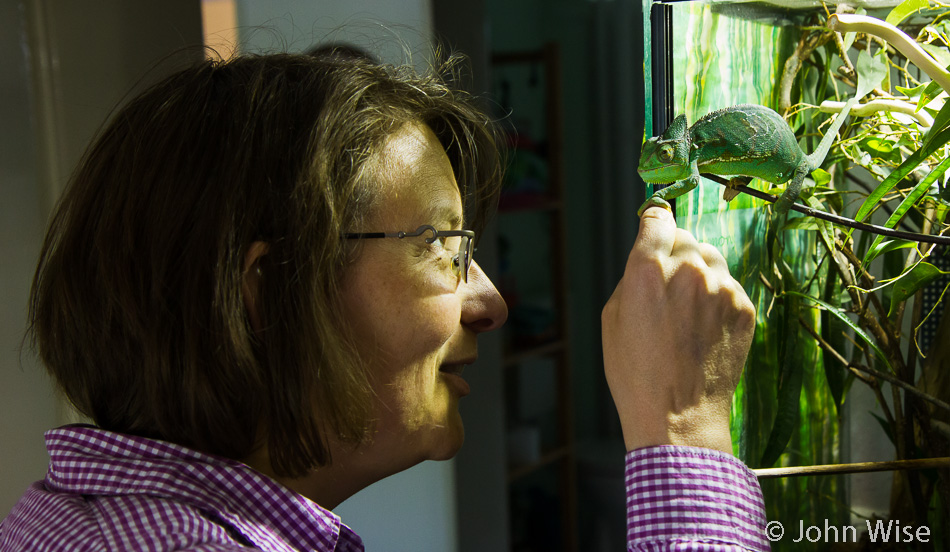 From breakfast and a last visit to Jutta's apartment it was time for a final visit to Jutta in rehab. Only two hours we'll get to spend with my mother in-law, we have a date at 1:00 with an old friend of Caroline, anyway two-hours should be enough to say bye. Of course there's never enough time between family and friends when goodbyes are so long between hello's, but we have a busy day and we know that we cannot relive the thousands of moments we have already shared during the previous four weeks. We had brought my computer with us to share some of the photos I'd taken and then it was hug time. Followed by more hugs and the deepest gratitude from Jutta that we'd come over here to cheer her up during her recovery. With more hugs and waves goodbye, Caroline and I were again underway, this time to go visit Biggy The Chameleon and her caretaker.
Meet Angela (pronounced Angeela – not Anjeela) Pyka, she's the caretaker extraordinaire of the amazing Biggy; and good friend of Caroline's. With more than 18 years between the two meeting, the chemistry still runs strong between these two. If you should want to know why they are posing with bananas, I suggest you think long and hard about what two young women over 25 years ago might have been talking about that required bananas. With only two and a half hours to catch up on the conversation, the women talk fast. Angela has finally met the love of her life (besides Biggy) his name is Ruben. He is a hot and zesty Spanish man who not only cooks using utensils from heaven, he has fully melted his heart into Angela's. We look forward to meeting him on a future visit to the States, that's if Angela can pull herself away from visiting him every chance she gets. No time is ever enough when old friends find themselves to still be friends. As quickly as the three of us hit it off, we were needing to move down the road. With big hugs and wishes to see one another again, we tried and tried to leave, and then out the door we were called back one last time. Angela presented Caroline with a mini-Biggy; in toy form. Downstairs our goodbyes were still not over. Out of her window Angela waved goodbye for the next two minutes until we turned the corner on our way to the train. For all I know she may still be waving out the window, tears rolling down her cheeks, and…..nah, I'm sure she went back in her flat and started showering more love on Biggy The Chameleon.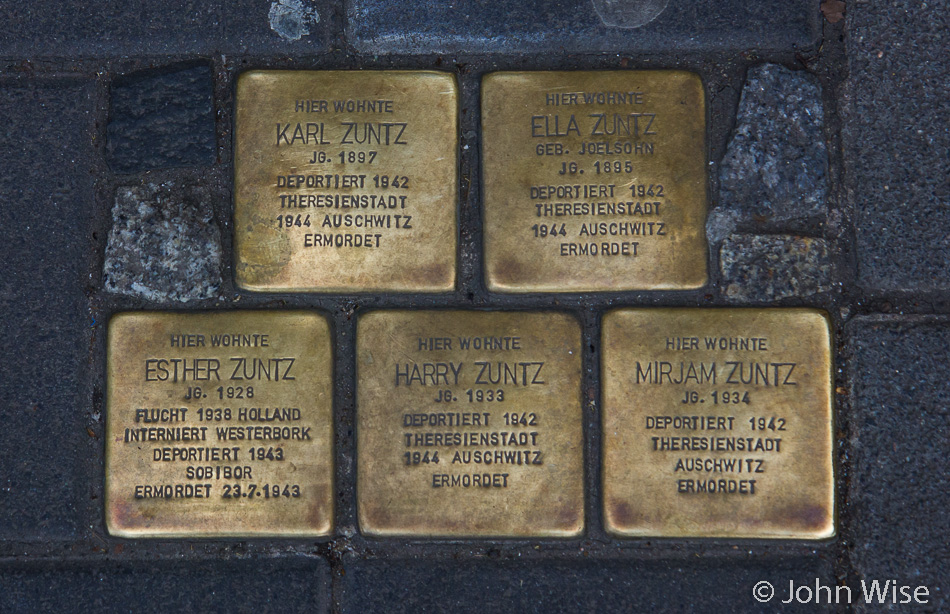 Looking for details, found some more. These are stolpesteine (stumbling stones) they are supposed to stop you as you "stumble" over them. After grabbing your attention you are supposed to read the stones and give thought to what has been shared. In this case the stolpesteine are at the Judengasse area (old Jewish quarter) and make note of people who came to an untimely end during World War II. It appears that the entire Zuntz family were murdered, four of them at Auschwitz.
Our walk from Konstablerwache through the former Jewish quarter was intended to take us to a nearby bembel shop. Bembel's are the traditional Frankfurt apple wine jugs. My mother at the last minute, meaning last night at midnight our time, asked if we could bring her a small flower pot. We had just finished packing so I told her "Of course not, we can't bring you a bembel pot at the last minute, our bags are full." But she is my mom, so we go anyway and decide we'll just bring another bag with us and fill it with other stuff we were going to leave behind.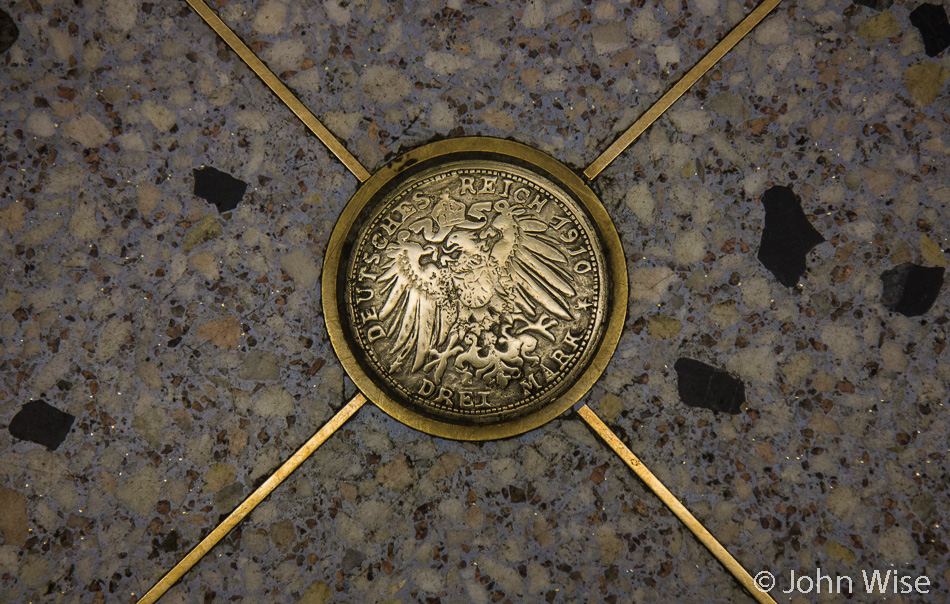 And the little details keep coming on. This one is embedded in the U-Bahn (subway) floor; a medallion between squares to give the floor a unique look. Each of the markers are different and all of them interesting.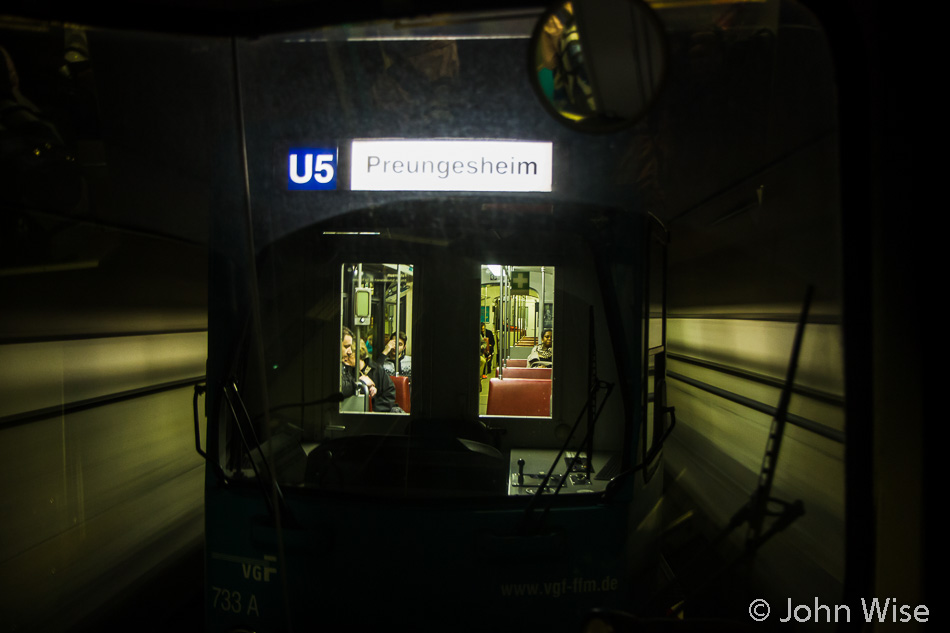 One more ride on the U5 richtung Preungesheim (direction Preungesheim). This was our old train that we'd take two stops from Konstablerwache to Glauburgstrasse nearly everyday when we lived here. We are on it this afternoon for a last visit to another favorite place that has already showed up a couple of other times here on my blog this month.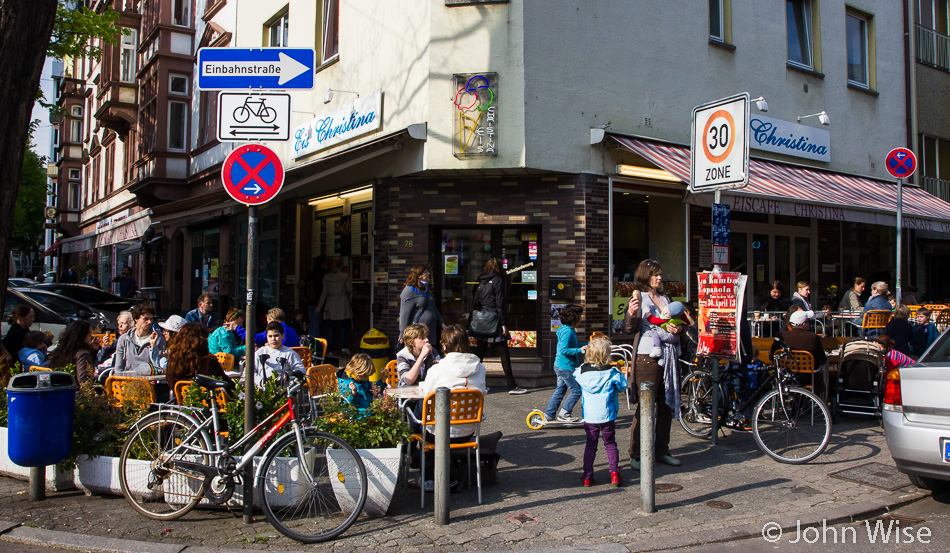 Eis Christina. I just had to have another Spaghetti Eis (spaghetti ice cream); you'll have to read a previous entry for details on what spaghetti ice cream is. We split a Maxi portion, what else? The day turned sunny after a cold damp start and so half of Frankfurt showed up at this popular ice cream shop. Back in the 90's this place was a tiny shop a couple of doors up the street. After winning a couple of "Best of Frankfurt" awards, they needed to move to a much larger shop. Even with all of the extra seating (there used to be about none) they still have every chair filled with dozen more people milling about eating their ice creams.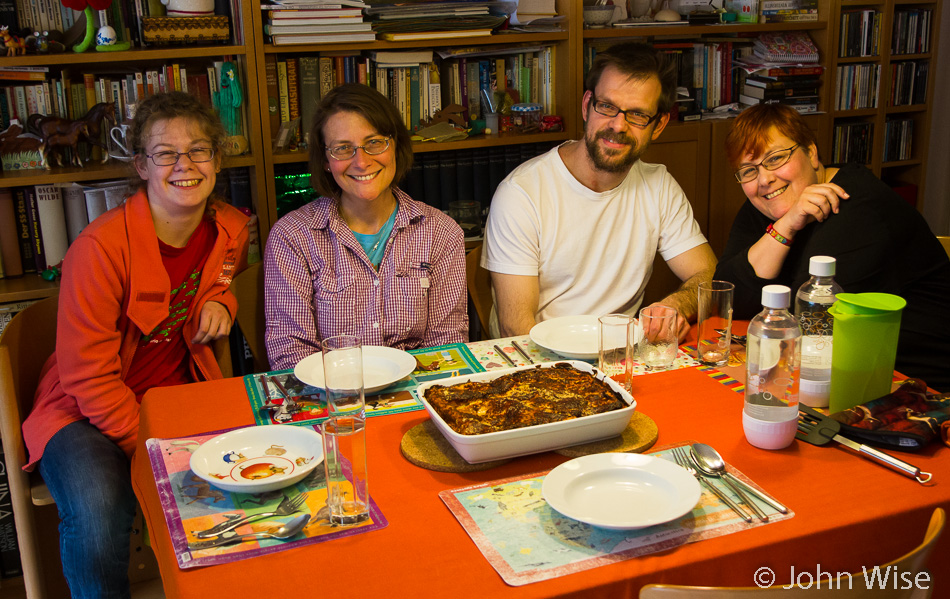 Klaus spent a good part of the day making dinner for us, a great departing treat for Caroline and I. Actually the preparation started last night when he made the Bolognese sauce for the lasagna he would serve us tonight. When we got home from our day in the city, the house smelled delicious, it did last night too. After nearly an hour wait dinner was ready. The five of us collected around the table, Klaus served up his masterpiece and then there was nothing left to do but enjoy his super-lecke (yummy) dinner. None of us can believe that it's already been nearly a month since we flew in to the Frankfurt Airport just five days after Jutta's fall. While the girls continue their conversation, I headed upstairs to start working on this blog entry before trying to get us to sleep at a reasonable time for our early departure back to the airport.

It's already 9:00 pm when this sunset unfolds. In Frankfurt, sunsets are a rarity as in the inner-city one is surrounded by building in all directions. Up on Stephanie and Klaus's third floor, I have a perfect view into the distance (over roofs of course) to be witness to this nearly perfect sunset and the end of our time in Germany; for now.