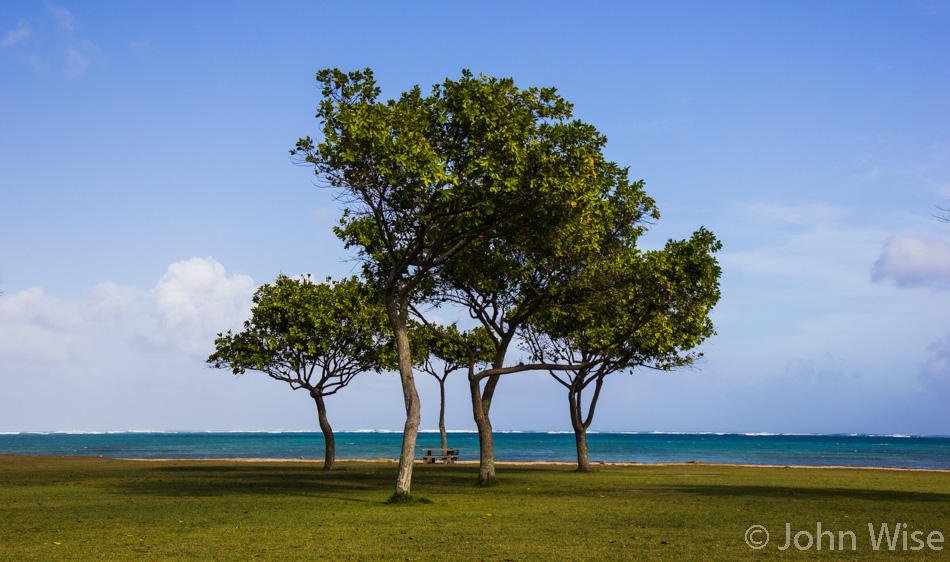 Oahu, Hawaii. We landed before lunch with an appetite and knew exactly where we were going. First up though we had to get our rental car and make our way through Honolulu. This is like driving through an outdoor Forums Shops at Caesars Palace in Las Vegas. If you've come to Hawaii to shop, this is certainly the place to do that. This hustle and bustle is not for us, we are heading down class. Away from the glitz we were looking for Ono Hawaiian Food, a joint of a restaurant. Nothing fancy here, but the food is said to be amazing. In just a few minutes we are squeezed into a small table and the menu is dropped in front of us. We drool on the options and decide to share a pork laulau (steamed pork in taro leaves), a kalua pork (pork roast in Hawaiian yumminess), butter fish (not exactly what you might think), and some purple yam. If only we can come back one more time before the end of our stay on Oahu!
Time for us to get out of the tourist rat race and head for the hills. During our visit to the islands back in 2006 we only afforded Oahu a few hour stop over after hearing that travelers and Honolulu are incompatible. We had circumnavigated the southern end of the island passing through Diamond Head and making our way about half way up before cutting over highway 83 to return to the airport for our flight to the Big Island. Today we are traveling in the opposite direction and will drive north after reaching the eastern shore. The photo above is our first stop at the waters edge. No tourists, no shops, nothing but a picnic table and some trees up against the ocean. On that trip half a dozen years ago we ended our vacation in a similar manner. On Kauai at Poipu Beach our last stop was at a picnic table under the trees where we had breakfast and bid Hawaii adieu. Today we are full of aloha to be so fortunate to have returned.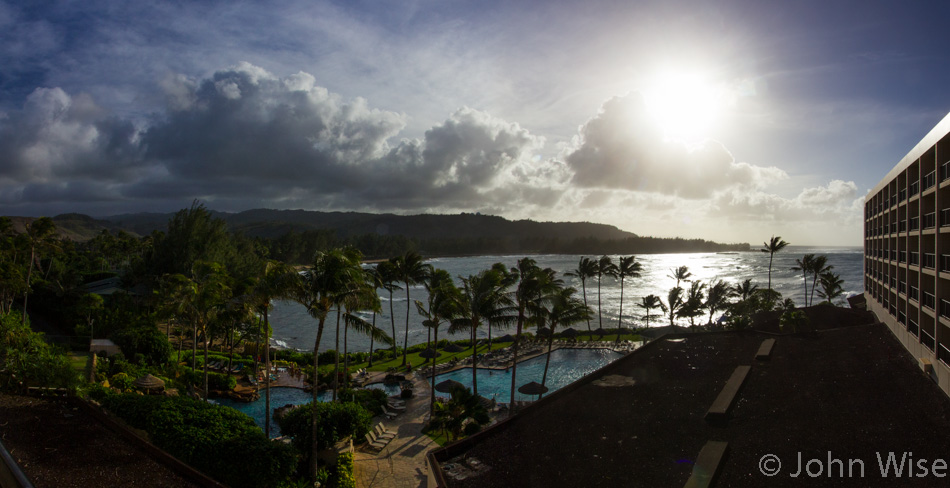 Last year at Interactive Sites Christmas party, the place Caroline works, she was the grand prize winner of the big giveaway. That prize was for five days to be spent at Turtle Bay Resort on the north shore of Oahu, Hawaii. Guess where we are? A big warm MAHALO to Mike and Paul for sending us here, they are the bosses and their generosity is super appreciated.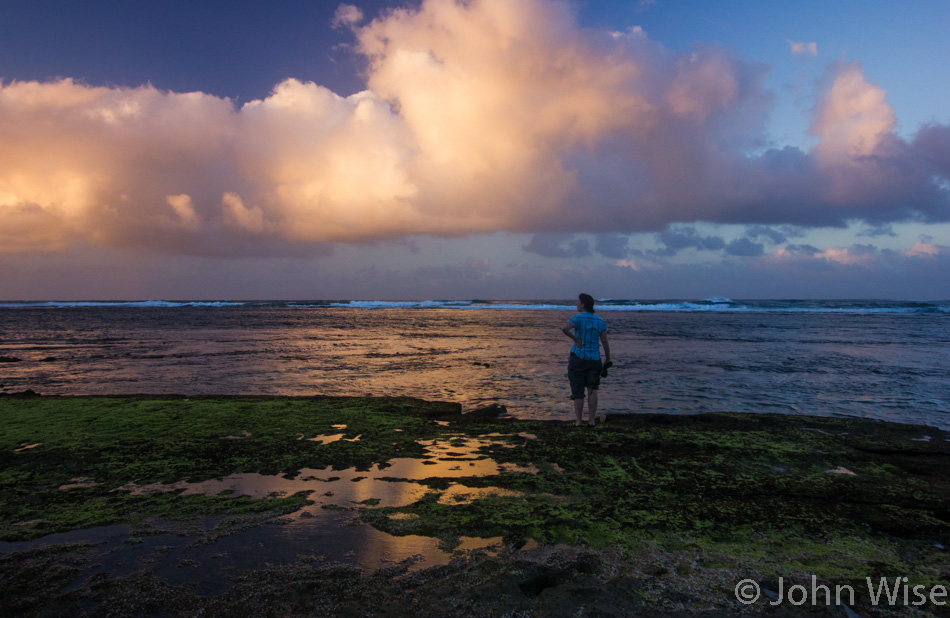 Checked in and ecstatic we head to the beach. Lava rock and sand, yep we are on Hawaii. The water is crystal clear and beautiful, but the sun is disappearing fast. The long days of summer have passed though we aren't complaining, we wouldn't know how as we are so high on the fact that we are here standing at the oceans edge on the north shore. Along our walk we spot snails, crabs, small fish, anemones, sea cucumbers, broken corals, small peculiar looking plants that look like ears, some small birds, and not one other person. For this sunset the day after Caroline's 45th birthday that fell on 12 – 12 -12 we are together with this stretch of beach all to ourselves. What a great gift and day it is.
We weren't quite done yet though. No, we didn't dine at a fine restaurant at the resort, no candle lit meal for us in view of the sea. In keeping with our "take-it-easy' approach to things, we wanted local funk and that's what we got. Down the road we'd come up on earlier we had passed the Kahuku Grill and that is where we were going back to. Not that our decision was that easy. We looked around for some local grindz but pickings were slim, so we just kept on searching until we had gotten as far as the Kahuku. Lucky us. Like a lighthouse beacon grabbing your attention it was the Fire in Paradise Burger that arrested ours. Wow is the only thing we could utter as we fell in love with their grilled pineapple and jalapeno burger. The place is popular with the college crowd so be prepared to wait, but it's so well worth it. Back in the room we opened the balcony door wide to go to sleep to the sound of the crashing surf below.