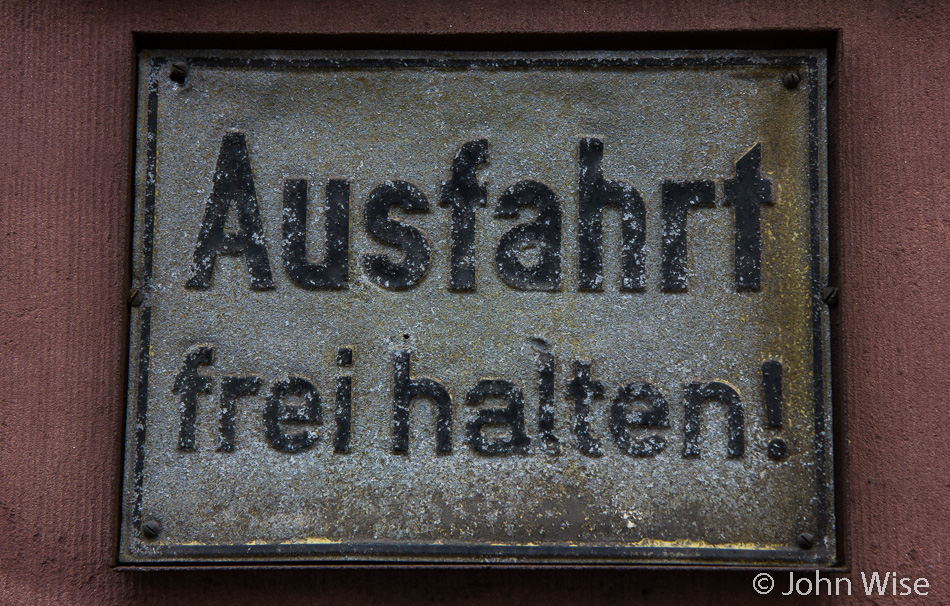 This is how I feel today, Ausfahrt frie halten! Do not block the driveway! We are about to pull out of having parked ourselves in Frankfurt and don't need to have anyone blocking our way, yes we do.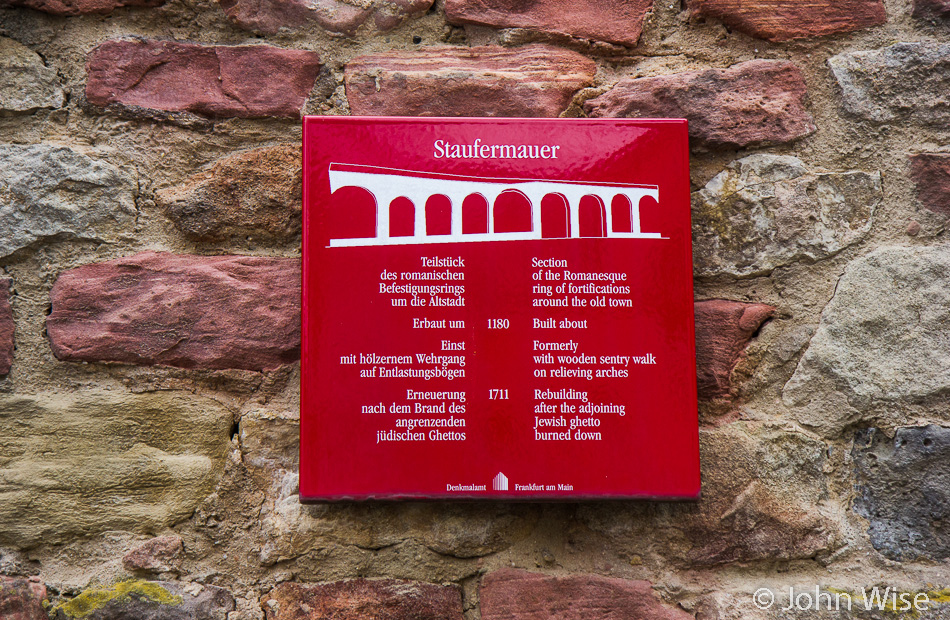 This small sign is attached to a large wall, actually a small segment of what remains of the Staufermauer – old city wall. Built around 1180, the sign notes that this section was rebuilt in 1711 after the adjoining Jewish ghetto burned down.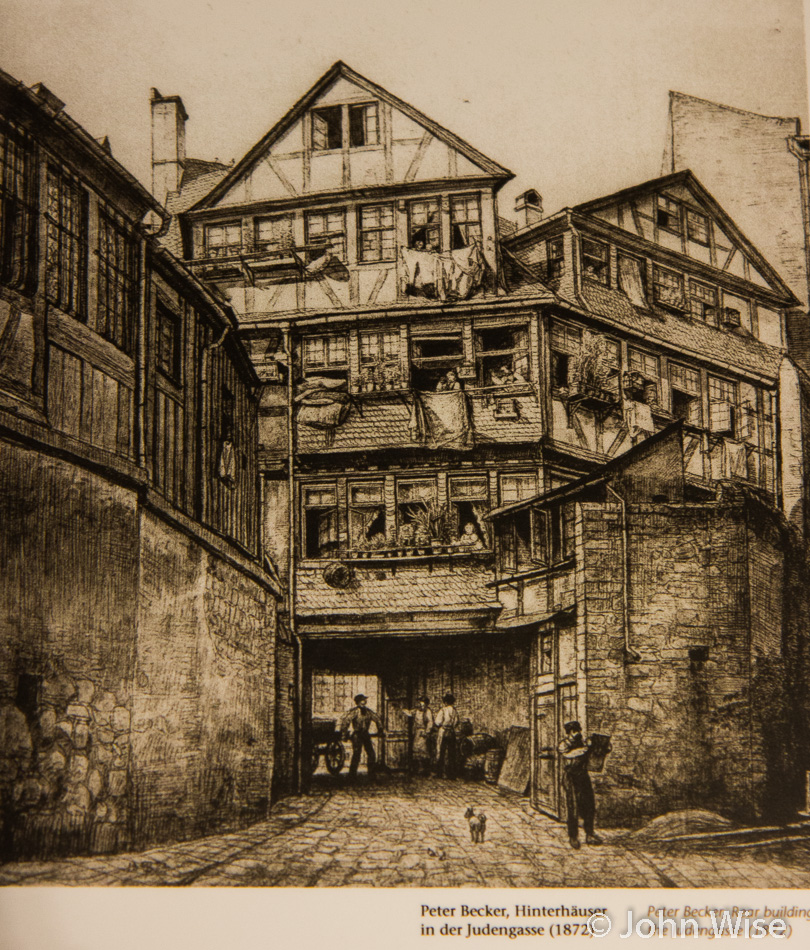 We were on our way to the former location of the Jewish ghetto and a museum that has been dedicated to this part of Frankfurt's history. This sketch by Peter Becker from 1872 titled "Hinterhäuser in der Judengasse" is part of the depiction and uncovered ruins that had been the small corner of Frankfurt where Jews were segregated over the centuries.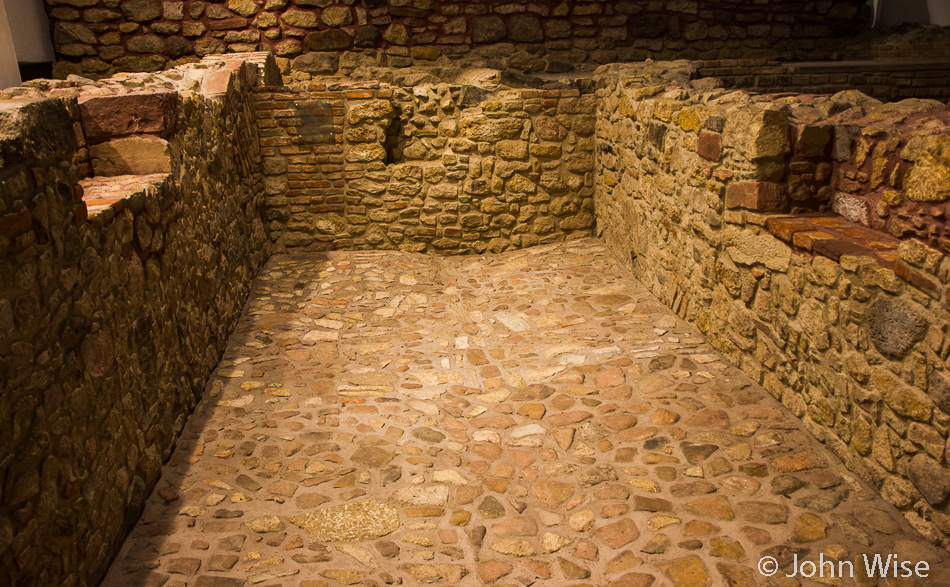 During excavation for a new building the foundation walls and basements of the old Jewish ghetto were uncovered. It was originally the plan to simply build over them, but protests helped create the situation that the city and builder agreed to build a museum as a memorial to the dark history of Jewish isolationism that occurred not only in this city, but cities across Germany. Many of those people who walked the narrow streets and alleys in this compact unsanitary ghetto were murdered during World War II.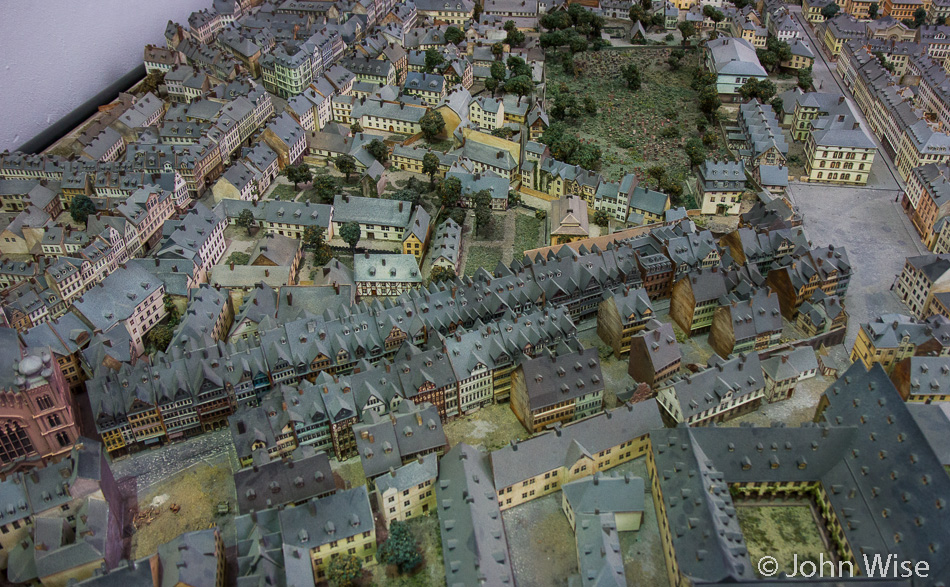 This model in the Judengasse Museum depicts the cramped quarters Jews were forced to live in. Not only were they living with overcrowding due to the tiny area, they had little access to clean water and were often victims of crime and exploitation. In the 1860's there was a lifting of the ban that prohibited their travel, many Jews tried leaving to what was thought were better lives in other cities, but that would all be crushed 70 years later with the onset of war.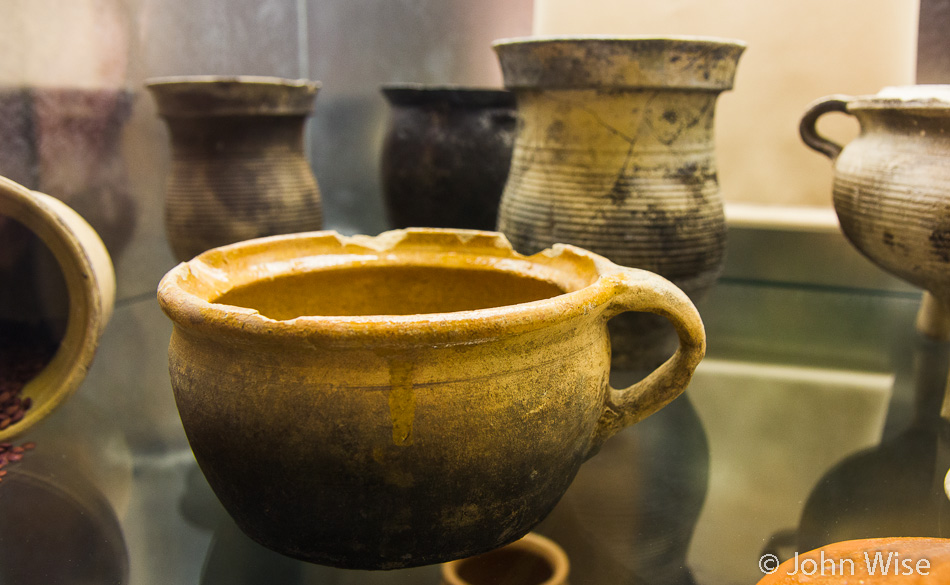 There are a number of artifacts on display that were excavated during the archeological dig that ensued following the decision to protect the ruins of Judengasse. Another display features a few remaining parts of the old synagogue that was destroyed. It starts to become depressing here seeing items that had been handled by people who may have been marched out of their homes and deported only to be murdered at the hands of people filled with rage and politically motivated hatred.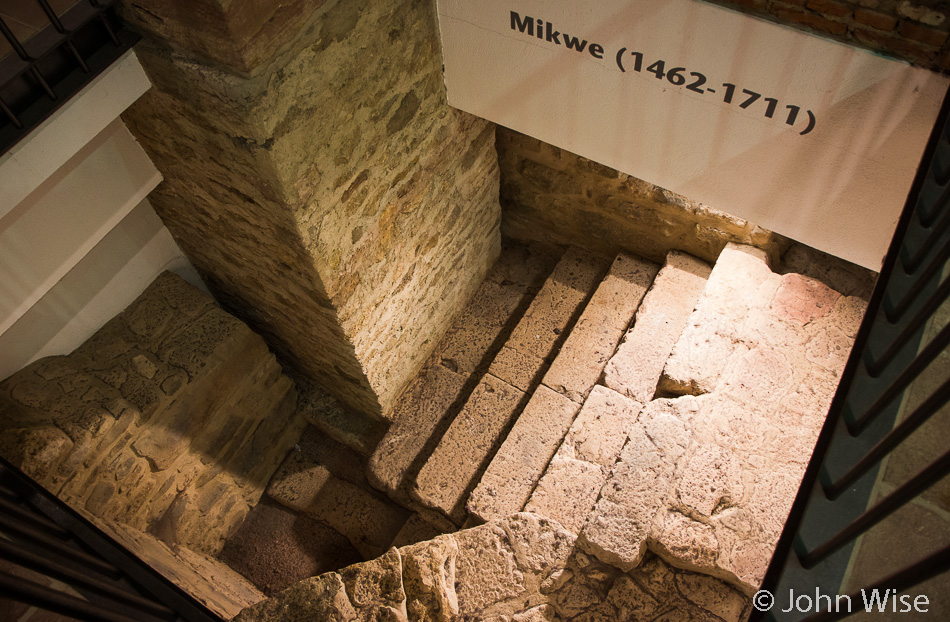 There a couple of Mikwe (ritual baths) that were uncovered and are now viewable as part of the museum. Sadness accumulates while looking in and walking upon the stone passages that had once been used by people who unceremoniously were taken away and their memories buried along with their tortured souls. I need to get out of here.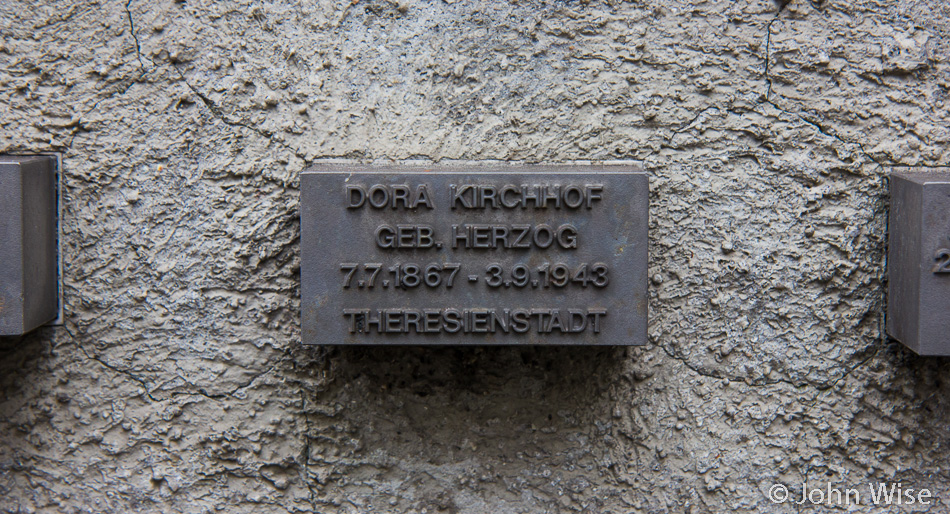 Next to Judengasse is what remains of the Jewish Cemetery. During World War II it was destroyed but following the war it was partially restored and set as a memorial to honor those who died here. While walking along the wall I came upon this marker noting that Dora Kirchhoff once a resident of Judengasse died during the war. Kirchhoff is a variation of the spelling of my maternal family name. One other interesting factoid I learned while here, the houses in which Jews lived had symbols on the outside of their homes, this often led to what they would take as their last names. The house with a red shield on it (Rote Schild) became Rothschild – yes that Rothschild.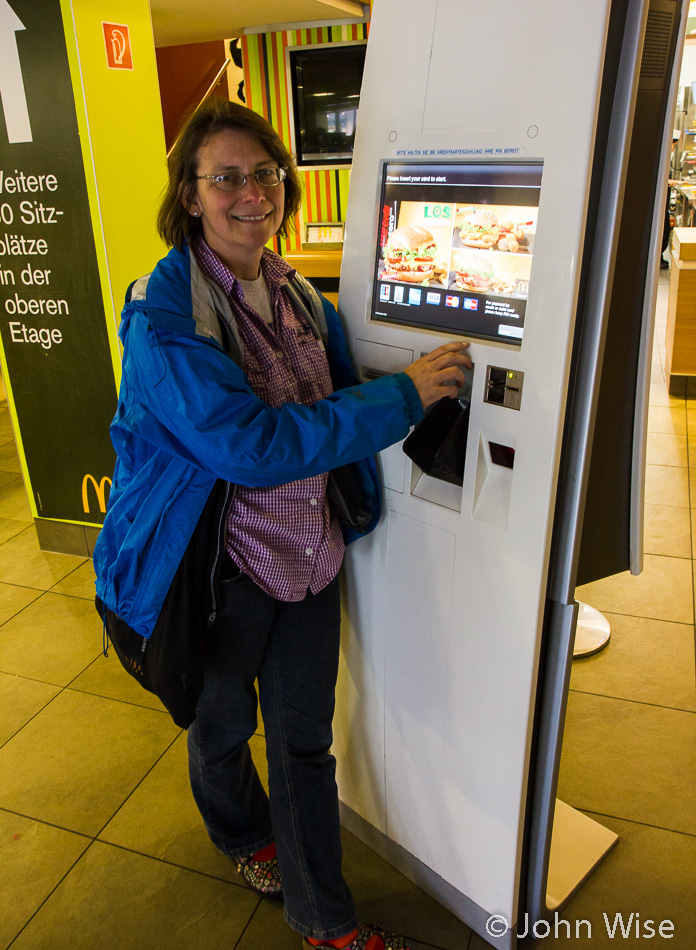 The good old Hamburger Royal with Käse – quarter pounder with cheese can be ordered in Frankfurt on these automated kiosks to save you time of standing in line. Of course we ate at McDonald's in Germany, it's the Hamburger Royal after-all.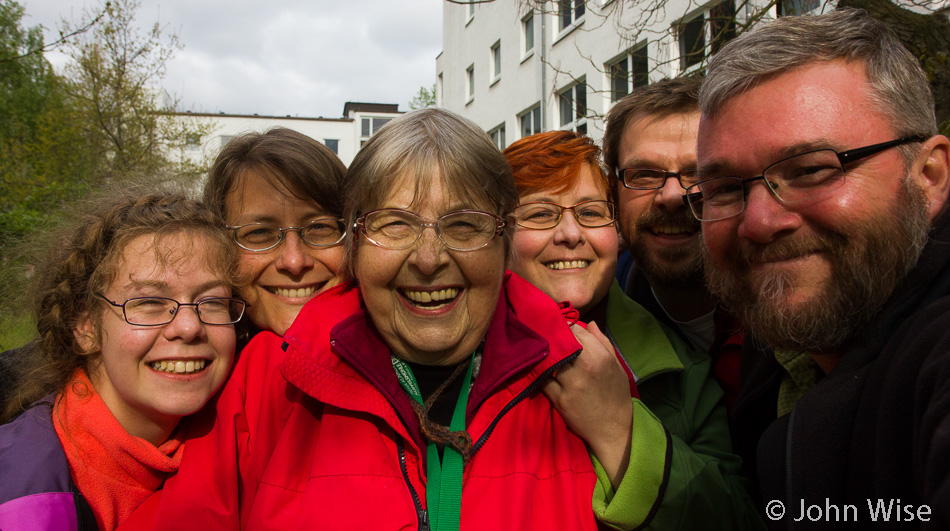 With less than 24 hours to go we finally get a group picture, even if it's a little cramped. From left to right; Katharina Engelhardt, Caroline Wise, Jutta Engelhardt, Stephanie and Klaus Engelhardt, and John Wise. Had we had another set of hands in the garden that could have snapped our photo I would hopefully not loom so large over on the right side, but these self/group photos are a difficult task.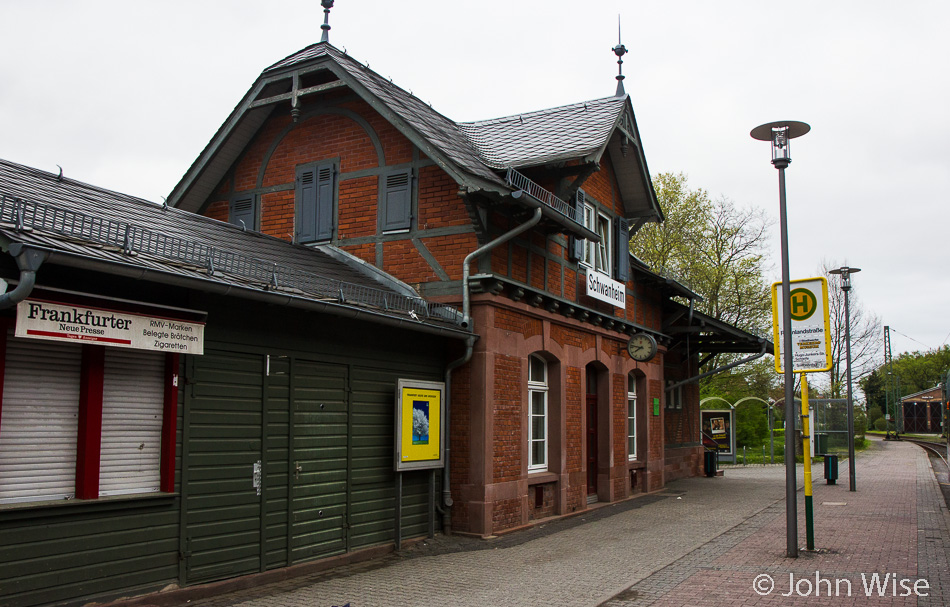 From visiting Jutta we continued on the 12 train line out to Schwanheim for a visit to one of Christian Engelhardt's favorite restaurants. He was Caroline's paternal grandfather and I needed to know what an old German guy thought was great food, as I have come to know that this man loved food, something he and I have in common.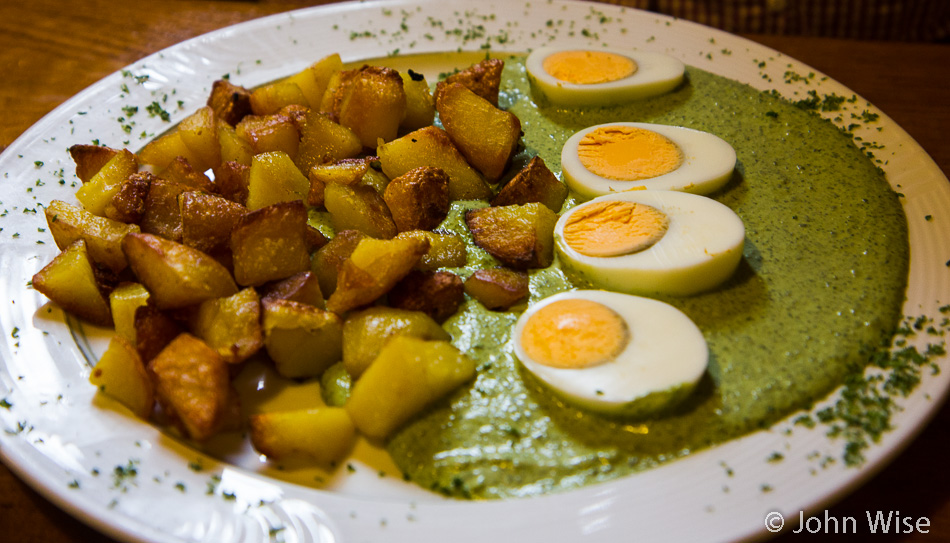 The place of our pilgrimage is called Frankfurter Hof Seppche. Staying with the theme of trying Frankfurt specialties, we start the meal with händkase and Caroline opts for another apple wine. I ordered the giant plate of meat with roasted potatoes and mushrooms; and loved it. The grüne sosse just seems like the perfect meal for Caroline and she orders a last time during this visit to her home country.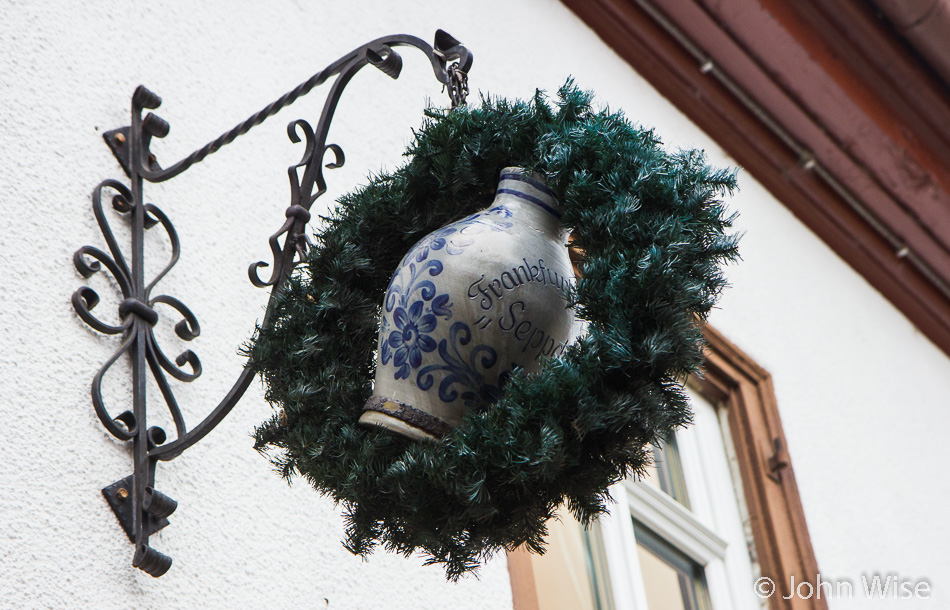 Leaving Seppche we take notice of their great sign, a Bembel surrounded by a wreath. Back when I lived in Germany I thought Germany food was boring. Nothing but boiled flavorless foods, oh how I was wrong. I suppose I should reevaluate a lot of my perceptions and prejudices I entertained back in my 20's and early 30's, but today right here right now is not the time as I race the clock to finish yet one more blog entry.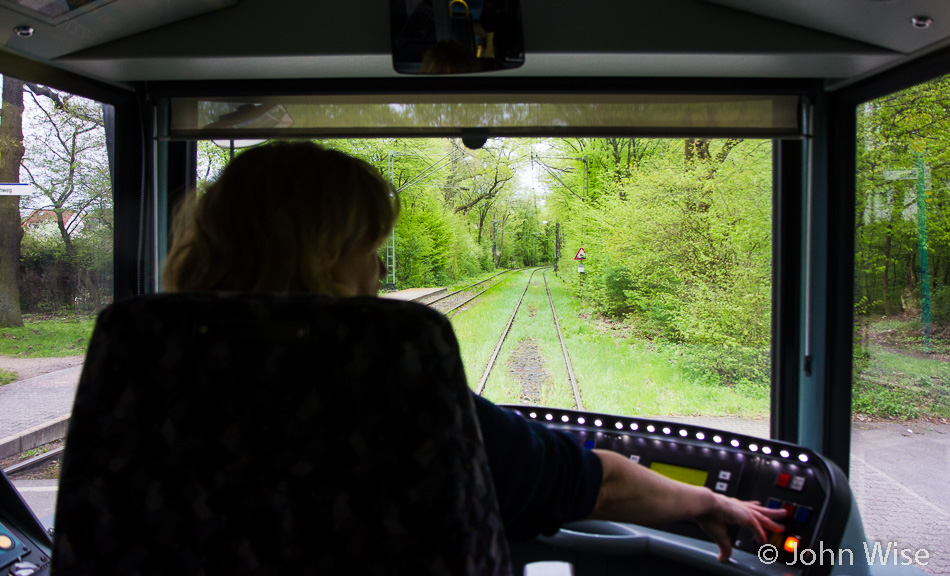 Back on streetcar number 12 for our return to Frankfurt. How long before our next visit? I hope it's not another 18 years.