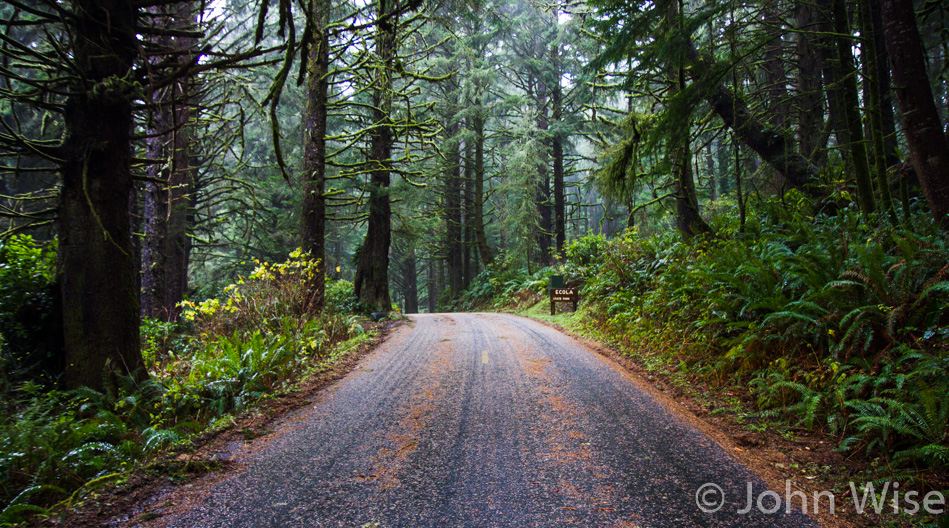 This is our version of Black Friday. A misty day with a drive in the forest, that sounds about right. No crowds of hysterical people fighting over discounted stuff for us, nope, just the serenity of the woods. While we had opted not to stay overnight in Ecola State Park, which worked out because it turned out that we couldn't have, we were still curious what the park looked like. Well this is perfect, we love ferns, and wet plants, and heavy bark, moss, red leaves, and spiders. I am so happy most everyone else would rather be at Best Buy or Walmart today; lucky them.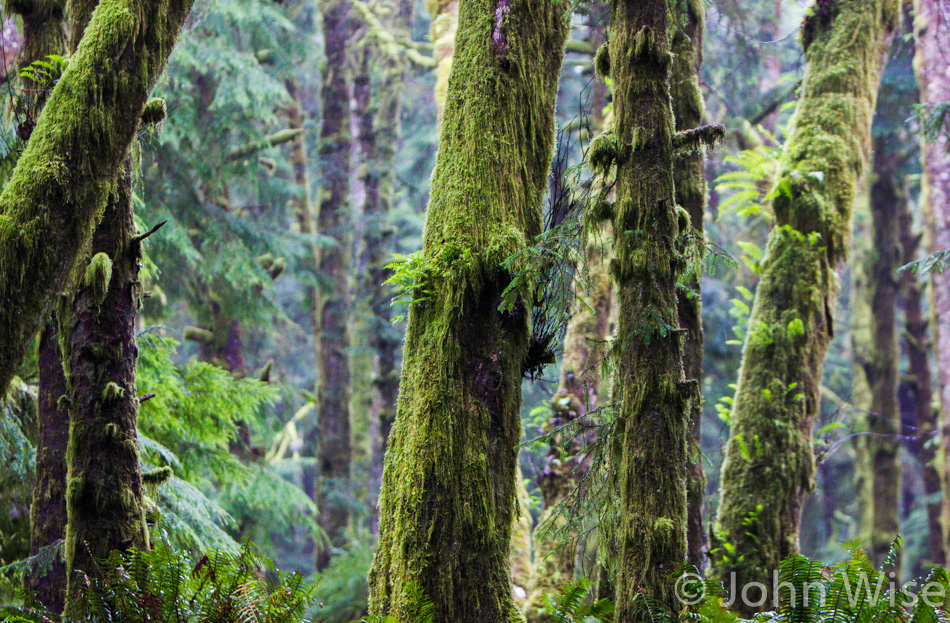 Before entering the park a sign called our attention to Mo's Seafood Restaurant in Cannon Beach. Hot chowder sounded good, but they don't open until 11:00 so we are here in the park instead, eye dessert before soul food never hurt anyway. The rain starts to come down harder and we're feeling to lazy to don rain gear and so we restrict our tour of the park to the car. No matter because we are distracted by thoughts of steamy hot clams and coffee.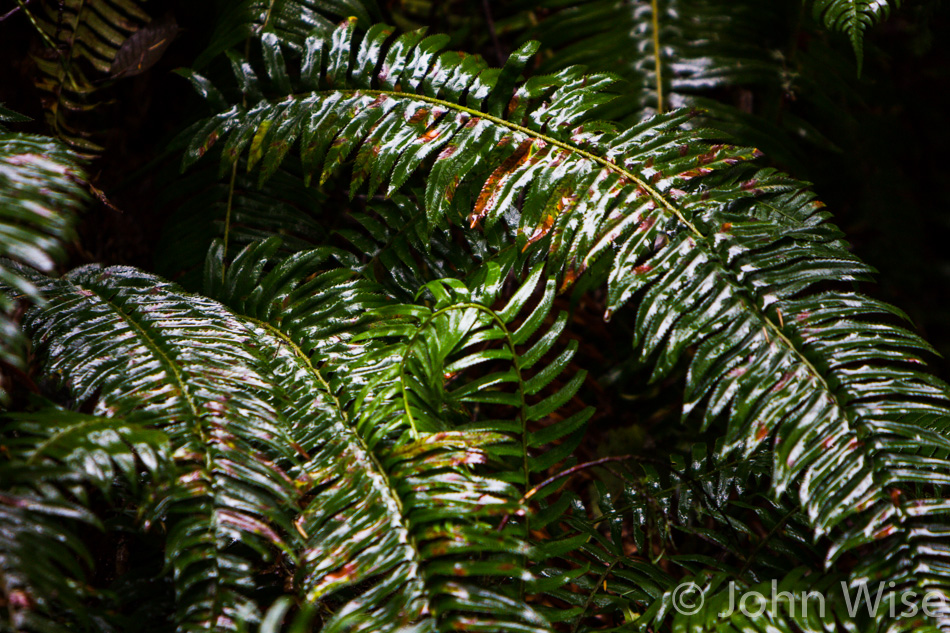 After leaving the park we returned to Mo's for a big bowl of Slumgullion – clam chowder with bay shrimp. This is the first time we've visited this location in Cannon Beach, normally we stop at their original location in Newport overlooking the bay. It's great here as we are right on the beach and the chowder does just what it's supposed to do: warming our insides.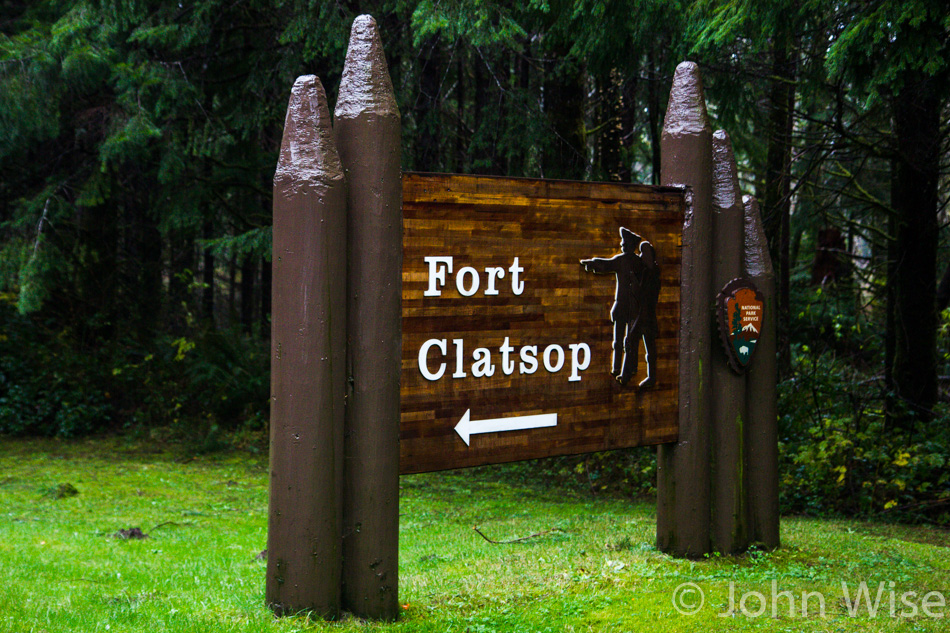 The turn off to Fort Clatsop National Historical Park talks to Caroline and her collection of Junior Ranger badges, "This is the opportunity for another." Of course we'll stop in the rain. It doesn't matter how many other times we've been here, I'm certain it'll be wonderful again. In front of the park ranger my wife turns into an age appropriate kid to ask for a Junior Ranger booklet. Bouncing up and down with her broad smile she nearly pleads with the ranger, "No, really, I'm a 12 year old at heart, let me do it, please, please, please – pretty please!"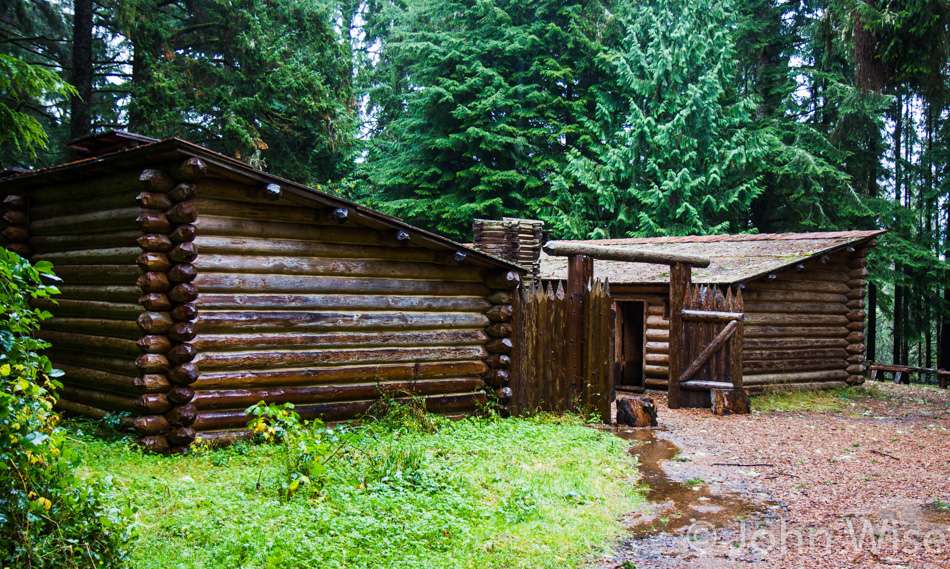 The ranger hands over the booklet and she's off like a kid at Christmas about to open a present. With rain jackets and a loaned umbrella we go down the trail into the dripping wet forest where Lewis & Clark wintered over following their historic journey to this point near the end of the Columbia river and what is now called Lewis and Clark River. Along the way Caroline has to identify a bunch of plants, describe them, and draw pictures of their primary characteristics. At the recreation of the fort she sits down out of the rain in one of the rooms to compose a poem as one of the exercises.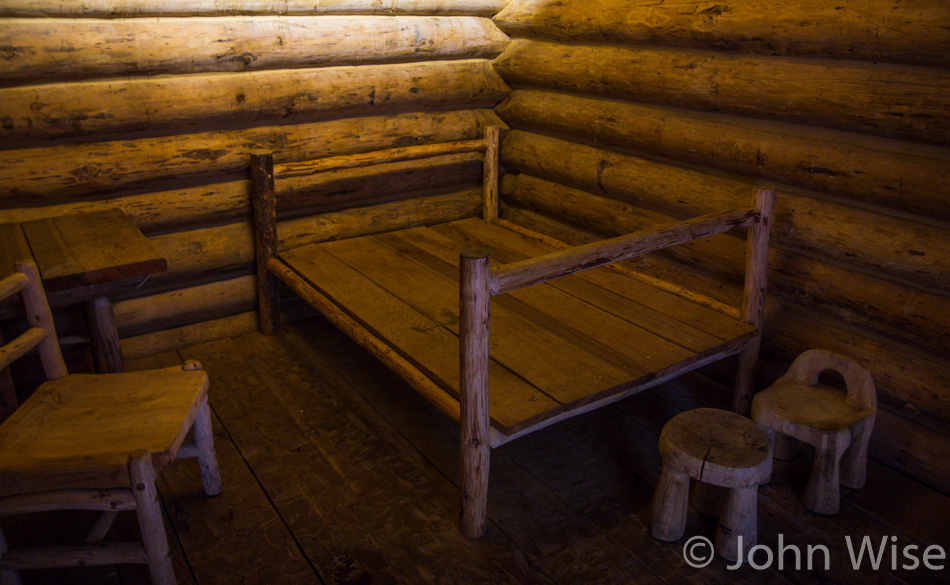 The now famous location where my wife composed the poem that earned her a coveted Junior Ranger badge.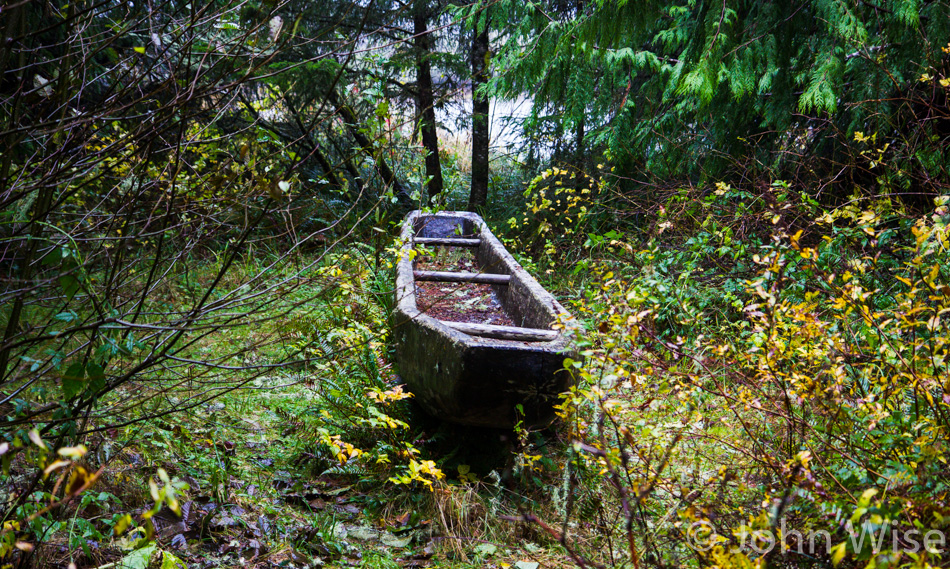 Back into the rain and over to the river we walked for a return visit celebrating one we made however many years ago. The rest of the Junior Ranger test takes place in the museum and that we where we were headed after this visit to the shore and this replica dugout similar to one Lewis and Clark might have used.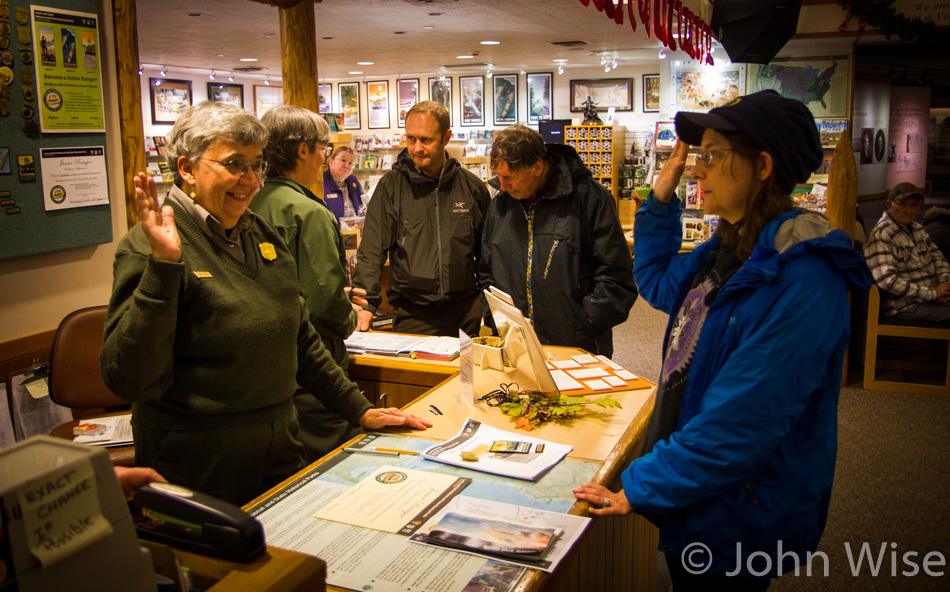 I already gave away the surprise that once again and probably for about the 25th time, Caroline is being sworn in as a Junior Ranger. Now officially badged as an officer at Fort Clatsop she will have to meet her obligations and oath to protect yet another park and help educate visitors to be responsible. With badge, patch, and certificate of accomplishment we are off to celebrate with a cup of coffee from Dutch Brothers – yum. We make a note as we pass through Astoria to come back for a visit of the Columbia River Maritime Museum, seems like we can never do it all. It rains all the way back to Portland. After checking in at the Rodeway Inn near the airport we go on the hunt for the Acropolis – a Steak & Tile joint, Caroline's first. Her impression of having poontang flashed before her was: meh.
Next day we had enough time to visit downtown Portland for a return to Powell's City of Books and something to eat at Food Truck Square. Snarfed down some grilled cheese sandwiches, a chunky monkey Belgian waffle, an order of poutine, and six and a half hours of scouring shelves at the bookstore. A perfect end to our Thanksgiving trip to Oregon. Oh yeah, after leaving Powell's we went one more time over to the food trucks for a yummy pork belly sandwich from the same guy who makes poutine, check him out at Sideshow Eatery.