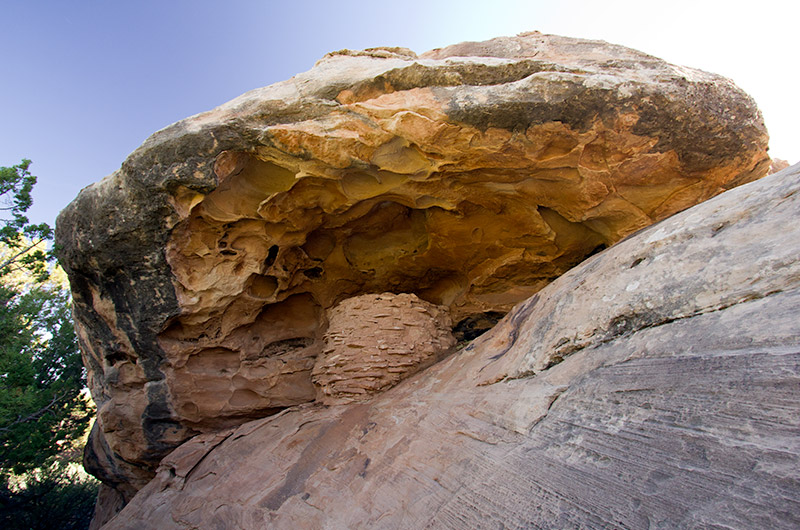 Today is Memorial Day, the day we commemorate U.S. soldiers who died in military service. Standing at this abandoned granary in the Needles district of Canyonlands National Park I can't help but think that there is not a day set aside to recognize the Native Americans who died during their own military service to defend the lands they called home. If we can have a Martin Luther King Jr day, then I think we can just as easily have a National Day of Recognition for the Native American.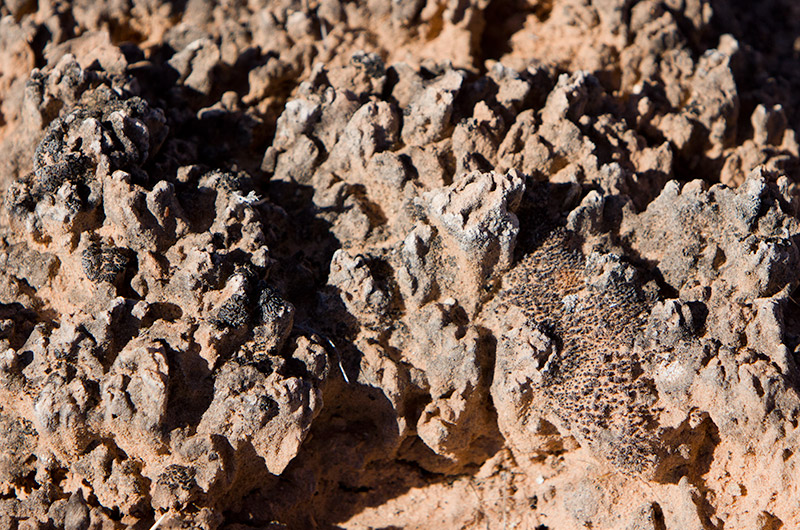 The earth I stand upon is actually a trail and the park service would prefer that I remain on this trail. All around me is cryptobiotic soil. This fragile habitat is what hold the surface together and makes life for many species possible in this arid environment. If you click the picture above to open the larger image you can see the detail of the cyanobacteria, mosses, and lichen – well I can only guess that is what you can see because I'm not a biologist but there is definitely some type of species making the soil its place of dwelling.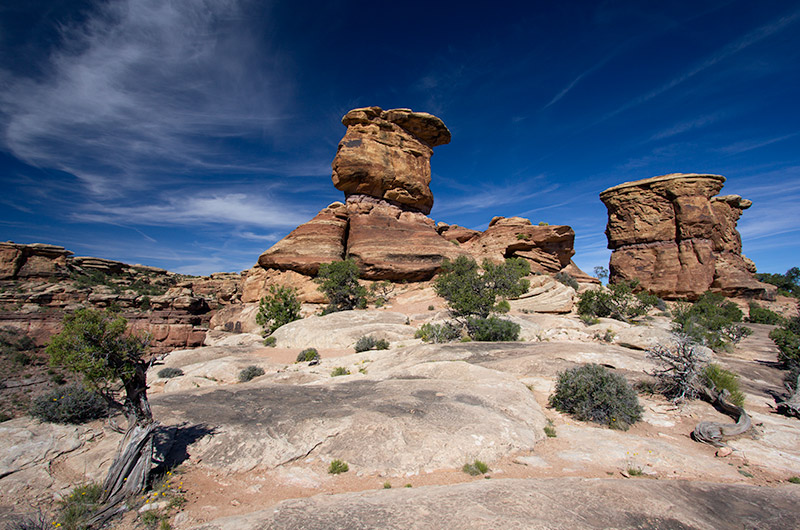 We are on our way home today and only visiting the Needles district of Canyonlands National Park for a short time, figuring we we shouldn't be getting home too late. These rocks are at the end of a road where a trail begins that takes visitors out to the confluence overlook of the Colorado and Green rivers. As we were about to leave we nod and say hello to two ladies who are donning hiking boots and are about to embark on the trail when we recognize them from our hike out to Horseshoe Canyon on Saturday. These ladies from Poland are easily in their mid-60's if not just about 70 and are a grand inspiration in tackling this nearly 11 mile trail today.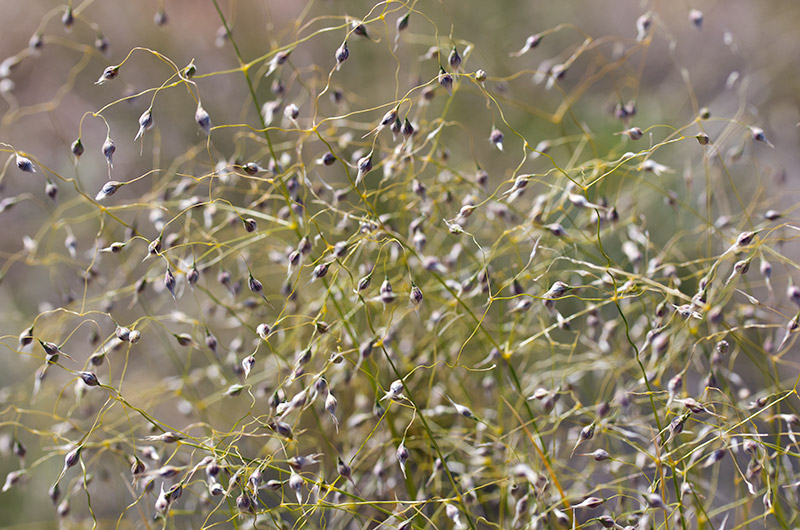 The end of the road was our destination and turnaround point. On the way back out of Canyonlands the sun's position in the sky allowed us to better appreciate the carpet of wildflowers stretching in all directions. So much for making good time up the road as we whipped out the macro lens and tried stopping for each species of flower we could spot – at 5 miles per hour. When what might be a once-in-a-lifetime opportunity arises that gives you the chance of witnessing something so spectacular you must take the time and disregard the potential discomfort or tiredness at a later time, lest you'd look back and feel foolish for hurrying along and missing out on greatness seldom seen.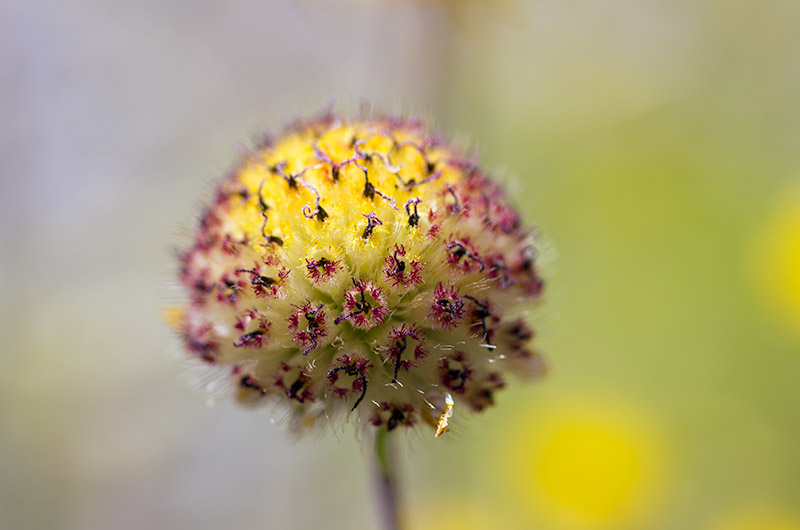 Oh, more flowers, more than one could shake two sticks at. I could easily post 15 or more photos of the various types of blossoms that presented themselves roadside this beautiful day. It took close to an hour to travel the 10 miles between the park exit and Newspaper Rock. Down on our knee or sitting on our butts, we lingered amongst the flowers, taking in their scents and colors. In a week, would they still be here to dazzle those visitors?

The scenery out here on a spring day wants to stop the car on its own accord and forces us from our seats to spend a quiet, intimate moment with nature. At this rate we'll be home at midnight. When we were here four hours earlier it was beautiful then, too, but now the light is absolutely perfect. This is one more of those occasions of finding yet another perfect place on earth, one that makes you think, "hey, I could live here and then I'd know how the view changes with the day, the season, and the weather".
We are not far from the main road when a paved road on the right appears to be a detour we haven't taken before. County Road 136 says it leads to Monticello and so we take it. We begin to climb into the Manti-La Sal National Forest and mountain range. What a find, out of the desert and into the forest. The views from up here stretch for a hundred miles north. While the view was terrific to our eyes, the haze did nothing for the camera and the quality of images I shot. So instead I offer these aspen trees and more specifically I offer them to my daughter Jessica who long ago told me that she loves aspen and now when I see a stand of them I think of her.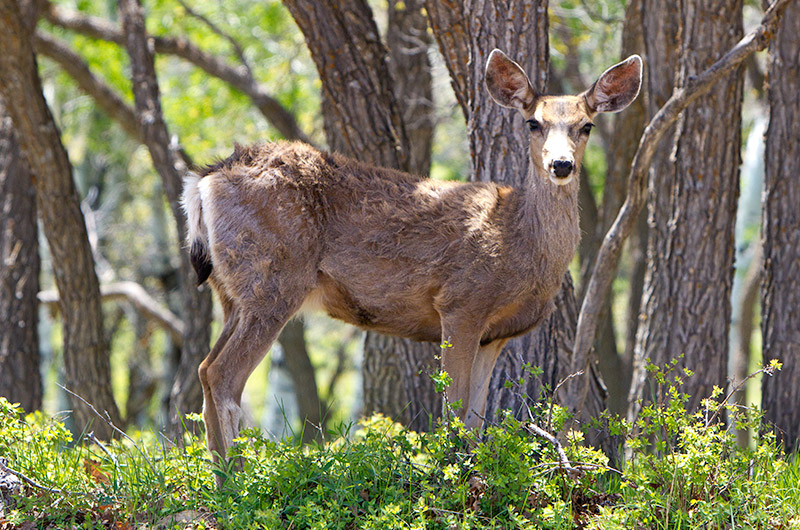 The road was hardly long enough, we could have easily stayed all day on this twisting section of pavement. A couple of patches of snow dotted the hillsides soon to be gone with summer just around the next corner. More pullouts and some benches to sit for hours and gaze out over Canyonlands to the west, the La Sal mountains to the north and Ute Mountain to the east over in Colorado would have been welcomed. What was the next best thing? A deer gazing at us. Next to the road at the edge of the forest a staring contest was begun. Wait a minute, is that a lawn ornament? Silly place for one if it is, ok, it blinked and went back to foraging.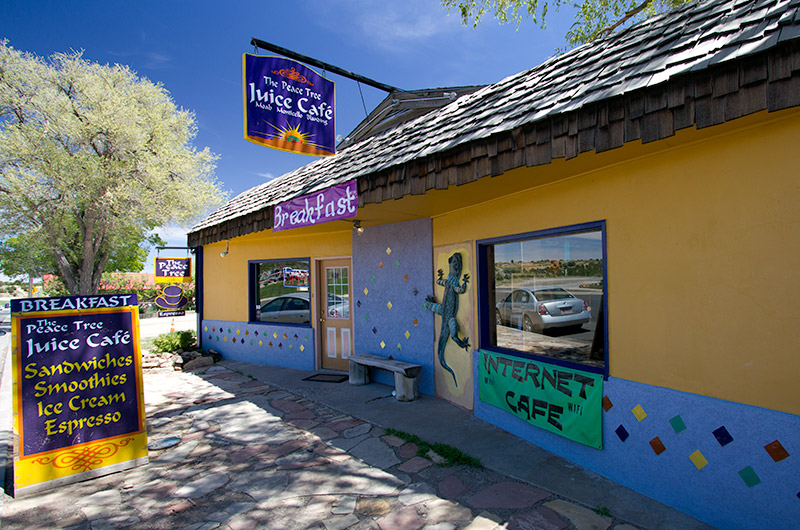 Out of the woods and into town. How is it that the little blip on the road of Monticello, Utah has this awesome place called The Peace Tree Juice Cafe serving up some great all-natural, organic, fresh, diverse foods and in Phoenix we get Applebee's? There are Peace Tree locations in Moab and Blanding as well, how did we miss stopping in at the Moab location? Drats.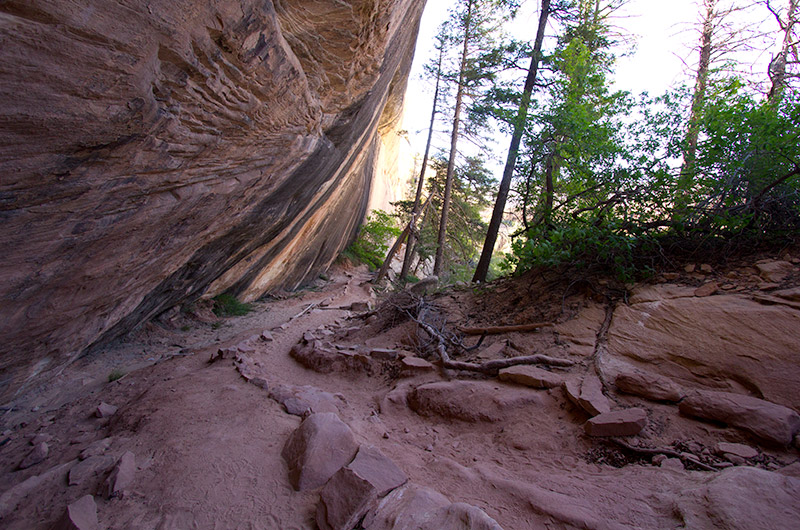 A little further south we arrive at our last stop of this trip, Natural Bridges National Monument. Caroline grabs the Junior Ranger booklet and we scoot to the trail as quick as we can. This is our second visit to the park but this particular trail was new for the two of us. We only went as far as the big overhang to view Sipapu Bridge as time was closing in us. The next one, Kachina Bridge we gazed at from the main paved trail. But the third bridge had to be seen from below.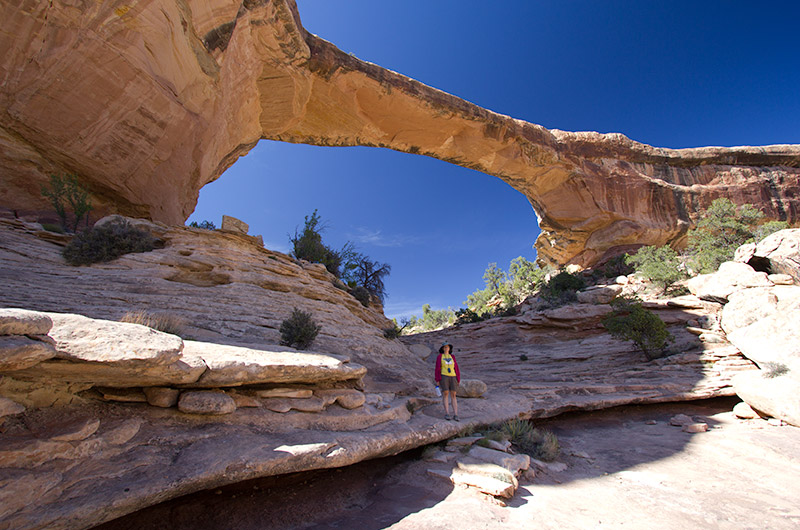 Years ago we took our picture under this very bridge, the Owachomo Bridge. Somehow we hadn't recognized back then that the trail continued under the bridge to where this photo was taken. Look under Owachomo, Caroline is standing there in a yellow shirt. I also learned today that there is trail that loops for 8.6 miles from Sipapu to Kachina to Owachomo and back the parking area at Sipapu – it seems like there is always something to come back to in the National Park system.
It's late now and no longer really matters how much more time is taken because we will be home somewhere in the middle of the night. So why not stop once more at the Mexican Hat Lodge and grab dinner? We did, I could not resist another swinging steak. We wolfed down dinner trying to bask in the atmosphere for the brief visit and were once again going south. As on our trip up north a few days prior, we are passing through Monument Valley again at sunset. The shops have closed up, the natives have gone home, no more jewelry for sale today.